Events

A World of Pinot: 80 Pinots in 80 Days
May 2, 2016

-

July 30, 2016

$80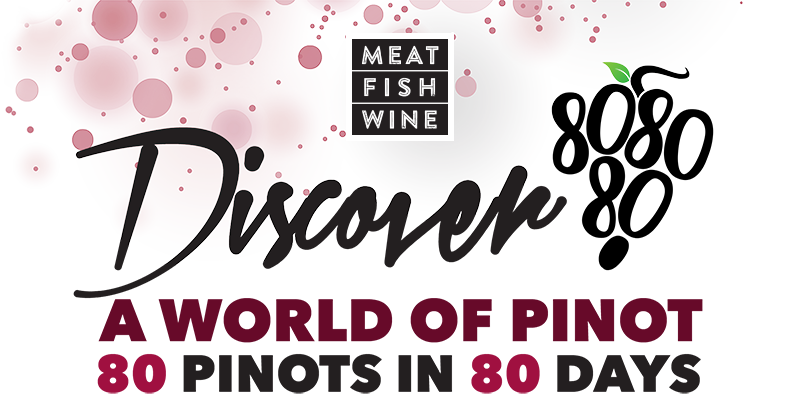 Meat Fish Wine is hosting a Pinot party from from May 2nd to July 30th. For only $80, pinot lovers will have the opportunity to enjoy a new glass of Pinot every day, for 80 days. Sourcing the wine from one of the world's very best wine regions, this is an event not to be missed.
With a focus on Pinot Noir; the Holy Grail of grapes, 80 Pinots in 80 Days aims to explore the wider world of Pinot. Initially celebrating the diversity of local Pinots as a part of Aussie Wine Month of May, we then venture further around the globe exploring Pinots from some of the great sites within Burgundy, the rolling hills of Italy through to the dynamic vineyards within Oregon, and a few fun additional places in between.
Coming from a background of the same genetic identity, Pinot has evolved and mutated over time into the various shades with which we now know it today. With its noble origins within France to the now farflung reaches of the globe to which it extends, the family of Pinot truly characterises itself as an expression of nobility. With its elegant and delicate charm, Pinot allows itself to express a sense of place; a notion of the french word 'terroir', from which it comes from, the soils in which it is grown as well as the hand of the winemaker caring for it.
Come as often or as little as you like over the 80 days.
How it works
You can pre-purchase your Pinot Pass from the online store.
Your $80 Pinot Pass gives you access to over $1000 worth of wines from around the world!
Your Pinot Pass entitles you to a glass of the Pinot of the day for 80 days from May 2nd 2016 – July 30th 2016
Come on in Monday to Saturday from 5pm and discover the pinot of the day
If you decide to stay and enjoy a meal we'll include a complimentary glass of one of our favourite Pinot Noirs
You can expect to try Bindi, By Farr, Coldstream Hills, Curly Flat, Mac Forbes, Oakridge, Moorooduc Estate, Timo Mayer, Francois Labet, Jean Tardy, Villa Maria and Domaine de la Cote, amongst others
Discover a few 'surprises' in the line up – like the occasional Pinot Gris or Bianco
Only a limited number of Pinot Passes are on sale – we'd encourage keen pinot drinkers to buy their passes early and avoid disappointment!