Events

Brunswick Music Festival presents Musiculinary
March 15, 2016 @ 8:00 am

-

March 20, 2016 @ 5:00 pm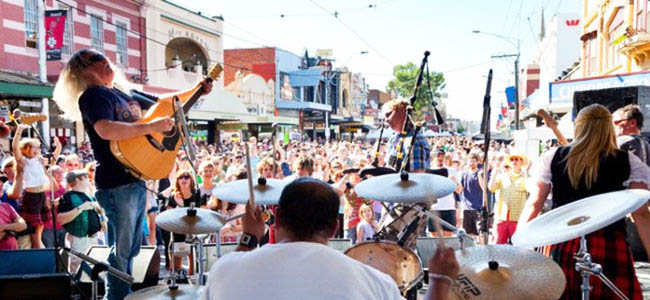 Celebrating the timeless cultural bonds that link food and music, Brunswick Music Festival (BMF) is collaborating with Melbourne favourites, Rumi Restaurant, Asylum Seeker Welcome Centre (ASWC) and Pope Joan to invigorate your tastebuds as well as your eardrums.
RUMI DINNER & SHOW FEAT. ZOUROUNA & LAILA SHOUHA
Experience the distinct Middle Eastern culture of Moreland through an unforgetable dining experience. Matching the renowned flavours of Rumi restaurant with the traditional sounds of Middle-Eastern band Zourouna and shimmering belly dance of Laila Shouha, BMF invite you to revel in a night of Lebanese soulfood, ethnic tunes and impassioned dance.
Thurs 17th March 2016, Rumi Restaurant, 116 Lygon St, 5:30pm / 8:30pm – $69 +BF
GOSPEL BRUNCH WITH POPE JOAN FEAT. SWEET MONA'S CHOIR & PBS GOSPEL HOUR DJ
Power-packed, soul stirring, sweet as honey, Gospel music has the power to get your spirit soaring and in this case, your mouth watering. Stella Savy, charismatic choir leader, brings her Sweet Monas to the Brunswick Uniting Church to belt out two sets of uplifting gospel classics while Brunswick's most loved cafe, Pope Joan dishes up a signature southern-themed brunch worthy of a hallelujah! Peter Miles of PBS 'The Gospel Show' djing all morning.
Sat 19th March 2016, Brunswick Uniting Church, 214 Sydney Rd, 10:00am – $45 + BF
ASYLUM SEEKER WELCOME CENTRE DINNER & SHOW FEAT. AJAK KWAI, BASHKA & JAWA PITU BAND
Since opened its doors in 2002 ASWC has been providing hundreds of meals for people seeking asylum. BMF is delighted to be teaming up on one of their weekly dinners to celebrate the contribution the ASWC has made to the community in a night of music and feasting. Featuring Ajak Kwai, matriarch of South Sudanese song, Bashka, new dance music from the streets of old Turkey and Jawa Pitu Band, Indo/Malay soul and East African jazz. $5 from every ticket goes straight back into the ASWC.
Tues 15th March 2016, Brunswick Uniting Church, 214 Sydney Rd, $40/$45 + BF