Events

Let's Make Farming The New Rock 'n' Roll of The Food World
July 30, 2015 @ 6:30 pm

-

8:30 pm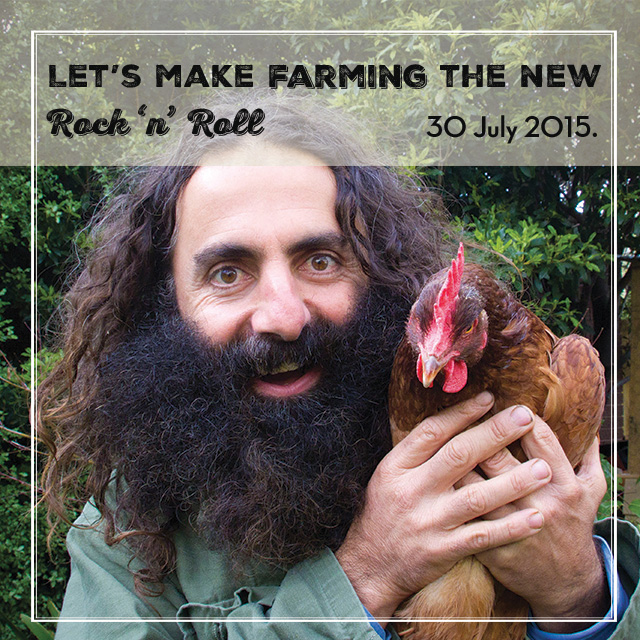 On Thursday 30 July Fowles Wine and environmental not-for-profit Sustainable Table will co-host an evening of debate about the future of Australian farming at No Vacancy Gallery Melbourne.
With an all star line-up of panellists, they'll be tackling the big question facing farming – who will be our future growers and how can we start to value them in the same way we do celebrity chefs? They believe it's time to make farmers the new rock stars of the culinary world if Australia is to remain well fed.
Guests will enjoy wine from Fowles Wine's new Farm to Table range and a delicious salad from Matt Wilkinson's newest venture, Jack Horner canteen, before participating in what promises to be a lively evening of facilitated discussion.
Featuring the following speakers:
Costa Georgiadis, Gardening Australia – loveable landscape architect with a passion for sustainable food production
Matt and Lentil, Grown and Gathered – young office-bound city dwellers, turned waste-free ecological farmers
Dr Jane Dixon, Senior Fellow at the National Centre for Epidemiology and Population Health, Australian National University
Matt Fowles, Fowles Wine – former lawyer turned winemaker, hunter gatherer and sheep farmer
Sylvia Collett, Bass Coast Farm – passionate advocate for family farming and farmers receiving a fair deal
Each panellist will bring their unique insights to some of the big issues changing the face of Australian farming and regional communities including: an aging work force, skills and labour shortages, global competition, climate change, the pressure to scale up or get out and urban sprawl.
Australia's food security depends on keeping farmers on the land and inspiring a new generation of future growers and this event invites people to explore the ideas that will help achieve this.
Cassie Duncan, General Manager Sustainable Table said: "We have a great food culture in Australia, yet there is often a real gap in people's understanding of how food is grown and arrives on the plate. This event seeks to create a positive and open dialogue about the provenance of food and what consumers can do to help the people behind it.
Each of our panellists has firsthand experience of the many challenges facing Australian farmers. However, we'll also be focusing on the opportunities in farming and the inspiring examples of farmers whose innovative approaches are paying off. We want to shine the light on these people and their stories so more consumers can support our regional food producing friends and a food system that is fair and healthy".
This event is for anyone who is considering a tree-change, wanting to grow their own food, understand the issues surrounding farming in Australia, learn what they can do to shape a more positive future, or who simply wish to spend a couple of hours enjoying great food and wine with an awesome bunch of people.
Let's Make Farming Rock and Roll debate will take place on Thursday 30 July 2015.
Venue: No Vacancy QV, 34-40 Jane Bell Lane, Melbourne
Time: 6:30 – 8:30pm
Price: $25 per person (Inclusive of one glass of wine and salad,
with all proceeds supporting Sustainable Table's food education work. NOTE: additional drinks can be purchased from the bar
Booking info: Buy tickets at www.sustainabletable.org.au