Events

Myanmar Flood Fundraising Dinner at Burma Lane
September 16, 2015 @ 6:25 pm

-

10:30 pm

$69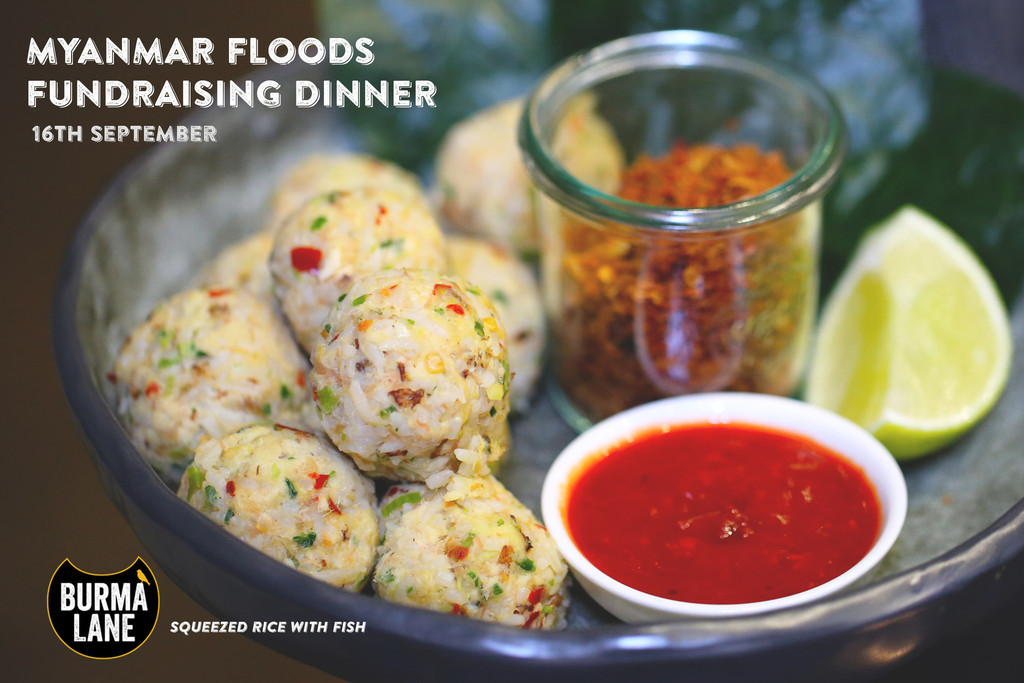 Apples + Pears Entertainment Group, the passionate restaurateurs behind Burma Lane, Red Spice Road, Red Spice QV, and Meat Fish Wine today announced they will host a Fundraising dinner and Burmese Art sale at Burma Lane on September 16, 2015. All proceeds from the dinner and art sale will go directly to local Myanmar flood relief workers re-building local communities.
Diners can enjoy a sumptuous 12-dish Burmese style banquet for $69, or $99 including drinks. In addition, there will be an exhibition of original Burmese artwork from Pyayt Phyo Aung and Dawei Lay. Click here to view a sample gallery. The night is dedicated to the Myanmar Flood Fundraiser with no a la carte dining available for one night only.
Head Chef Johan Van der Walle has created a Burmese inspired 12-dish menu including street snacks like Fish Rice Balls, Stuffed Shan Tofu Roll and Paratha. Larger dishes include an array of seafood and meats like a Fish Curry, Chili Crab, Wok-Fried Mussels, Spiced Rubbed Lamb as well as traditional Burmese classics including the surprisingly delicious Tea Leaf Salad.
"I want to support the people trying to re-build their lives in Burma" said Chef Johan, "and the best way I can do that is by preparing a feast to remember here in Melbourne. I want our guests to enjoy an amazing meal and feel great about what they are contributing to people in need in Burma" he said.
Severe flooding in Myanmar began in July 2015 and has continued into September destroying farmlands, roads, rail tracks, bridges and housing. The government has declared a state of emergency with the floods now affecting up to one million people across 12 of the country's 14 States. The ASEAN Centre for Humanitarian Assistance (AHA) reports that flooding has inundated more than 1 million acres of farmland, which is also affecting food security throughout the country.
Burma Lane is proud to support a range of charities in Burma through their association with Pomelo. By donating $1 from every bill since opening in 2013, Burma Lane has helped Pomelo support disadvantaged groups in Burma with practical financial support and training, allowing them to become self-sufficient and create self-sustaining communities.
"It's not the first time Myanmar has been affected with severe flooding also hitting the country in 2013. It's just devastating news and we're trying to actively help re-build local communities by raising as much as we can to donate to charity workers on the ground in Burma" said Vanessa Green of the Apples + Pears Group.
"Not only is the dinner and art sale for a good cause, it will also be a wonderful dining experience. We're hoping the people of Melbourne will come and enjoy a great night out, while supporting flood affected families in Burma who really need our help" she said.