Events

Oktoberfest at Hophaus
September 20, 2014

-

October 5, 2014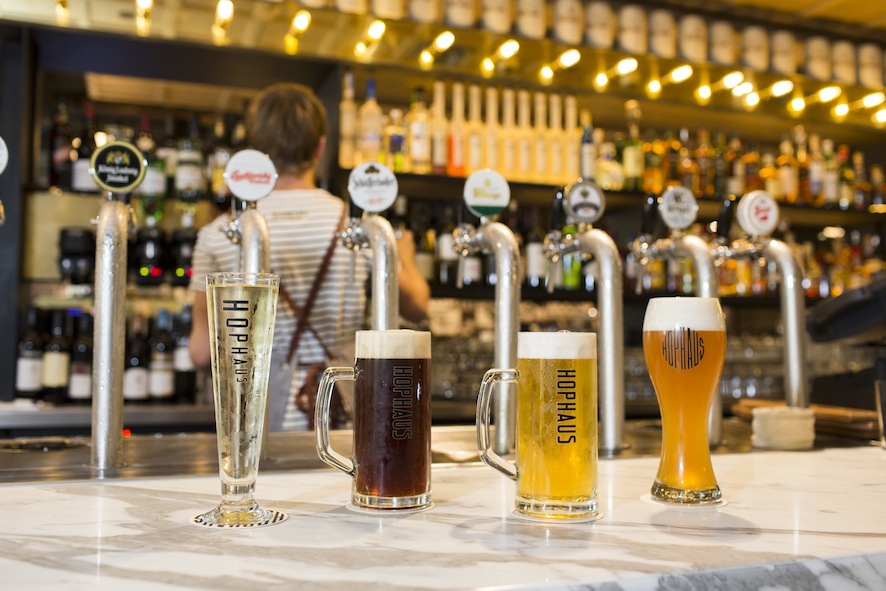 HOPHAUS + OKTOBERFEST = HOPTOBERFEST!
Hophaus, one of Melbourne's hottest new watering holes, is excited to announce the inaugural HOPTOBERFEST, a celebration of the world's largest funfair Oktoberfest from 20 September-5 October.
Up to 5,600 Melbournites will converge on the Bavarian beer hall throughout the 16-day festival, at the same time over 6 million beer lovers from around the globe clash steins in Munich. Official Oktoberfest and rare wheat FestBier Erdinger HefeWeizen will be served each day, flown in especially from Bavaria, Germany.
HOPTOBERFEST flows forth on Saturday 20 September with the Tapping of the Keg at 12:00PM sharp: a much-loved Oktoberfest tradition where the Mayor of Munich taps the first drop of gold from the first barrel of beer. The HOPTOBERFEST Mayor will be announced in the coming weeks.
Executive chef Marc Brown has been busy readying his stock room for countless sausages, in preparation for HOPTOBERFEST's inaugural Sausage Eating Competition, as well as perfecting the special HOPTOBERFEST menu.
"We've called in a very big order of frankfurters – and will have to make quite a bit of room in our fridge! Our special menu is designed to reflect Hophaus' unique take on modern Bavaria while paying tribute to the traditional fest's fare," says Marc.
Hophaus' Oktoberfest specials include Rotisserie Suckling Pig (including Nose and Tail delicacies), grilled fish sticks, smoked salt beef, German salt bread pickle and Cobbler's Hot Pot with potato, pear and mustard cream. Specials will be available from 20 September until the end of October.
Festively dressed Hophaus staff will serve up steins to beer-swilling Bavarians and locals alike, many of them sporting lavish lederhosen in competition to win Best Dressed. Other prizes and giveaways will feature throughout the day, with live German music and entertainment ensuring the revellers
On Sunday 21 September, the whole family are encouraged to hop to HOPTOBERFEST for live German music and entertainment with Munich-inspired face painting and fun.
Saturday 20 September
12:00pm – Tapping of the Keg
Sausage Eating Competition
1:00pm – First Heat
2:00pm – Second Heat
4:00pm – Frankfurter Final!
Live music & entertainment from 2:00pm-11:00pm
Sunday 21 September
Face painting from 1:00pm-3:00pm
Live music from 2:00pm-5:00pm
Lunch and Dinner will be available every day. Bookings are advised via 03 9682 5900. The remainder of the 16-day festival will feature live German music, as well as entertainment and DJs each weekend until Sunday 5 October.