Events

Rosé and the Rose Champagne Masterclass with The Champagne Dame
April 15, 2015 @ 6:30 pm

-

8:30 pm

$149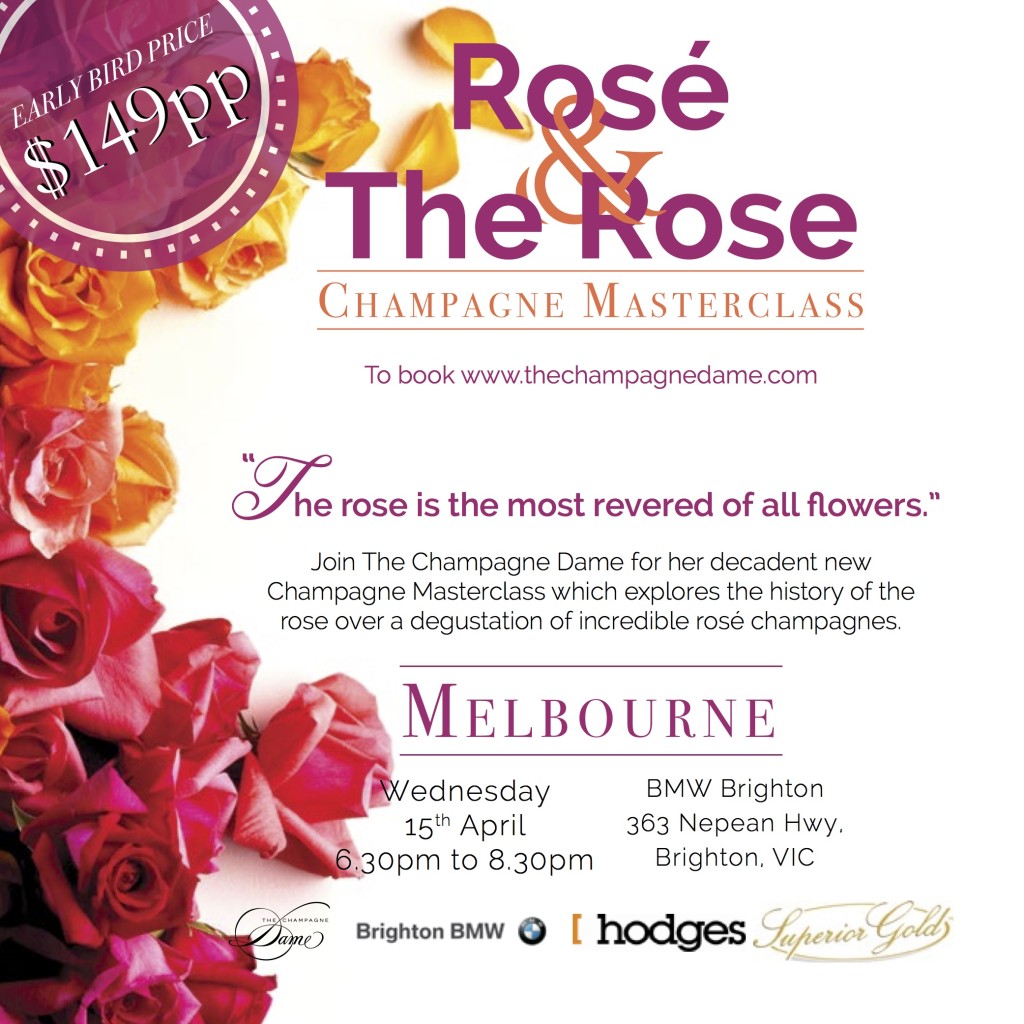 The Champagne Dame is set to present in Melbourne as a part of the national tour on Wednesday, April 15 at 6:30pm in accordance with event partner BMW in their luxury showrooms. Kyla Kirkpatrick the founder and presenter of 'The Champagne Dame' has released her national tour of the glamorous champagne master classes for her loyal champagne and lifestyle disciples.
Due to such high repeat patronage at her events, The Champagne Dame is selling early bird tickets for $ 149 with regular pricing commencing on the April 1, starting from $159. Champagne lovers will be able to indulge in canapés as well as six flutes of rosé champagne which is included on the night.
Rosé and The Rose looks at the beautiful history of the Rose, the most revered of all flowers whilst indulging in a series of rosé champagnes. Rosé Champagne is fast becoming one of the most popular categories of wine in champagne with many maisons selling out of their stock prematurely in Australia leaving a big shortfall in the market in 2014. Rosé is a rapidly growing category and one of the most versatile food wines – an intriguing champagne. Clients will learn about the history and nuances of Champagne and The Rose.
Kyla Kirkpatrick has been presenting and educating in the Champagne industry for over a decade. Kyla threw away her career in finance in 2005 to move to the Champagne region in France after reading a book on Napoleon Bonaparte and being inspired by Champagne's illustrious history.  She has never looked back.
Whilst in Champagne, Kyla was recruited with luxury goods empire, Louis Vuitton Moët Hennessy who call some of the biggest and most prestigious champagne brands in the world including Krug, Dom Perignon, Moet & Chandon and Veuve Clicquot their own. Taking up post in their Sydney office, the aptly titled Champagne Dame was trained to educate and present on the history and nuances of champagne.
Now an independent ambassador for the region, Kyla's master classes have evolved into spectacular events with a cult following of guests. Kyla's passion for champagne plays out in a theatrical show which takes guests on a journey back in time into champagne's illustrious past with a string of colourful stories of her own fascinating life living large in Paris and Champagne intermittent in the presentation.
Early Bird $149 (Ends 31.3.15)
La Bonne Vie Members $139
Regular $159 (From 1.4.15)
Bring 10 guests and your ticket is Free (11 Tix) $1490