Events

The Peninsula Picnic – A Food, Wine and Music Gathering
March 20, 2016 @ 11:30 am

-

7:00 pm

$78.50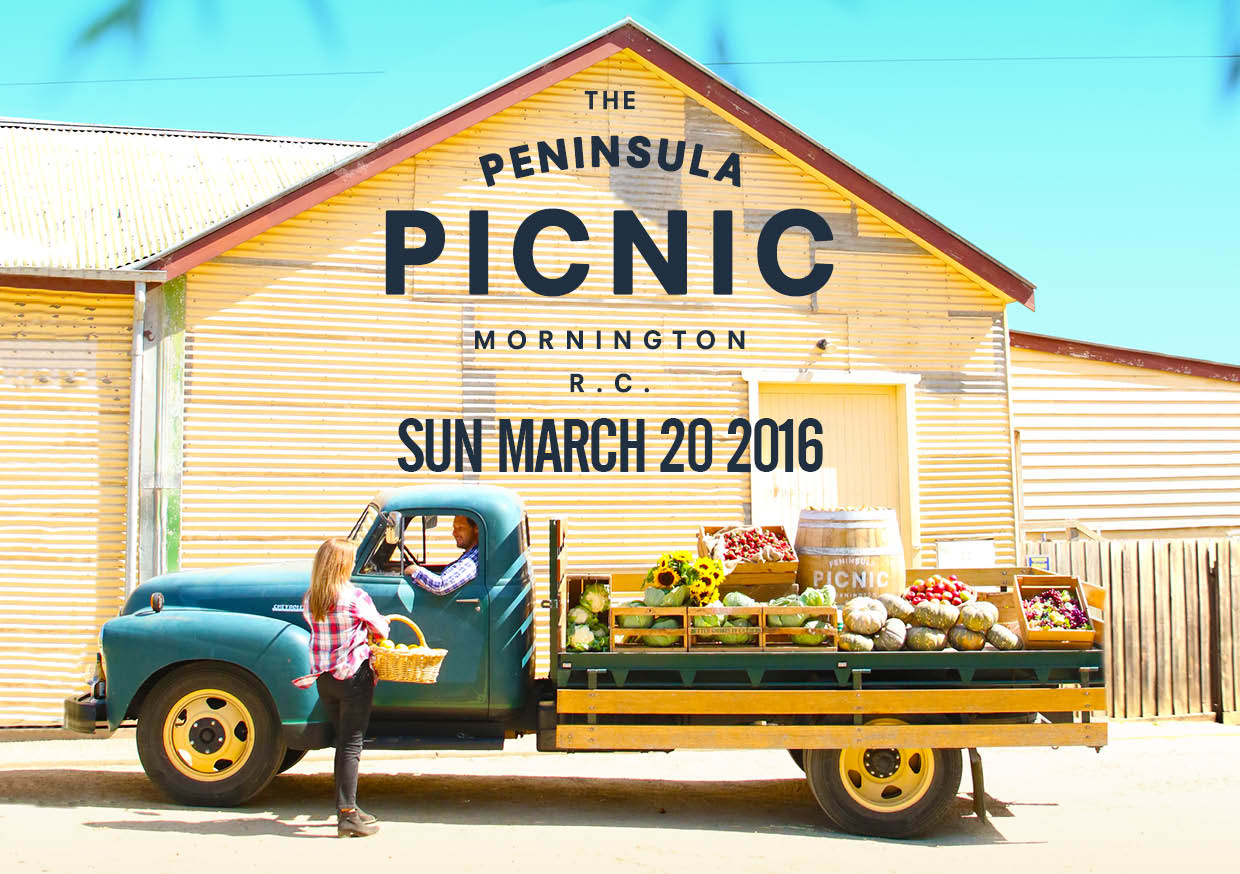 Tickets are now on sale for The Peninsula Picnic, to be held on the dappled sunlit grounds of the Mornington Racecourse on Sunday March 20. The Peninsula Picnic is the most extensive food, wine and music gathering ever created on the Mornington Peninsula, showcasing the very best local chefs, resident restaurants, expert vignerons and vineyards. Picnickers will discover the hidden gems from the region's leading producers, growers, orchardists and gourmet storeowners set to the serene soundtrack of some of Australia's finest live music acts.
Some of the region's finest local restaurants will serve up delectable dishes to picnikers, including Montalto, Terminus at The Flinders Hotel, The Long Table, Dee's Kitchen, Max's at Red Hill Estate and DOC Mornington to serve The region's finest will also be ably accompanied by some of Melbourne's finest in Pope Joan and Ian Curley. New additions to the food line up for next year's event including The Green Olive, Cook and Norman Trattoria, Merricks General Wine Store and Paringa Estate. Three of this year's featured restaurants were awarded 'hats' in 2015 The Age Good Food Guide Awards including Paringa Estate, Montalto and Terminus at the Flinders Hotel.
From the handmade delights of Brian Hall and Enric Poch Esteve garden at The Green Olive, and Rowan and Janine Herrald of Cook and Norman (from the folks behind Terre), to a unique taste of two coasts, inspired by regional France, but anchored in the fresh harvests of South Victoria's vineyards and olive groves thanks to Montalto's Martin Webster. Picnickers can continue to indulge their culinary senses throughout the day with a memorable experience created by Giuseppe Pisciotta, the executive chef from the Terminus at Flinders Hotel. Pope Joan's chef, Matt Wilkinson, will be cooking with the best seasonal and local produce hand selected for the Picnic. The Long Table Restaurant founder and chef Andrew Doughton returns from working at Polperro, to create passionately produced food that reflects love of fine wine, food and art.
Dee's Kitchen will bring a multicultural menu, a hearty celebration of food, heritage and culture. The iconic first winery restaurant on the Peninsula, Max's, will showcase a load of local produce from their homely fresh menu. DOC Mornington brings old-world Italian hospitality while remaining thoroughly modern with their authentic taste of Italy.
Roll out your picnic rug, and relax to the sweet sounds of some of Australia's finest acts, while taking your taste buds on a trip to heaven discovering the best food, wine and produce from Peninsula favourites, our full list of food and wine providores will be announced in the coming weeks as well as menus plus wine and food matching.
After a sold-out inaugural event in 2014, the Mornington Peninsula's most extensive food, wine and music gathering, The Peninsula Picnic, is returning this March with a bigger line-up, a larger site, plus even more gourmet restaurants, decadent wineries, fresh local produce and quality artisan wares.
With a country harvest atmosphere, The Peninsula Picnic takes place over one unique day in the leafy and sea-salted surrounds of Mornington Racecourse, and is the recipe for that perfect regional escape or family day out.