Events

Tweet, Double Tap, Like: How to Build a Digital Audience
June 3, 2014 @ 6:30 am

-

9:00 pm

$50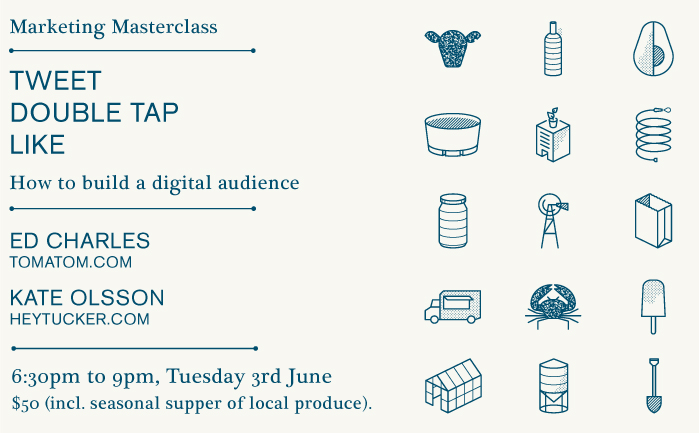 An exciting new digital landscape for food businesses and brands has emerged, but working out how to successfully market yourself online can be a little overwhelming. This workshop will help you navigate the labyrinth of social media platforms, demonstrate when and why you should use them, and show you how to avoid the most common mistakes.
Social media guru Ed Charles, founder of influential food blog tomatom.com will show you how to ditch the hard sell and start a conversation with your audience that they'll want to read, like and share.
Social media is just one part of a complete digital marketing strategy. Ed will discuss how to utilise a range of mediums like email, PR, traditional print and review sites to effectively build your brand and business. He will be joined by a number of special guests (TBA) who will join the workshop to answer questions and share their marketing know-how.
A tasty supper of local, seasonal produce will give you the chance to break bread with other like minded foodies in your community. The workshop will be held within The Field Institute gallery; a dedicated space to test and explore the complex world of food and farming.
The Field Institute,
15-25 Keele Street,
Collingwood,
6:30pm to 9pm
Tuesday 3 June,
$50 (incl. seasonal supper of local produce).