Editor's Intro: I've known Karen for, well, longer than either of us would like to admit. She has always – always – been a food goddess. Her mastery of how to create simple, nutritious and, above all, goddamn delicious original creations the whole family can eat blows my tiny brain each time. Here's one she's just delivered that's a 30-minute perfection for an easy, early-in-the-week meal spun from a monster Sunday roast pork. In these days, we all need bang for the buck, so two meals from one for the entire family is a winner for both your tastebuds and budget. Get crackling! – Matt
Pork Spaghettini with Crackling Pangratatto
SERVES 5-6
PREP 10 MIN
COOK 20 MIN
1 x rotisserie roast pork, or 500g roast pork with crackling
3-4 slices sourdough bread, crusts removed & torn into small pieces
1 lemon, zested & juiced (separated)
1 tbs finely chopped continental parsley, plus extra to serve
500g dried spaghettini
2 tbs olive oil
2 cloves garlic, finely chopped
250g cherry tomatoes, halved
2 tbs capers, drained
grated parmesan cheese, to serve
sea salt & black pepper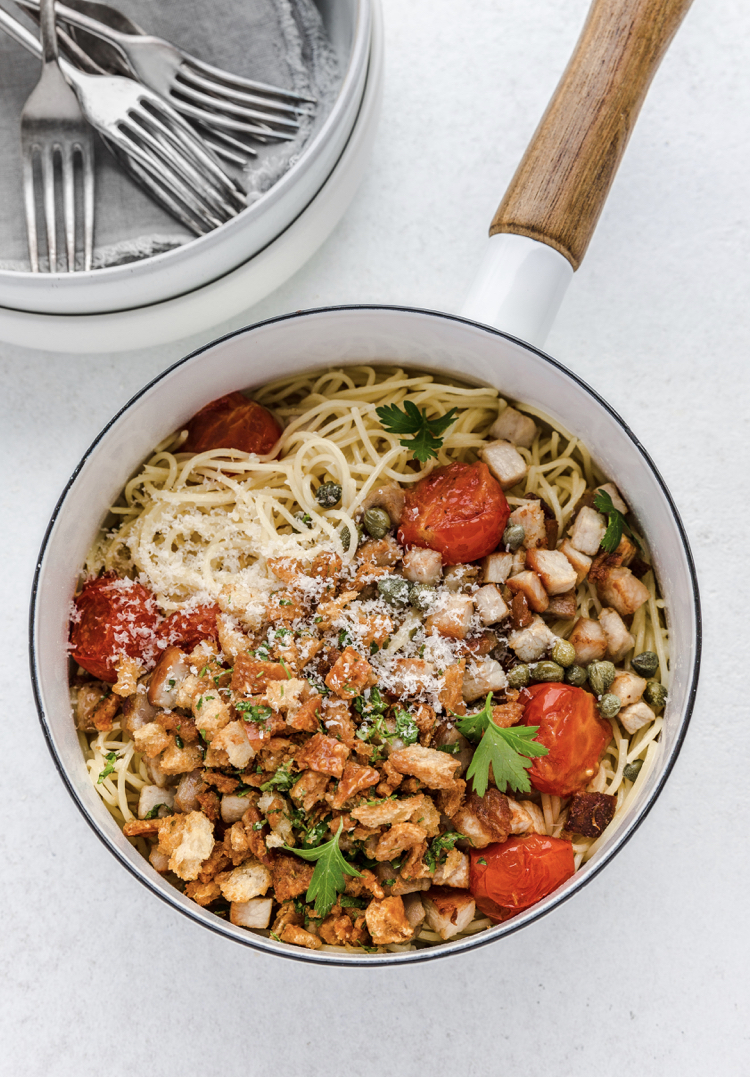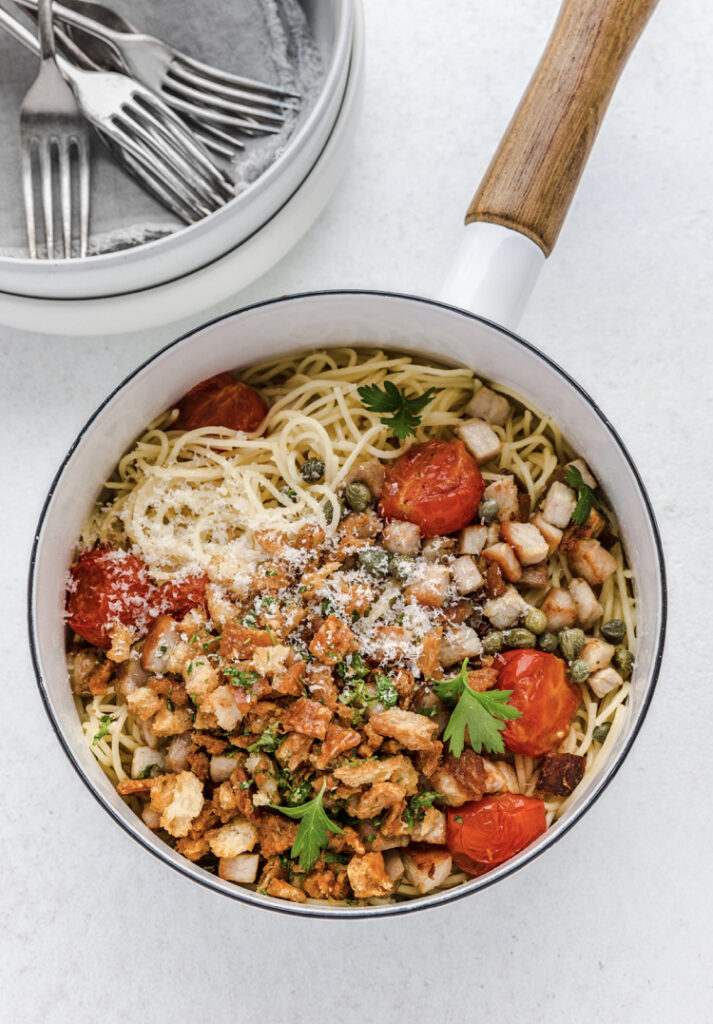 Preheat oven to 180°C and line a baking tray with baking paper. 
For pangratatto, remove the crackling from the pork and discard any soft fat underneath. Finely chop the crackling and transfer to tray. Add sourdough and toss to combine. Bake for 8-10 minutes, stirring occasionally, until bread is golden and crunchy. Set aside to cool, then stir through lemon zest and parsley.
Cook spaghettini in a large saucepan of salted boiling water according to packet instructions, until al dente. Reserve ⅓ cup of pasta water and drain.
Meanwhile, cut pork into small cubes. Heat oil in a large frypan over medium-high heat. Add pork and cook, stirring, for 5 minutes until beginning to crisp. Add garlic and tomatoes and cook for 3-5 minutes, until tomatoes begin to soften but still hold their shape. Add lemon juice, drained spaghetti, pasta water and capers. Toss to combine and season with salt and pepper.
To serve, divide spaghettini between bowls and sprinkle with pangratatto. Top with finely grated parmesan cheese and extra parsley.