Australia is renowned for producing top quality beef. Our cattle are free from all major epidemic diseases and our farming standards are among the best in the world, so you can feel confident that your juicy steak isn't going to drive you mad. But beyond the plate, the world of beef can be a little confusing… Grass-fed vs. grain-fed, dry aged vs. wet aged, blade steak vs. brisket and the list goes on. So here we're going to stroll through the paddocks and then chew the fat with an expert to give you the low down on beef with no bull.
THE FIRST STAMPEDE
Cattle were first brought over to Australia in 1788. Five cows and two bulls were picked up in Cape Town before the first fleet dropped anchor in Botany Bay. Things got off to a bad start though when these animals escaped into the bush. Presumed dead, these escapees were then discovered a couple of years later and had multiplied to 60. Luckily for us, farming improved over time.
The early herds were based on a few British breeds that were complemented later by other American and European breeds in the 1930s and 1960s respectively. These introductions increased breed diversity and meant farmers could select animals that were suited to different parts of Australia. As a result, new areas that were initially too hard to farm became suitable and today we have a plethora of breeds and a national herd of 29 million beef cattle.
COW CHOW: GRASS OR GRAIN
While diet affects the flavour of the beef, it's worth noting that one type of beef is not necessarily better than the other, they're just different.
Grass-fed beef feeds exclusively on pasture and as a result of its lower energy diet takes much longer to mature and fatten. Generally grass-fed beef is leaner, deeper red in colour and earthier in flavour compared to its grain-fed equivalent. It addition, the colour of the fat will be creamier yellow in colour.
Grain-fed beef comes from cattle that have been fed predominantly on a nutritionally balanced, high-energy diet. This lifestyle lets them gain weight quickly and because they're not roaming around the paddock all day their meat has a more consistent texture and is marbled with more fat. The ultimate grain-fed beef comes from the famous Japanese Wagyu breed that is fed a specific grain diet to produce intensely fat-marbled meat.
When it comes to making a choice, how you decide to roll comes down to personal preference. If you're after meat that's soft and juicy try grain-fed and if you want something that's more 'beefy' and dense try grass-fed.
Sometimes you would be forgiven for thinking that porterhouse, scotch and fillet steaks were the only cuts on the cow. But after speaking with Adam North, beef expert and supplier to Australia's top restaurants, it might be time to expand your horizons:
COULD YOU GIVE US A RUN DOWN ON THE CUTS OF BEEF?
Every country in the world butchers and names the various cuts of the animal differently. However, here in Australia there are 11 primal cuts from which we prepare a larger range of retail cuts such as oyster blade, topside, rump and brisket to name a few.
WHAT ARE THE DIFFERENCES BETWEEN THE VARIOUS CUTS OF BEEF?
Meat is a muscle and because these cuts come from different parts of the animal they differ in tenderness and texture as a result of how much 'work' they do. Cuts that come from the animal's back are the tenderest whereas those that come from hard working regions like the shoulder or leg are extremely tasty but a little tougher.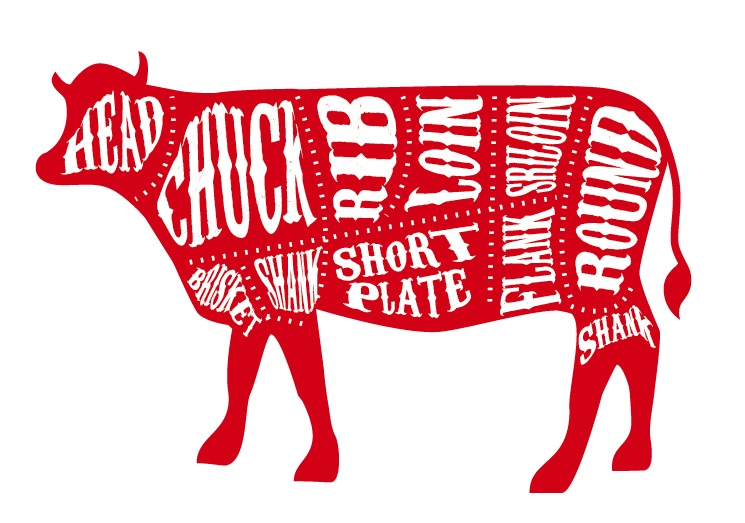 SO RUN US THROUGH SOME OF THE CUTS AVAILABLE AT THE BUTCHER?
The cuts can be broken down into what we call prime cuts and secondary cuts. Prime cuts or loin cuts are the ones people are most familiar with and include things like porterhouse, rib eye, scotch and fillet steak. Secondary cuts include things like oyster blade, hangar steak, rump cap and brisket and at a time when our purses are under more pressure offer heaps of value.
ARE SECONDARY CUTS DIFFICULT TO PREPARE AND COOK?
No, they just require a bit of time and love. Many of the secondary cuts are layered with interconnective tissue that when cooked low and slow become deliciously juicy, gelatinous and tender – beef brisket being a classic example. However, two of my favourite cuts, oyster blade and hanger steak, are perfect for quick cooks too. Oyster blade can be grilled and served medium rare just like any other steak – you just need to give it a long resting time. Hanger steak is super tasty and works well finely sliced in Mexican cuisine but it needs to be cut against the grain and cooked rare.
WHAT IS THE DIFFERENCE BETWEEN WET AND DRY AGED BEEF?
Dry aged beef hangs in special conditions to help tenderize and add flavour to it. Whereas wet aged meat is vacuum packed in plastic to help prevent moisture loss and preserve it longer on shelf.
I love dry-aging because it dramatically affects both the flavour and texture of the beef (in a good way!). It's got to be done at the right temperature and humidity otherwise things can go pear shaped. During the dry-aging process the natural enzymes of the meat start to act on the muscle fibres making them softer and tenderer and some of the moisture in the meat evaporates which really helps concentrate the flavour.
Due to the fact it takes time and results in some weight loss, dry-aging is an expensive process so you're very unlikely to come across it at the supermarket. But you can find dry-aged beef at good butchers and meat suppliers. It isn't cheap but in my humble opinion I reckon it's worth it.
SO WHERE CAN WE LEARN MORE ABOUT BEEF AND HOW TO COOK WITH IT?
I believe the key to cooking with confidence is learning what to do through hands on practical experience and this is something I can help with. Not only do I supply premium Angus beef from the Grampians in Victoria, I run masterclasses for consumers to understand how to utilize the entire animal. The format of these classes is pretty flexible and I can run them in people's homes, businesses or restaurants. For me, I just love sharing my knowledge so everyone can eat well and enjoy great beef regardless of their budget.
GIVE IT A GO
If you and your mates fancy learning how to cut and cook a cow then check out Adam on Instagram – @Adamhenrynorth for the sizzle on his meat masterclasses or drop him a line at: [email protected]