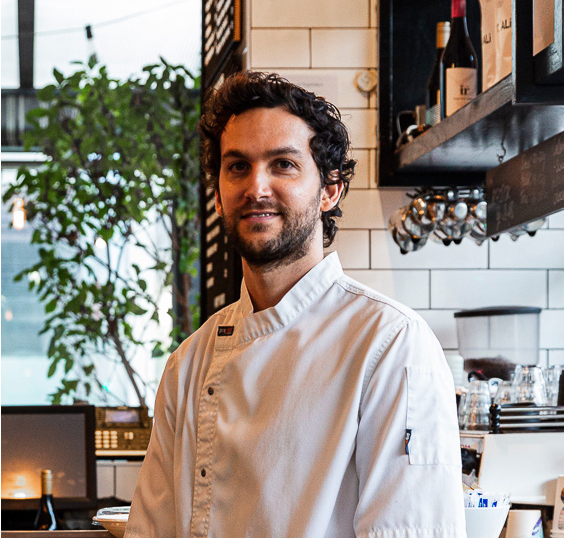 It's not everyday you come across a chef whose CV includes being part of the Israeli Defence Force (IDF). But kickstarting his culinary career from an Israeli war ship to opening his own restaurant in the thick of the pandemic, Golda's Rotem Papo is a real trooper.
Golda describes itself as a Modern Israeli Cuisine which marries with Rotem's Israeli heritage and helps redefine contemporary Middle Eastern cuisine.
Situated at the crossroads of Europe, Asia and Africa, Israeli food is spoilt for choice in culinary influence and expression, creating a 'fusion cuisine' that takes advantage of its rich location. When you add Australian ingredients to this impressive culinary melting pot, you get a uniquely Golda experience that extends an intimate invite into the world of Israeli food.
GRAM interviewed Rotem, who revealed that, although he grew up in a food-loving family, he stayed closer to the dining table than the stove, with his mum and grandma as head chefs of the household. It wasn't until he joined the IDF that necessity coaxed out his love for cooking. Once he started, though, there was no going back. Experimentation led to innovation, until his service ended, and he found his calling in some of Tel Aviv's most innovative restaurants.
Rotem recalls starting his culinary career in a bistro learning the basics of food preparation, before interning at a hotel where his background allowed him to cater for the Kosher needs of an Orthodox family. When he knew it was time to explore wider seas, he found himself in Melbourne; a place he describes as marrying the busy energy of New York with the calm of a Mediterranean beach, a place where friendly faces are seen, and always sharing incredible food.
***
GRAM:
Let's talk about Golda's menu, it looks like a melting pot of a lot of different cultures which may not be what Australian minds think Israeli food is like straightaway. What other types of cuisines do you use in the menu that people might not expect?
Rotem:
A lot of influences are coming from Mediterranean cuisine like Lebanese, Egyptian and Algerian food, as well as Eastern-European Jewish food. There could be parts of Bulgarian food, Turkish and Greek as well. It's diverse and it can really come from everywhere.
GRAM:
How would you describe the flavours for someone completely new to the cuisine?
Rotem:
We basically want every single dish that we do here at Golda to just like 'punch you in the face' kind of thing or punch you in the palette to be more accurate. I'm hoping for impact that is bold and big but still balanced. I'm really not a fan of mild flavours and ideally, I'd want every aspect of the dish to be powerful.
GRAM:
Right, so if you were to pick a dish to hypothetically punch someone's gustatory senses from the menu, what would you recommend?
Rotem:
Oh, the barramundi for sure. It has an Indian influence, and the sauce is made from mangoes that have been fermented with curry, so you get a nice acidity out of that. Then the flavours come in layers so there's also mirin, rice vinegar and chicken stock that gets reduced and we finish it as well with coconut cream. So, you get a curry-based, fresh sauce but Israeli style.
GRAM:
You work with a lot of Asian ingredients in there too, that doesn't sound like a traditional Israeli dish at all. Why do you like working with them?
Rotem:
The flavours still somehow remind our Israeli and Jewish customers of familiarity. They love it and recognise it and I think it's all about building flavour in that dish and the complexity of flavours have to be thought about every step of the way.
GRAM:
You mentioned familiarity, is there anything on the menu that represents something a little bit more to you? I understand that you come from a home where your mother and grandmother were always cooking up a feast.
Rotem:
That's hard to say but if I had to choose one, probably the baba ghanoush. The smell of peppers is very, very Israeli and it reminds me of my mum, when I'm waking up on a Friday afternoon from a big night out and the smell of capsicum hits you. She burns it on the stove, so it gets nice and charred and we still roast it over charcoal here in the restaurant.
GRAM:
Sounds delicious. To wrap it up, where to next?
Rotem:
I'm really looking forward to start doing weekly specials, it'd be nice to do something different, something new every week. We're going to be able to get more thing out there that maybe are not for everyone, not so safe, but if it turns out awful, we can still get away with it since it's a limited time only special. It's about having fun with it.
Golda is located at 164 Commercial Road, Prahran, and you can book here.