We all know the crazy tornado of emotions lockdown(s) has/have thrown us into. And, in Melbourne, we've already got five of them under our belt, and deep into our sixth. Lockdown means everyone is desperately trying to find things to keep themselves busy, entertained and, most of all, sane.
Food has been the answer to a lot of them. From making bread to going vegan, everyone tried to find something new to try out and master different skills. 
Advertising executive, Stephanie Pakula, is no different. Inspired by Victoria's seemingly never-ending lockdowns of 2020, she launched 'The Covid Confession' her one-woman-extended-middle-finger-to-Covid challenge to cook one gourmet meal a deal – with no repetitions – until the bloody pandemic ends.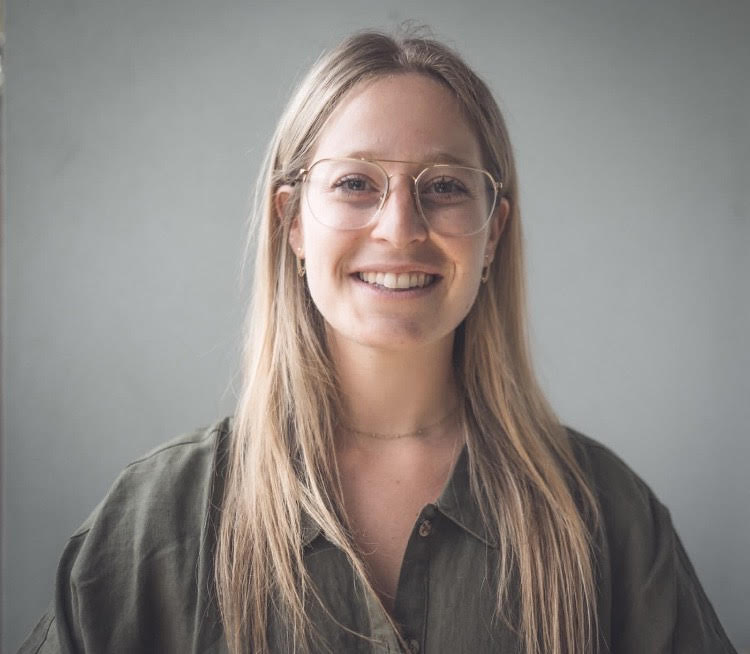 The out and proud food lover, whose previous labour of love was the Instagram account @pakmacncheese, where she developed, tested and mastered her skills on one of the world's great comfort foods, has garnered new followers to her new task.
The experiment has been lassoing followers in through social media, bringing new curious eyes to the birth of her nightly culinary dinners.
GRAM spoke to Stephanie about her personal project and found her key ingredients are her warm and friendly personality which combine to create the best seasoning to ensure each of her meals are always full of flavour.
GRAM: Where did the idea come from and how did you get started?
STEPHANIE: When COVID happened last year I was supposed to start a new job and that didn't happen… so I started to cook and it very quickly escalated into madness. I grew up in Sydney with my mum. She's a chef and used to teach cooking schools. I was a vegetarian at that time and never got to eat any of her amazing food (now I eat literally everything). I moved to Melbourne when I was 18. I didn't really like cooking, per se, but I knew I loved food. 
GRAM: Do you think you've learnt a lot through the process?
STEPHANIE: When I want to try something new, including cooking, I start with research. I'm reading notes, asking people's advice about what they did and where they went wrong…
Now, I've bought so many toys and things to cook with from blow torches to sous vide machines and pasta makers. 
GRAM: What's your proudest dish to date?
STEPHANIE: It's actually a vegetarian dish. Where possible, I'm probably creating three vegetarian dishes a week and I try to make them as "meaty" as possible from a vegetarian perspective. My favourite dish is my polenta with Beyond mince and mushroom, essentially. I like to call it a modern day cottage pie.
GRAM: What tips do you have for people keen to tackle a similar challenge?
STEPHANIE: I think cooking can be daunting for people, definitely. What's really helped me is reading other people's notes which has really taught me how to be my best without failing. I don't think cooking is hard. It's just about understanding the flavors and what goes and what doesn't and any [approaches] other people have already failed. So use their fails as your learnings.
GRAM: So what's next?
STEPHANIE: My mum and I've been talking about a cookbook, but it's still a mystery at this stage.
You can follow Stephanie's daily feastings on Instagram through @TheCovidConfession. Because she's a legend, she's also slung her favourite recipe to GRAM readers below.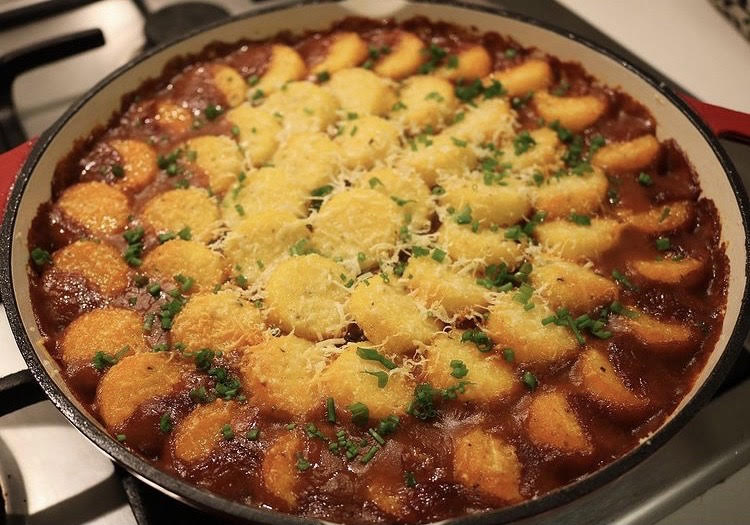 Pak's Polenta Cottage Pie
Ingredients:
For the polenta:
3 1/2 cups chicken stock (replace with vegetable stock if required)
1 cup polenta
30g salted butter
1/3 cup parmesan
1 tbsp dried Italian herbs
For the pie:
2 tbsp olive oil
450g mushroom mince
1x 300g packet of Beyond mince (or mince meat/meat alternative of choice )
1 brown onion, diced
3 cloves garlic, diced
1 carrot, diced
2 sticks celery, diced
1/4 cup flour
1/4 cup tomato paste
2 cups beef stock
1 beef bouillon cube (alternatively, 1 tsp beef stock powder)
1/2 cup red wine
2 tbsp worcestershire sauce
2 tbsp dried thyme
3 bay leaves
Big crack salt and pepper (to taste)
For garnish:
Parmesan
Parsley/chives
**polenta to be made in advance in order to set in the fridge for 3 hours prior**
Method:1. For the polenta rounds: Bring chicken stock to the boil, then slowly add in polenta and stir until it thickens. Turn off the heat and add 1/3 cup parmesan, 1 tbsp dried Italian herbs and your 30g butter. Mix until butter melts and all is combined. Season with salt and pepper to taste.2. Pour onto a flat oven tray as thin as possible (using hot water on the back of a spoon will really help here). Make a nice smooth layer, let cool, cover and put in the fridge for 3 hours.3. Preheat oven to 180 degrees
4. In 1 tbsp of your oil, cook down your whole punnet of minced mushrooms until ALL water has come out and then set aside.5. In a pot, sauté your whole brown onion, 3 cloves garlic, 1 diced carrot and 2 diced celery stalks in the remaining 1 tbsp oil. Cook until all veg have softened.
6. Add in Beyond mince and brown all over. Then, add mushroom mince back in with 1/4 cup flour. Stir to combine.
7. Add 1/4 cup tomato paste, 2 cups beef stock, 1 beef bouillon cube, 1/2 cup red wine, 2 tbsp Worcestershire sauce, all your thyme, 3 bay leaves and a liberal crack of salt and pepper. Let simmer for 30 min stirring regularly. Sauce will reduce and thicken considerably.
8. Place cooked pie mix into an oven proof dish
9. Use a shot glass to cut rounds in your set polenta and place on top of the pie in the pattern of your choice
10. Sprinkle with parmesan if desired and then bake 45 minutes or until polenta is crisp on top. Serve with parsley/chives if desired.
Serves 4