Recipe By Sarong
INGREDIENTS:
Serves 5
Raita Yoghurt
2 tablespoons diced onion
2 tablespoons diced tomato
2 tablespoons diced cucumber
1 cup plain yoghurt
1 pinch salt
1 teaspoon garam masala
1 teaspoon chat masala
Vegetable Filling
1 piece cauliflower, boiled
3 pieces medium potatoes, boiled and peeled
2 cups paneer – bought from your local Indian supplier or use ricotta
Oil, to sauté
2 tablespoons ajwan seeds
4 tablespoons garlic, peeled and chopped
10 long green chillies, chopped
1 tablespoon chat masala
1 tablespoon chilli powder
1 tablespoon turmeric powder
1 cup cashew nut, chopped
1 handful coriander leaves, chopped
½ tablespoon salt
Tandoori Squid
2 pieces squids, cleaned and washed
2 tablespoons cheddar cheese
Mint Chutney 
5 green birds eye chillies
1 large bunch coriander, leaves only
1 large bunch mint, leaves only
30ml rice vinegar
2 cups plain yoghurt
2 tablespoons garam masala
2 tablespoons chat masala
Garnish
2 pieces radicchio lettuce
2 pieces cucumber sticks
2 sprigs coriander leaves
3 slices red onion rings
2 lime cheeks
METHOD: 
Raita Yoghurt
Combine diced onion, tomato and cucumber with the yoghurt. Season with the salt, garam masala and chat masala to taste. Transfer to the fridge until ready to use.
Vegetable Filling
Prepare your vegetable filling by grating boiled cauliflower and potato. Crumble together, then mix together with paneer. The mixture should still have texture.
Heat oil in a pan, sauté ajwan seed, garlic and green chillies. Add the crumbled vegetable mix and the rest of the ingredients. Check the seasoning.
Tandoori Squid
Fill ½ cup of vegetable mixture into each squid and add
2 tablespoons of cheddar cheese. Cook in the tandoori oven for 7 minutes or bake in your oven for 30 minutes.
Mint Chutney
Combine chillies, coriander and mint leaves and pulse in the blender for a minute. Add in the rice vinegar and mix with the yoghurt. Season with garam masala and chat masala. This is best used immediately.
To Serve
Serve squid on a plate with raita yoghurt and mint chutney on the side. Garnish with radicchio, cucumber sticks, coriander, onion and lime.
RECIPES FROM FLAVOURS OF BALI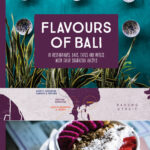 The latest publication from Melbourne based Smudge Publishing  in the award-winning Flavours Of series, Flavours of Bali.
The beautifully presented book showcases the diverse dining scene in Bali, from fine dining at remarkable restaurants to sunset cocktails at beachside bars.
With stunning visuals, signature recipes and profiles of the island's top chefs, Flavours of Bali offers a comprehensive guide to all the Bali dining scene has to offer.
Flavours of Bali
$80 – Available at all good bookshops and online:smudgeeats.com.au/product/flavours-of-bali/