Recipe By Hujan Locale
INGREDIENTS:
Serves 2
Itik Duck Curry Paste
4 shallots
12 cloves garlic
80 dried long red chillies
10 cinnamon sticks
10 knobs turmeric, peeled
50 candlenuts
2 teaspoons white pepper
2 teaspoons black pepper
Spice Mix
3 teaspoons cumin seeds
3 teaspoons coriander seeds
Duck Curry
1 braised duck
1 cup vegetable oil
3 salam leaves
1 stalk lemongrass, bruised
3 pieces white cardamom
1g curry leaves
1 pandan leaf, tied
2 cups sie itik curry paste
Salt, to taste
35g coconut milk
To Serve
Fried curry leaves
Fried red curly chillies
A sprig coriander leaves
METHOD:
Itik Duck Curry Paste
Blend all ingredients into fine paste. Set aside.
Spice Mix
Grind all ingredients into powder.
Duck Curry
Marinate the duck by rubbing the spice mix into the meat. Leave for at least an hour.
Heat oil in a large pot. Add salam leaves, bruised lemongrass, cardamom, curry leaves and pandan leaves and cook until the spices are aromatic.  Add in the curry paste and cook until fragrant.
Add in the spiced duck, ensuring the paste is covering the duck. Pour over the coconut milk and bring to the boil.
Slowly simmer for 1.5 hours until duck is soft and tender. Ensure the duck stays submerged in the liquid at all times.
Once the duck is cooked, remove from the liquid onto a resting rack.
Reduce the braising liquid until thick, like a rendang. Adjust the sauce to your liking with more of the spices, salt and pepper.
Once the sauce is ready, cut your duck into smaller serving-size pieces. Add back into the curry sauce and reheat.
To Serve
Garnish with fried curry leaves, fried curly chilli and coriander.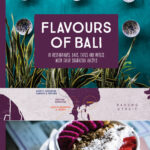 RECIPES FROM FLAVOURS OF BALI
The latest publication from Melbourne based Smudge Publishing  in the award-winning Flavours Of series, Flavours of Bali.
The beautifully presented book showcases the diverse dining scene in Bali, from fine dining at remarkable restaurants to sunset cocktails at beachside bars.
With stunning visuals, signature recipes and profiles of the island's top chefs, Flavours of Bali offers a comprehensive guide to all the Bali dining scene has to offer.
Flavours of Bali
$80 – Available at all good bookshops and online: smudgeeats.com.au/product/flavours-of-bali/