Hawaii is a wonderful destination to relax and soak up the surf and sun. Locals take things slow in Hawaii—after all, we all know the scenic route is more enjoyable—and this is reflected in all aspects of business, leisure and love. Family is important, and food—especially sharing of food—is at the heart of that. There is a rising trend of healthier options, to nourish the body with vibrant, fresh and seasonal produce, but still plenty to pad the sides, too. GRAM on tour recently visited the islands of Oahu and Maui, sipping and tasting extensively—all in the name of providing our dear readers with a curated guide to the best foodie spots to visit, of course.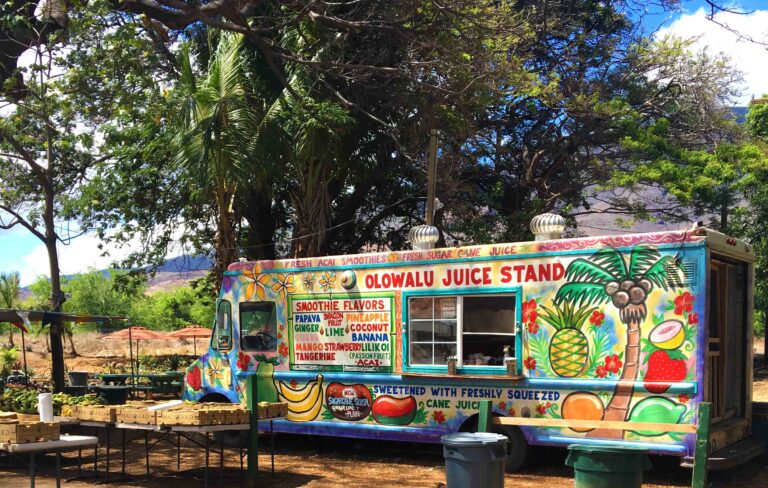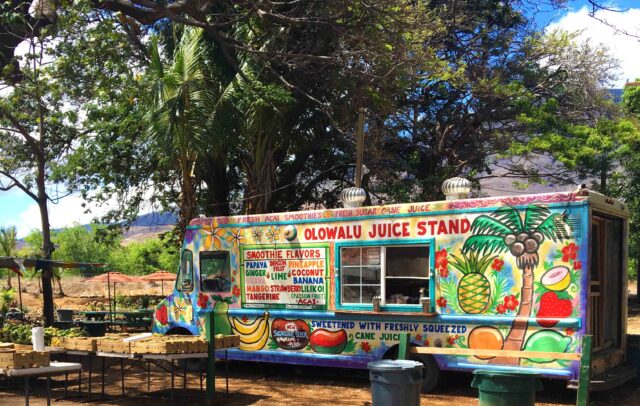 Oahu
Oahu is a popular destination for travellers on business and leisure alike. Families flock to Waikiki Beach, as those on business trips settle themselves in the city centre of Honolulu. With loads of activities and adventures to suit any type of visitor, so comes a variety of dining destinations. Here are our picks, from one Melbourne foodie, to another. We hope this sets you up to get the most out of your Oahu trip (and into your stomach!).
The Pig and the Lady
Fans of contemporary, on-the-pulse Asian inspired cuisine absolutely—it's a non negotiable—MUST try The Pig and the Lady. Vietnamese inspired fare and classy cocktails bring hoards of Hawaiians and visitors alike to Chinatown in Downtown Honolulu. A family business, Chef and Owner Andrew Le affectionately holds the title of 'The Pig', while his mother wears the crown of 'The Lady', bringing a dining vibe with a strong emphasis on family and sharing. While some menu items stay true to traditional Southeast Asian flavours—such as the green papaya and crispy rice salad, or the Laotian fried chicken—there are some menu items that really contrast, like the black truffle Cacio e Pepe, a creamy and decadently cheesy truffle pasta. Don't go with expectations of cuisines or style, simply go expecting impressive flavour and memorable combinations. The yuzu semifreddo with cocoa coffee crumble and a sugar cured yolk is a bit of a showstopper.
Hawaiian Crown Plantation
One of the many great things about visiting Hawaii, is that tropical fruit is often in season. Although supermarkets spoil the average Melburnian, for those who prefer to shop at seasonal markets, words like pineapple, papaya and lilikoi are not in the foodie vocabulary. Oh… that last one might be because lilikoi is Hawaiian for passionfruit! Hawaiian Crown Plantation is an adorable little hole-in-the-wall shop in Honolulu, a few blocks down from the main shopping strip. Here you will find fresh and nourishing acai bowls, bursting with flavour pineapple smoothies, and dried pineapple—which the welcoming staff will enthusiastically convince you to sample. In such warm weather, a cold and fruity start to the day is just what the surfing doctor ordered.
The Modern Honolulu / Morimoto
Waikiki Beach is a popular spot for tourists, with a string of hotels along the waterside boasting days worth of restaurants, shopping and water activities. A great place for families, couples or singles, Waikiki is definitely a hot spot. The Modern Honolulu pairs contemporary class and style with a sophisticated beach vibe, represented through whitewashed walls, modern amenities, and artwork such as the deconstructed surfboard in the lobby. General Manager Kelly Hoen tells us the design is; 'almost exclusively dominated by white, which creates the clean crisp beauty giving way to the exquisite colours of Hawaii. The hotel's interiors evidence every nuance of the many shades of white: bone, cream, greige, putty, ecru, soaped-oak.' This recognition of the vibrance of Hawaii, collides with the forward progression of the city of Honolulu. Hoen describes the experience at The Modern as 'Hawaii Next'. 'We are committed to delivering the very best in Honolulu and Hawaii in art, fashion, culinary, music and interesting experiences on and off property.' She says.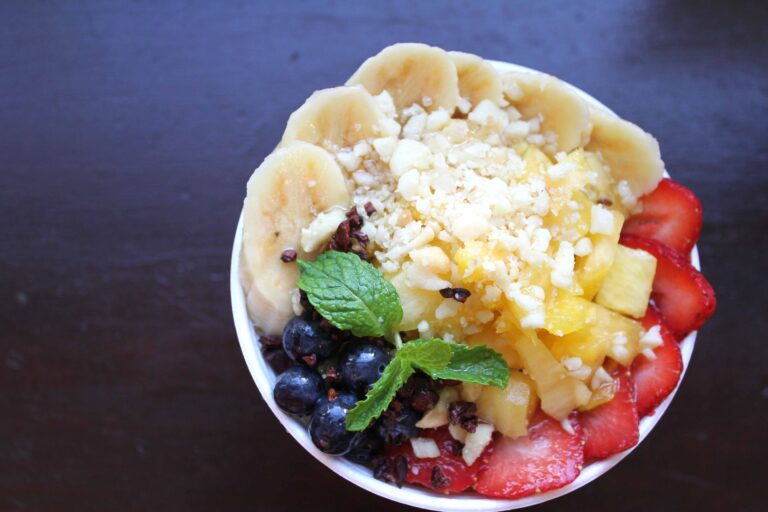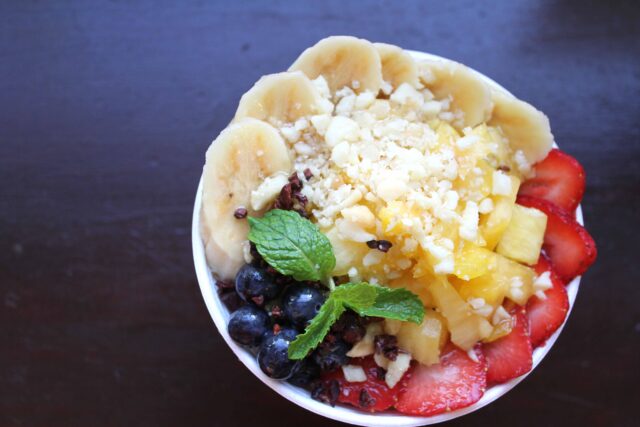 After musing over the intricacies of a chopped up and repositioned surfboard, turn around during the day, and you'll find a wall-to-wall bookshelf, holding not just reading material, but more artwork and visitor information. Behind the bookshelf however, is a buffet dining area in the morning, and a hopping hidden bar at night—called The Study—often with live music playing by local acts. Sip on a smooth cocktail while you mingle with locals and tourists alike, and enjoy the experience of live artists.
The dining at The Modern Honolulu continues the trend of 'cutting-edge', and local, house-made ingredients star. The show stopping restaurant Morimoto sits dockside, with a stunning view that encompasses the crisp beach, boats on the water, all the way across to the business district of the city where the sun conveniently sets, completing the pretty-as-a-picture vibe. Expect seasonal produce that's fresh from the farm and ocean, sourced from Oahu and neighbouring islands of Maui and the Big Island. When guests arrive at Morimoto, they enter into a divine and surreal setting designed by Thomas Schoos. Picture floating coral encased in resin, and a table with live seaweed growing beneath the glass surface.
The vibrant and eclectic cuisine brings in locals and visitors, with Executive Sous Chef Andy Reagan telling us the patrons consist of around 60% visitors, and a booming 40% locals. He puts this down to: 'Chef Morimoto's unique culinary concept, which seamlessly integrates western ingredients with traditional Japanese culinary sensibilities and techniques', setting Morimoto apart from other waterfront restaurants in Waikiki, Reagan says.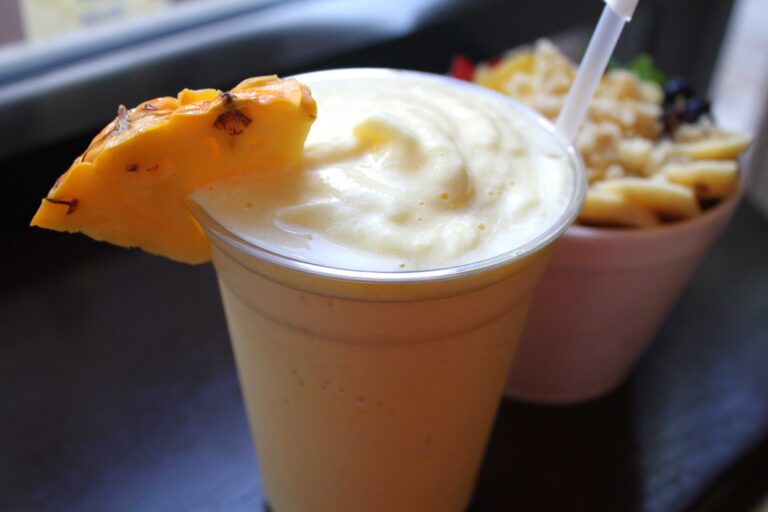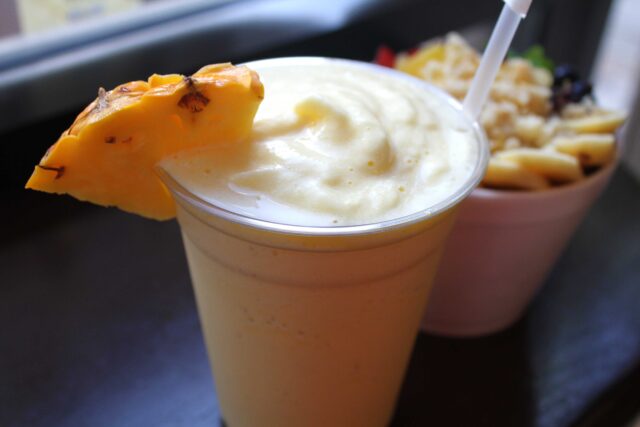 With a menu that boasts succulent potstickers—done the way they should be—the beef carpaccio is also a must try, as well as a decadent souffle, accompanied with a sweet but subtle guava ice cream. Reagan tells us that the tuna pizza is the most-ordered dish, and with big eye tuna, anchovy aioli, olives, tomatoes and jalepeno, we can see why. Do yourself a favour and choose a cocktail to accompany your exquisite meal, the cucumber shiso collins is a ripper.
Goofy Cafe and Dine
If you thought lining up for a cafe was only a Melbourne thing, either you're wrong, or a lot of Melburnian's visit Waikiki! Goofy Cafe and Dine will have a line during breakfast and lunch, but if you sneak in in-between times, you can enjoy a peaceful atmosphere and down-to-earth service. Surf memorabilia, photographs and icons are worked into the decor, along with a rustic beach shack vibe. Grab an acai bowl topped with tropical pineapple and papaya, or munch down on some tasty charred corn. The menu takes a healthy and nutritional approach, with a focus on veggies, and a motto that states; 'Local first, organic wherever possible.'
The Outrigger Waikiki Beach
Smack bang between sandy shores and the shopping district, is The Outrigger Waikiki Beach. Aside from sporting one ripper iconic view of the beach through a line of palm trees while you lounge by the pool, it's also got a number of dining options, too. Pick from Duke's Waikiki restaurant, which serves up some sizzling steaks or epic breakfasts, or upstairs grab a table at Hula Grill Waikiki, where they put a spin on breakfast, think Benedict Bao! Blue Note Hawaii hosts a relaxed dinner service, accompanied by live jazz, blues and Hawaiian music.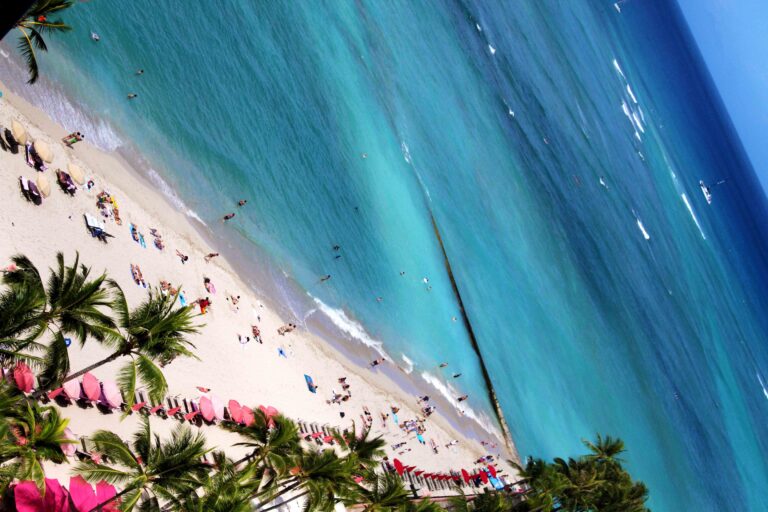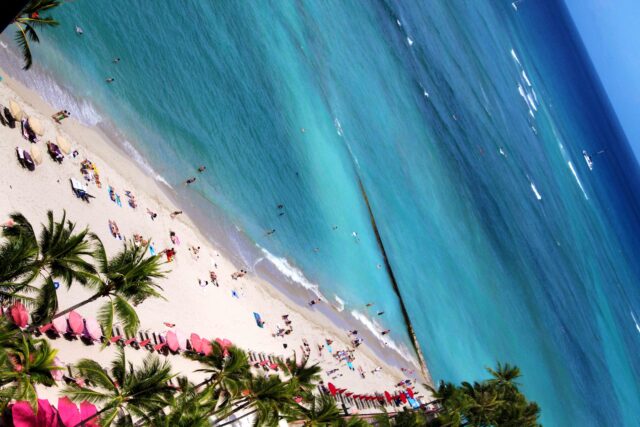 The Outrigger Waikiki Beach has its own array of shopping inside the building, from a jewellery to convenience store, our pick was the deli, where you can select some tasty treats to go. Room service also includes extensive options from the onsite restaurants, if you're simply too knackered from a day of water sports and enjoying the sunny hospitality of Waikiki. Did we mention the view from the balcony of The Outrigger is to die for? It's worth getting room service if just so you can sit outside and enjoy watching the palms gently sway in front of surfers gliding (or crashing) down the waves toward the soft, sandy shore. Holiday perfection.
Cinnamon's at the Ilikai
Move over your traditional hotel brekkie. Cinnamon's has everything from pancakes to omelettes, but the flavour and freshness is unparalleled. The guava pancakes are the selling point—that and the scenic, oceanside, al fresco dining area. The meals are hearty and generous, and packed full of taste—a common theme in Hawaii. While the plates won't win an Instagram-worthy award, it will be something you simply disregard after the first bite. Melburnians: Guavas are delicious. Guava pancakes are food-coma worthy.
Maui
Sea turtles, a plethora of vibrant coral and fish, and some sweet surfing spots, too; Maui is a holiday goers paradise. From resorts to shacks, rainforest roads to lavender farms, we took a deep-dive into the eclectic food scene. Not afraid to fully embrace tasty trends such as tropical acai bowls, and piping hot Portuguese doughnuts, here's GRAM's pick of where to eat when in Maui.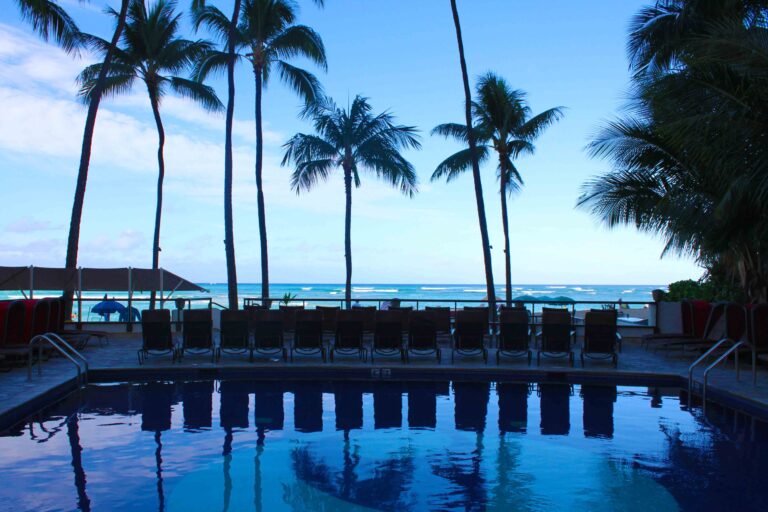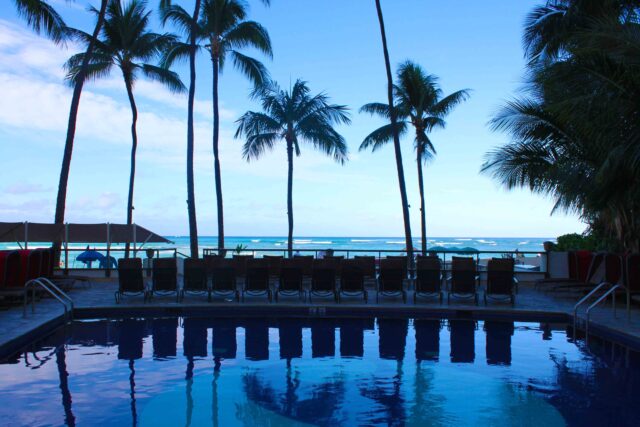 Frida's Beach House
An unassuming Mexican joint, situated mere meters from the crashing shore of Lahaina, Frida's Beach House is a pleasant surprise of warm hospitality and intensely flavourful food. Expect your regular Mexican fare such as nachos and tacos, with salsa sporting an authentic fiery kick. Central and South American influences also appear on the menu and the Rib Eye Mojo De Ajo is a meal you don't want to miss out on. Cooked to tender perfection, it's served with black or refried beans, and a tangy citrus salsa with roasted garlic and Pico de Gallo. The well-picked wine list sets the tone for a blissed out evening, along with a vibrant cocktail selection—try the Rum DMC; because it's tropical and you're in Hawaii, duh.
Home Maid Bakery
Home Maid Bakery in Wailuku on the north side of Maui is where you will find piping hot, melt-in-your-mouth, please-sir-may-I-have-ten-more, delicious, doughy balls of heaven. They're called Malasadas, a Portuguese treat that is essentially a light and fluffy version of a doughnut—sans filling—rolled in crystalline sugar. Eat your first batch before driving away, because it's just simple fact; you will go back for seconds.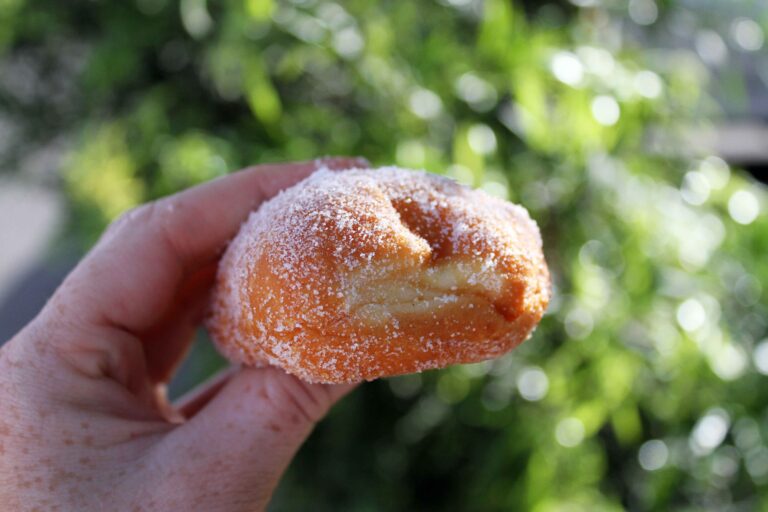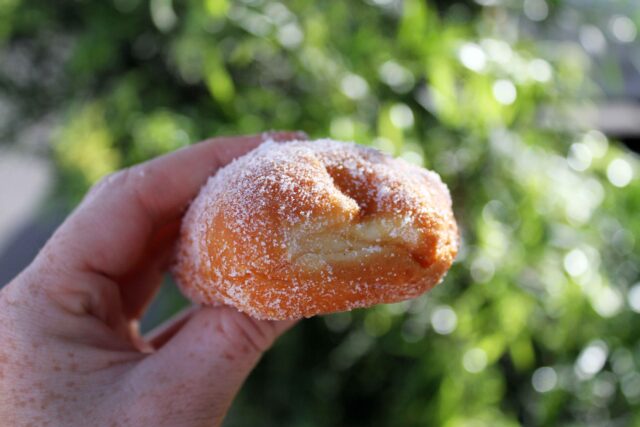 Roadside Fruit on the Road to Hana
The Road to Hana is an iconic journey, filled with breathtaking waterfalls, and hair-raising winding roads. Stop plenty of times along the way to pick wild mangoes, watch schools of dolphins from the top of a cliff, swim in a black sand beach, or—we know, your personal favourite—eat a vibrant array of fresh fruit from roadside vendors. Along the journey you will pass plenty of honesty boxes, with treats such as papayas, mountain apples, bananas, mangoes, limes, and lilikoi. What they don't have in polished looks such as ones fresh off the supermarket shelf, they make up for in juicy, intense flavour. The bananas may be as big as your thumb, but boy oh boy, that's one tasty thumb.
Coconut Glen's
Vegan's rejoice. Hawaii is a bit of a vegan paradise, and Coconut Glen's is the king on top of the castle. Situated on the Road to Hana, this roadside shack is filled with character and quirk. Its tasty and interesting flavour combinations are organic and completely dairy free, and on top of all that pretty darn memorable. With all your seasonal fruit flavours, there are some interesting twists with Matcha, as well.
Leoda's Kitchen and Pie Shop
While sweet pies seem to be exceedingly popular in the United States, the savoury pies at Leoda's Kitchen and Pie Shop are the real standouts—or maybe it's just the Melburnian coming out in me. The rich braised beef with red wine demi, russet potato and creamy horseradish pot pie is crowned with a flaky, crunchy and delightful golden pastry. It goes brilliantly with the fried salad of brussel sprouts, burnt orange vinaigrette, celery leaves, radish and mint.
www.leodas.com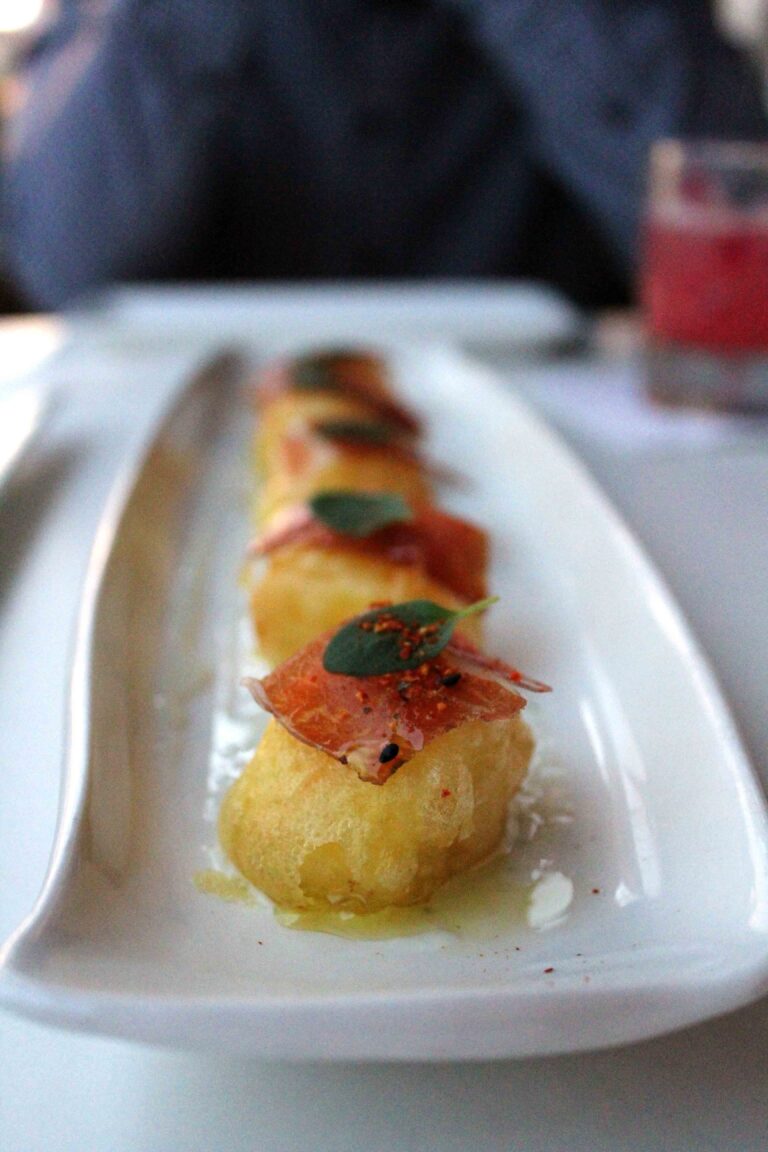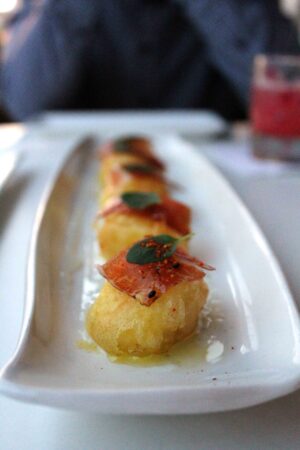 Olawalu Juice Stand
Next door to Leoda's is a fresh fruit market, and a pumping juice and smoothie station. Sugar cane juice is on offer, and creamy flavours such as dragonfruit, pineapple, lime, or of course, Hawaii's favourite, lilikoi.
Choice Health Bar
Note to reader: when booking accommodation, make sure you're close enough to dine at Choice Health Bar for at least one breakfast, and one lunchtime meal. The healthiest meals (that you'll most likely have for your entire trip) are packed with such an abundance of flavour—you'd never know it was good for you. Pick from an extensive list of acai bowls, smoothies, buddha bowls and superfood salads. Absolutely stunning, and scrumptiously perfect, if only there was one of these in Melbourne (and it was summer all year around!).
Island Cream Co.
With a tag line 'we make cravings!', you know you're in for a wickedly good treat. Island Cream Co. take the scoop for some of Hawaii's best ice cream. Try your tongue with flavours such as sweet potato pie, chocolate pomegranate, or Maui french toast. There are multiple handmade cone styles to choose from as well, and tonnes of toppings to well and truly treat yo' self. When you're done being healthy from a day of eating—divine—acai bowls and superfood salads, head to Island Cream Co. for a little scoop of heaven.
Slappy Cakes
Tacky? Yes. Does it matter? Heck no! Head to Slappy Cakes early, or you will have to line up amidst hoards of large, rambunctious and hangry families. Slappy cakes is an odd mix between a traditional diner-style brekkie joint, and a Korean bbq self-serve restaurant. Each booth is fitted with a hot plate, and the pancakes are ordered by batter type, then toppings. Delivered in an easy to use squeeze bottle, you can even practice your pancake art while you much on sweet, sweet stacks. Seasonal batter is a must-try, especially when it's lilikoi!
www.slappycakes.com/locations/maui/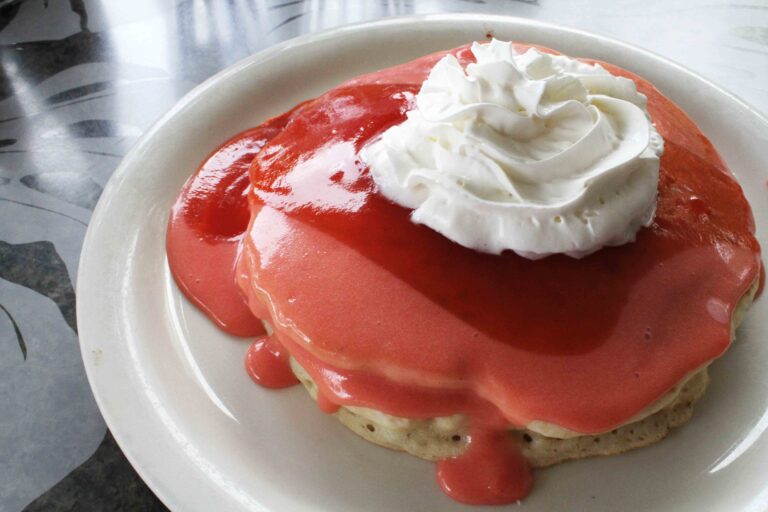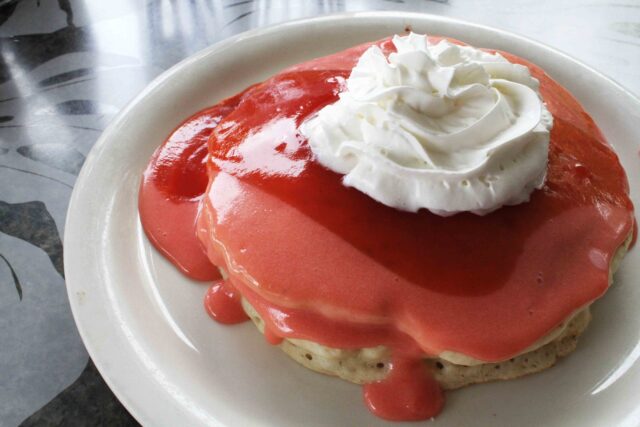 Hana Ranch Provisions
In the town of Paia in Maui, lives a delightful dining concept; Hana Ranch Provisions. Pay a visit to this upmarket yet still casual restaurant in the charming island town, after having a stroll through the relaxed streets with a beach vibe. Putting paddock to plate into practice, Hana Ranch Provisions serves stunning produce from it's own local organic farm and cattle ranch in east Maui. The 'ulu and sweet potato gnocchi in brown butter with balsamic and parmesan is decadently sweet, and precisely light like gnocchi should be. The braised Hana short ribs are also a win for meat-lovers, but the real showstopper, was unexpectedly the house-made ginger beer. Don't worry, you can get it in a cocktail!