INGREDIENTS
Serves 4–6 as a starter or light meal
canola or sunflower oil for shallow-frying
1 head cauliflower, cut into florets
2 brown onions, finely sliced
1 piece Lebanese flat bread,
torn into bite-sized pieces
olive oil, for drizzling
1 ½  tablespoons ghee
100 g (3 ½ oz) slivered almonds
200 g (7 oz) cooked (see note) or drained
tinned chickpeas
50 g (1 ¾ oz) sultanas
(golden raisins)
1 bunch coriander (cilantro),
leaves picked and roughly chopped
1 bunch flat-leaf (Italian)
parsley, leaves picked and roughly chopped
1 bunch basil, leaves torn
DRESSING
1 garlic clove, crushed
150 g (5 ½ oz) tahini
200 g (7 oz) Greek-style
yoghurt
juice of 1 lemon
METHOD
Preheat the oven to 150∞C (300∞F). Lightly grease a baking tray.
Fill a small saucepan about 2 cm (æ in) full with oil and heat until it just starts to simmer.
Add the cauliflower and fry until golden brown. Remove and drain on paper towel. Then add the onions and cook until crisp and lightly golden. Remove and drain.
Spread the flatbread onto the prepared tray, sprinkle with salt and drizzle with olive oil. Bake for 10-15 minutes or until golden. Set aside to cool.
Place the ghee in a shallow frying pan over low heat. When melted, add the almonds and cook until golden. This happens quite quickly so make sure you keep your eye on the ball while tossing the almonds around. Drain on paper towel.
To make the dressing, place all of the ingredients in a small bowl and whisk to combine.
To serve, fold the chickpeas, sultanas, almonds and cauliflower together in a large salad bowl. Add the coriander, parsley and basil, top with the fried onion and drizzle the tahini dressing over.
Finally, gently fold in the toasted flatbread.
Note: to cook chickpeas, start the night before by soaking 125g (4Ω oz) dried chickpeas in cold water. The next day, drain then rinse the chickpeas and place in a large saucepan. Cover with fresh water and bring to the boil. Reduce the heat and cook for 1 Ω hours or until tender.
Drain into a colander and toss in a splash of good olive oil.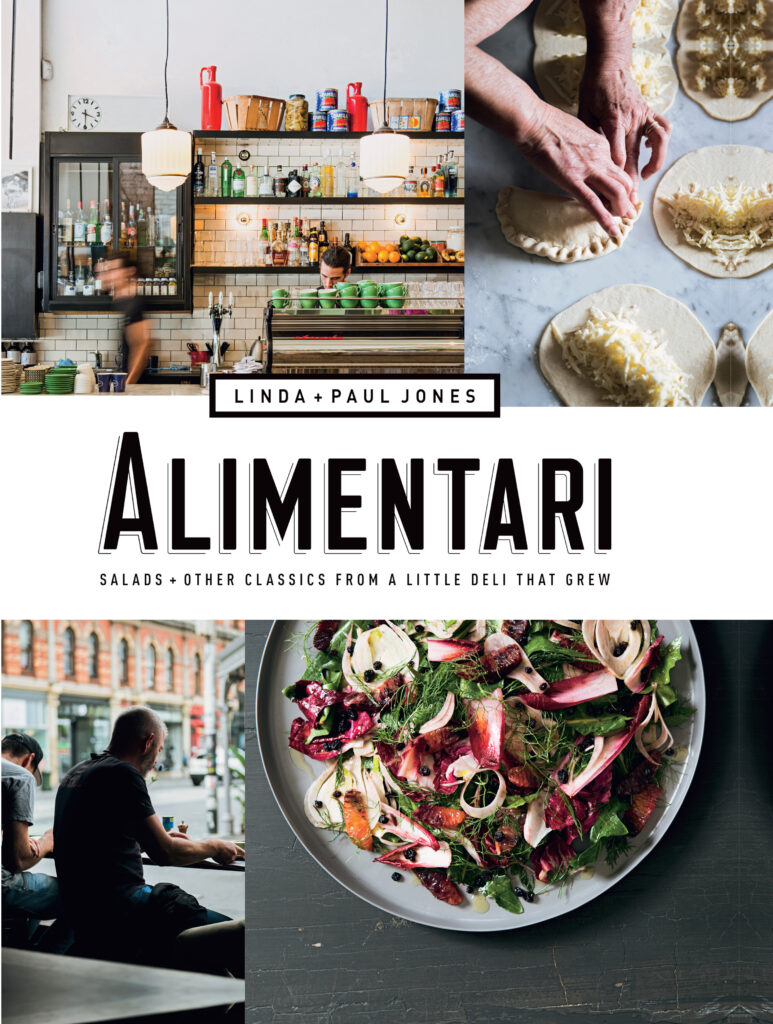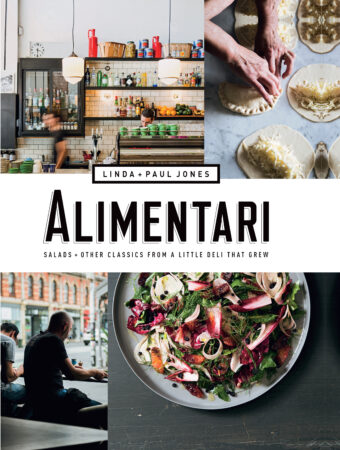 This is an edited extract from Alimentari by Linda and Paul Jones published by Hardie Grant Books RRP $39.99.
Available nationally August 1, 2016