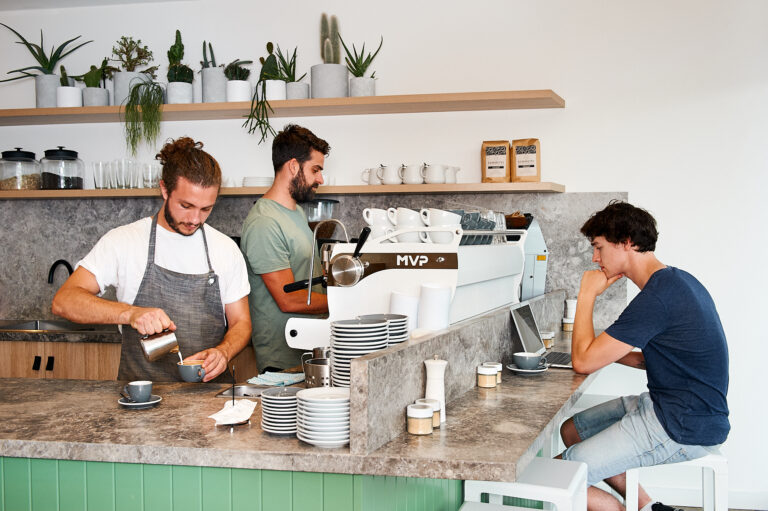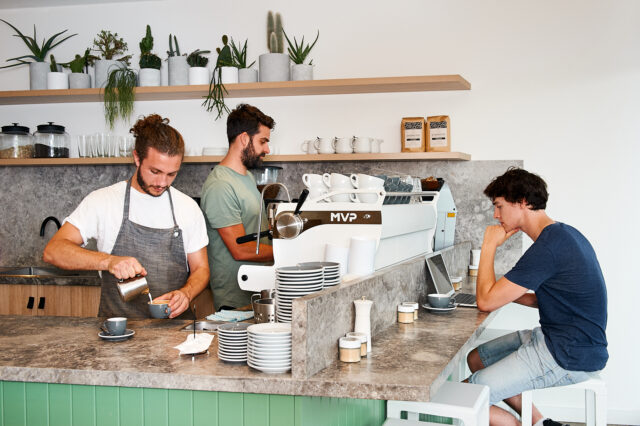 Change is a good thing.  It helps us take stock of where we've come from and where we need to go in order to achieve our goals.  If we float through life doing the same thing, months turn into years and we never evolve.  Making a concerted effort to do something new can be totally transformative and this is the path taken by brothers-in-law, Andrew Lew and Nick Gardiner.
An experienced cafe owner for over 20 years, Andrew started Maling Room Coffee in 2009, mainly to supply his cafe in Canterbury but also because he was interested in learning more about the roasting process.  From there they started supplying other cafes, building a brand at a time when specialty coffee was just taking off in Melbourne.  But soon it was time for change and, after a few years, the cafe was sold. Now, with his extensive experience, Andrew decided to create a new brand with a fresh purpose and focus and so Symmetry Coffee Roasters was born. 
"The name Symmetry brings to life the pursuit of perfection and consistency and doing it with passion.  This applies to everything we do from sourcing the beans, working closely with farmers and building relationships, through to our personal service, training and ultimately producing the best possible coffee all day every day," Andrew said.
"Our mission is now greater than ourselves.  We feel a strong sense of responsibility to everyone involved in our journey, from the farmer through to the customer who drinks our coffee, so it's important we make a difference in the coffee farmer's life and unite them with the customer in our pursuit for coffee excellence." 
His business is also about looking after their clients. Andrew delivers the coffee himself and meets with the owners, baristas and cafe staff to ensure everything is running as it should and troubleshoots any issues.  Having worked at the grass roots-level of running cafes himself, he totally gets it.
His brother-in-law, Nick Gardiner, who owns Granger in Caulfield East has also made a few changes over the past couple of years.  He co-owned two successful cafes, Gardiner & Field and Frank & Ginger, then took a break for 12 months to marry his wife, renovate his home and take a holiday before getting the itch again to open up another cafe.  This time though he decided to do it on his own, keeping the same philosophy of giving locals in the area a great place to come and enjoy good food and great coffee. 
Nick's menu is inventive yet still crowd pleasing, but what really impressed me was the coffee.  After using Andrew's beans at his previous cafes, taking Symmetry on board at Granger was a no-brainer: "I trust his knowledge and roasting skill. His small team are incredible, friendly and always willing to help."
"I have found a backlash against rotating single origins as daily coffee drinkers were sometimes annoyed by vastly different flavours each day. We keep it simple and have a blend for milk-based coffee and a specifically-designed blend for those who want it black and they both work so well."
Now for the review: Symmetry's Black Mamba Espresso Blend. Like the snake it's named after, this blend is powerful and aggressive yet equally smooth and graceful.  It comprises three single origins: one from Honduras, a natural Ethiopian, and a washed Ethiopian. Together, they work in harmony to create an exceptional coffee.  While it's been designed as an espresso blend, to be honest, it works really well with a touch of milk due to its sweet, syrupy nature.  Trying this coffee for the first time towards the end of last year, it really made an impact on me. So much so, I rate this as one of the best cups I had in 2017. Credit must go to Nick and his highly skilled baristas who do the coffee justice on their three group Synesso MVP machine.
Two businesses run by two men each with the same values, working in a symbiotic partnership to help each other achieve the same goals, is what I call true symmetry and if you want to try the awesome Black Mamba blend, here are some quality places you can do so:
Granger – 49a Grange Rd Caulfield East
Chez Dre –  285-287 Coventry St South Melbourne
Butcher 128 – 128 Roberts St Yarraville
Platform Espresso, 1529 High St Glen Iris
Three Monkeys Place – 2 Jackson Crt Doncaster East