"We have to find some mango leaves," Janet de Neefe says as she looks towards her university-aged son who sits at the next table, his eyes down into a mobile device. Her appeal is greeted with the pleasant but nonchalant face of any university-aged son who sits eyes down into a mobile device when asked a question by his mother. Unperturbed, Janet returns back to the interview. Unperturbed is the perfect word to describe de Neefe. Throughout her 34 years living in Bali, operating some of Ubud's iconic restaurants such as Casa Luna and Indus, raising four children, and kickstarting the Ubud Writers Festival, she's perfected the art of coating herself in teflon, letting frustration, opposition and the like, slip right off. She's calm, committed and constant. She'll get her mango leaves, of that there is no question.
de Neefe is in Melbourne for her two-night dinner (tonight and tomorrow night) at St Kilda's Tolarno Eating House where she will bring the simple, yet amazingly complex, tastes of Bali to her hometown. Specifically, she is bringing the flavours of the warung, the small Balinese roadside diners popular with locals, and oft avoided by westerners, particularly Australians.
"Aussie tourists land and they go to the Aussie-looking cafes and eat variations the food they eat in Melbourne. It's an interesting dilemma at the moment: some are interested in trying little bits of local food, but largely they're more interested in the types of places and foods they eat in Australia, like pizza," she said.
"They always have that worry that they're going to get sick, whereas now 'Bali Belly' really means you've eaten too much food and put on 3kg."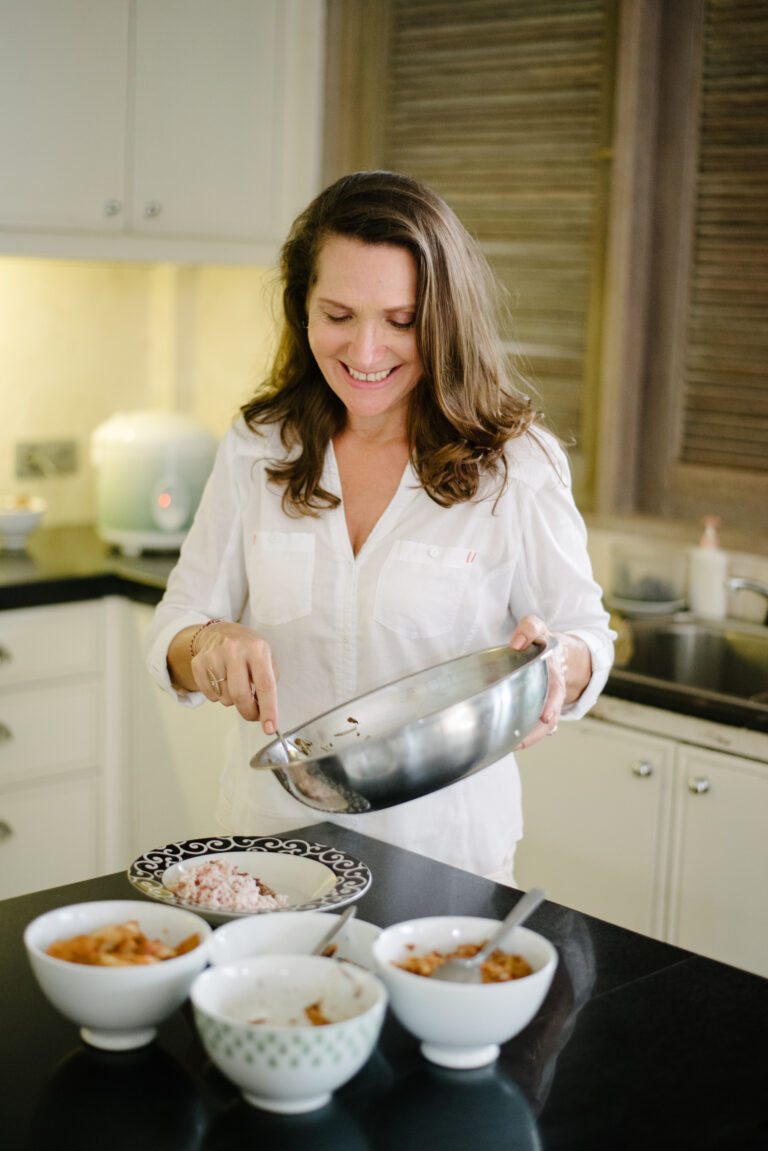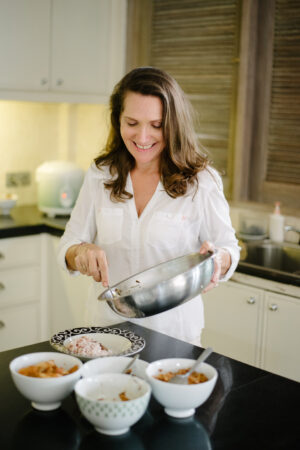 The lack of Balinese and Indonesian food available in Australia is central to her brief return to Melbourne. It bewilders her that so many Australians visit the country, yet so few clamber for its taste on their return and certainly not in the same demand as Thai or Vietnamese. She sees herself as an ambassador, a spearhead, for promoting the complexity of Balinese cuisine here. And, for her first such event for the Melbourne Food and Wine Festival, she will transform the Tolarno Eating House into a warung with just two dishes: Ayam Betutu and Babi Guling.
Ayam Betutu is a chicken dish that owes the genesis of its spectacular taste to the labour of the process. It starts with the rubbing of sea salt into the skin (a very specific type of salt, but more on that later) and then boiled in a broth for no less than six hours. It's the broth that's central here and it's the spices that make it so. To name just a handful: turmeric, galangal, coriander seeds, ginger, candlenut, white pepper, black pepper, lemongrass, sesame seeds, tamarind, palm sugar and a medley of even more. de Neefe will add a dash of oyster sauce for pop and then, after the slow boil marathon, serve with beans (green or snake), sambal, steamed rice and roasted coconut but only "if we can find good coconut," she said.
So presents part of the challenge for de Neefe. With Balinese and Indonesian food enjoying only fringe popularity in Melbourne, sourcing the ingredients required to bring together a tropical cuisine in a temperate climate could be a Herculean feat. But it's not just the mango leaves and coconut that could prove challenging to procure, it's also the pig that's central to the second dish, Babi Guling.
Babi Guling is a suckling pig where the cavity is stuffed with Bali's ubiquitous spices and mango or cassava leaves. The pig is washed in old coconut water and then basted with turmeric and oil, slowly and continuously as it roasts.
"Trying to replicate a unique and traditional Balinese experience in a totally different climate and culture is a challenge. I wanted to see if we could do it, even if we get 75 per cent there, I'll be happy. I want to use what's available here to see if I can match those flavours."
So what did de Neefe bring with her to create her warung-inspired dishes?
"I just brought my salt."
But not just any salt. It's sea salt that's hand-harvested from Amed on Bali's east coast, an area feeling firsthand the effects of a tourism plummet as a result of the uncertainty posed by the volcanic Mount Agung. de Neefe swears by the punch and earthiness of the salt which she says is integral to the taste of her dishes. She's bought up big on the salt to help the struggling communities living in Agung's shadow, an area largely evacuated and completely avoided by tourists. But if you want some of that salt yourself, then: "You have to come to Bali to get it. In my cooking class I tell everyone you have to buy 10 boxes."
For as much as de Neefe in an ambassador for Balinese cuisine, she's equally an ambassador for Bali itself.
"The tourism industry in Bali is still quiet. Numbers are still down by about 20 per cent. It's almost like the backpackers are going back because it's cheap, so more young people. I guess the older people don't want to take the risk. There's still that fear that you might get stuck there, but seriously, it ain't that bad a place to get stuck."
de Neefe's Balinese home, Ubud, continues to evolve. New restaurants pop up to challenge her stalwarts (Casa Luna is 25 years old and Indus, 20) with variations on items, like black rice bread, that she created herself 25 years ago. The town grapples with its rapid development, plastics, unsustainable water usage, hipsters and Eat Pray Love sad sacks, but it – and Bali itself – will endure, according to de Neefe.
"Bali is redefining itself nicely. I think its food culture is really starting to shine a light and move forward. There is this dream that Bali will go back to organic. It may not be possible, but I think we can get pretty much close to it."
But, much like her quest to get mango leaves, two things are certain: both she and Bali will do more than endure, they will succeed, because they always have and they always will.
Where: Tolarno Eating House, 42 Fitzroy Street, St Kilda
When: March 23 (tickets till available) and tomorrow, March 24 (sold out)
Prices: $99 per person
Included: Evening includes welcome cocktail two-course meal – main course and dessert.
Bookings: Book through Melbourne Food and Wine Festival here.