If there's one name that's synonymous with Australian home cooking, it's Lyndey Milan. Gracing our TV screens and our recipe books for over 25 years, Milan knows Australian Christmas – and Australian produce. Milan has a long-standing reputation for supporting local growers, and has joined the legion of renowned foodies to fly the flag for Australian macadamias.
Australian macadamias are a top quality product. As well as being the birthplace of the buttery nut, Australia has been leading the world in their production for more than four decades.
Loaded with good fats, vitamins and minerals, macadamias are a fantastic addition to your festive fare. Try these delicious recipes for your loved ones as part of your feasting this Christmas.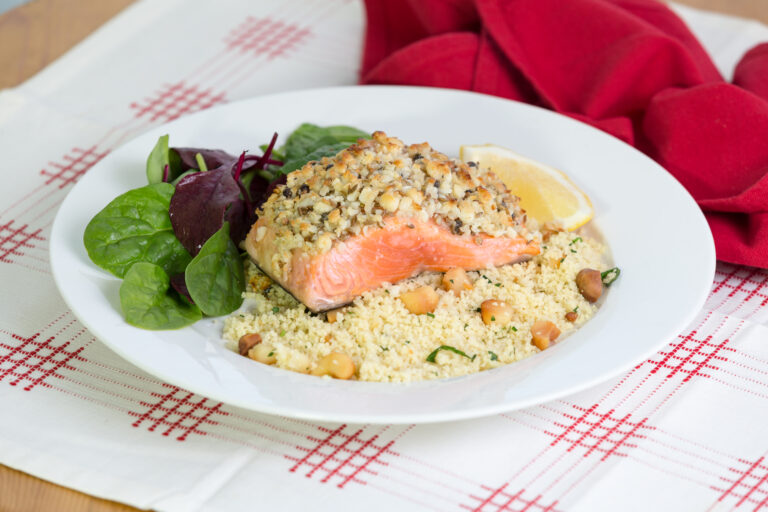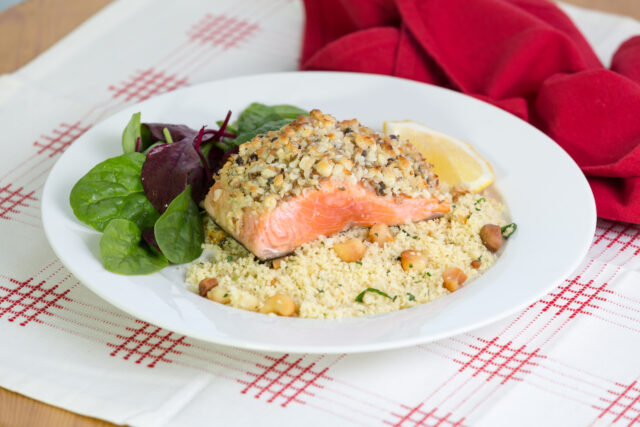 Macadamia crusted Salmon with Macadamia Couscous
Serves: 8
This recipe is as easy as it is delicious, and the macadamia crust dresses up the salmon perfectly for Christmas entertaining. On a hot day, you could serve the couscous cold, dressed with a little macadamia oil and squeeze of lemon.
Ingredients:
8 x 180-200g salmon fillets, skin-on
Lemon cheeks, to serve
Mixed salad leaves to serve
Macadamia Crust
2 tsp black peppercorns
1 ¾ tbsp coriander seeds
1 2/3 cups (230g) raw macadamias
2½ tbsp sesame seeds
¾ cup (60g) shredded coconut
1 ¾ tbsp cumin seeds
2½ tsp fennel seeds
2 tsp sea salt flakes
1 ½ tbsp macadamia nut oil
Macadamia Couscous
2 cloves garlic, finely chopped
2 cups (400g) instant couscous
2 cups (100ml) chicken stock, hot
¾ cup (100g) toasted macadamia nuts, roughly chopped
¼ cup chopped flat-leaf parsley
Method:
1. Preheat the oven to 180'C and line a baking tray with baking paper.
2. Process black pepper and coriander seeds until roughly chopped. Add macadamias, sesame, coconut, spices and salt and process until crumbly. Add macadamia oil and blend to combine. Place salmon fillets skin down on the baking tray and press the crust on top, about 1 cm in thickness.
3. Place the salmon in the pre-heated oven for 7 minutes. Remove, turn on fan grill and place under hot grill for one minute to fully brown the crust. The crust should be golden and the inside of the salmon still pink. Roast for longer if you want it cooked through.
4. Meanwhile for the couscous, combine garlic and couscous in a medium bowl and pour over hot stock and cover with a clean cloth. After 5 minutes fluff couscous with a fork to break up into grains. Stir through the macadamias and parsley.
5. Serve salmon with macadamia couscous, lemon cheeks and green salad, if desired.
Nectarine and Macadamia Tart
Serves: 8-10
Summer fruits such as nectarines and macadamias make good friends. Based on a frangipane tart, macadamias in the pastry and the filling take this dessert to another level.
Ingredients:
1/3 cup (45g) whole raw macadamias
1 cup (150g) plain flour
2 tbsp caster sugar
pinch salt
90g cold butter, chopped
1 egg yolk
½ tsp vanilla extract
2 tsp iced water
3 (500g) nectarines or peaches, cut into eighths
Ice-cream to serve
Macadamia Filling
1 ½ cups (210g) macadamias
½ cup (70g) plain flour
150g butter
2/3 cup (150g) firmly packed brown sugar
2 eggs
2 egg yolks
1/3 cup maple syrup
Method:
1. Process macadamias until finely chopped, add flour, sugar, salt and butter until crumbly; add egg yolk, vanilla and water, process only until ingredients just come together. Do not overwork. Turn onto plastic wrap and gently knead together to form a disc. Wrap and refrigerate for 30 minutes.
2. Roll pastry between sheets of baking paper until large enough to line the base and side of a 24cm round loose-based flan tin. Peel away one sheet of baking paper, invert the pastry into the tin. Gently press pastry into the side then peel away the top sheet of paper. Trim the edges with a sharp knife. Prick with a fork and place in the freezer for 30 minutes.
3. Preheat the oven to 180'C. Place pastry in tin on a baking tray, cover pastry with baking paper, fill with dried beans or rice. Bake in a moderate oven for 15 minutes, then remove paper and weights and bake for a further 10 minutes or until browned lightly.
4. Meanwhile, make the filling: Process the macadamias and two tablespoons of the flour until fine, add the butter and sugar and process well until pale. Add in the eggs, egg yolks and syrup and combine. Stir though the macadamia mixture and remaining flour.
5. Spread the Macadamia Filling into the pastry base, arrange the nectarine segments over the filling. Bake in a moderate oven for about 40 – 45 minutes or until golden brown and firm to touch. Cool. (If necessary, shield the edges with foil to prevent burning.)
6. Dust with sifted icing sugar if desired, or serve as is with ice-cream.