Pastry Chef Kirsten Tibballs is not in the habit of sitting still. Proclaimed the 'Queen of Chocolate' by Masterchef Australia, Tibballs is one of Australia's most celebrated and internationally respected pastry chefs and chocolatiers – and whether it's creating internationally-renowned techniques or whether it's developing a unique baking app, she always has a project on the go.
After growing up in Leongatha and then Pearcedale in Victoria, Tibballs started selling competition-winning cakes from age 12, and has since travelled the world showcasing her talent in the pastry realm. Tibballs has represented Australia at the World Pastry Championships in Las Vegas, where she was recognised as the best in the world for her handmade chocolates, as well as winning gold in the Pastry Olympics in Germany. She has also been a judge at the World Chocolate Masters in Paris, the Patisserie Grand Prix in Japan and the World Chocolate Masters National selections in London, to name a few.
In 2002, Tibballs established Savour Chocolate and Patisserie School in Brunswick, where she hosts renowned international chefs each year. Earlier this year, she launched her Mix&Make app, assisting users to create their own perfect dessert combinations.
We spoke to Tibballs about what inspired her to enter the world of desserts, what's next on her agenda, and Tibballs shares some of her newly-developed Christmas recipes with Gram readers. Not to mention, she teaches us the secret to a perfect custard!
What got you onto cooking in the first place? My mum was always very good at cooking, and she cooked quite a bit; so she trained me and taught me a lot initially about the dos and don'ts in the kitchen. Back then people didn't have a lot of money, so you didn't go out. Everyone cooked every night.
Do you think baking and pastry is more scientific than other forms of cooking? Why do you think you have a preference for that? I think I like the science part of it and the structure of it, but I think it's much more artistic than cuisine cooking. We can make sculptures and we can make desserts pretty and into little art forms, whereas cuisine… they can do beautiful plating, but I think there's so much artistry [in patisserie]. When I started, which was a very long time ago, cuisine was pretty standard. A lot of chefs will probably curse me for saying that [laughs].
So why do you think you were drawn to pastry? I didn't go to high school, so I cooked at home a lot; and I started a little cake business where my mum used to help me sell cakes at the age of 13.
You're now the "Queen of Chocolate" – how did your career go to the next level? I think passion. I love what I do and I'm passionate about it. And I always try to move forward.
I think a lot of people have created amazing products and they stick with one product, and keep repeating it; where I think I always try to evolve and improve myself and learn something new, and create something new, and create new concepts and techniques.
Was there a breakthrough moment, a breakthrough dessert? I did do a lollipop, three years ago now, which I demonstrated in Barcelona. It was to an audience of 300 of the world's leading chefs, pastry chefs and chocolatiers that were invited to the event, and there was only six people demonstrating. So they gave me a theme, an emerging trend in society, which was "style rebellion". From that, I created a multi-striped, marbled chocolate lollipop.
The technique I created [for that dessert] is used globally now. A lot of people wouldn't know I created that technique, but those 300 people sitting there knew that I did. So for me that was amazing to have such positive feedback.
Wow. So that technique helped you carve a niche in the industry for yourself? I think it was a combination of lots of things; but for me, that was very satisfying. I'm very ambitious; while I run the [Savour School] business, I always have a side project. Whether it's a cookbook, or a phone app, or a television show, there's always something I'm working on to better myself and keep pushing boundaries, if you like.
Like your Mix and Make app that you've recently launched. So why did you create the app? I was actually approached by an app developer to see if that was something I wanted to do. [The app] is almost like a recipe book, with free recipes, but giving people the opportunity to actually mix the flavours that they like with the colour that they like and put something together that's their own and then have the recipe, which I don't think has been done anywhere in the world.
What's your favourite ever dessert? Ohhhhhhhh [laughs]. To eat or to make?
Both. I think to eat: I don't like anything too rich and too heavy. I like flavours that are harmonised and I like lots of texture. So for me it would have to be something like caramelised pineapple, and a combination of chocolate and caramel, and that can come in many different forms. But I like acidity to balance sweetness, and I like lots of crunchy, and soft creamy textures and that's what I look for. So it's not a particular one thing, it's how those combinations evolve.
Is there a particular memory of a dessert that maybe your mum made as a kid that you are fond of? My mum used to make very traditional English desserts. She used to make golden syrup dumplings and jam steamed pudding, which I used to love.
And what's your go-to Christmas dessert? I made some today actually, which is a tropical fruit mince pie. It's mango, pineapple, and apricots; fresh fruits that are preserved to make a tropical fruit mince which is much lighter in flavour but really decadent. And I've topped that with meringue. I keep evolving that fruit mince and bringing it out in different applications and this one so beautiful.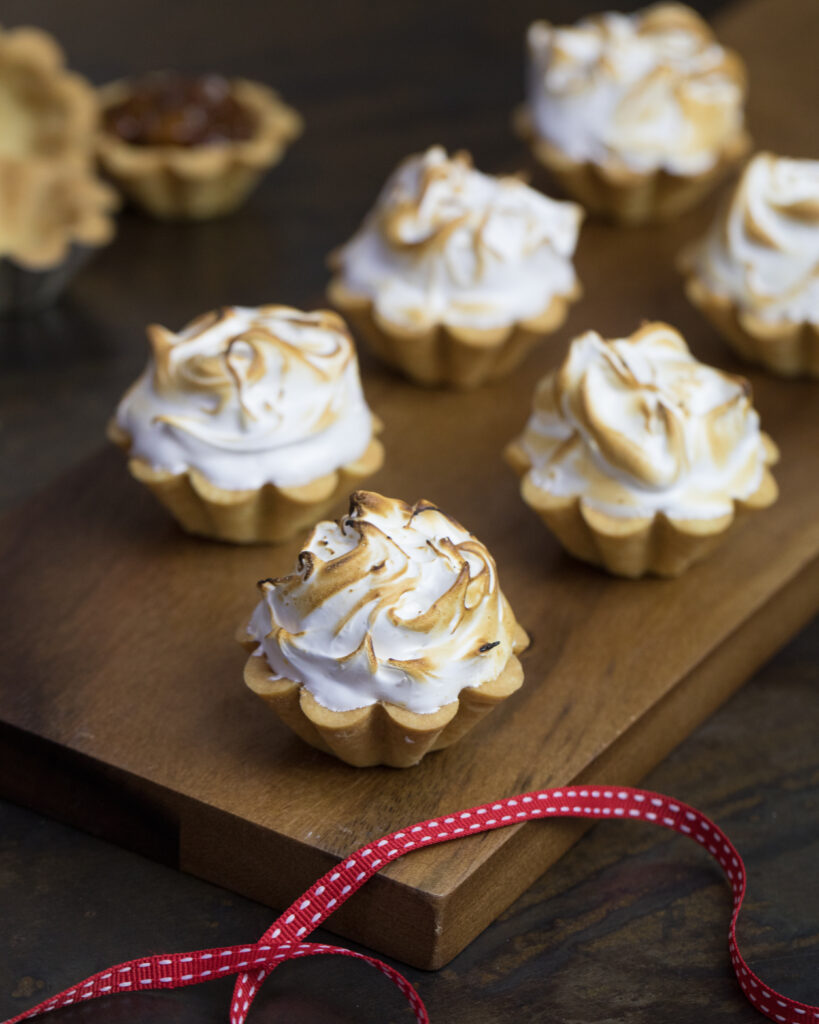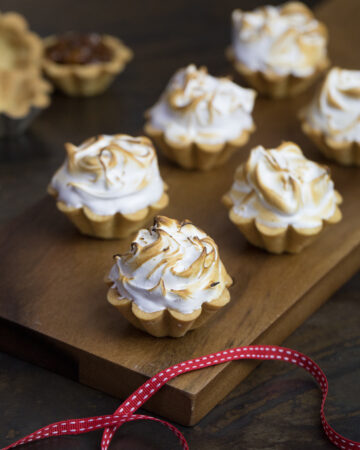 Meringue-topped tropical fruit mince pies – that is genius. What else have you developed for us? Can you take me through the desserts? I've also done a 15-minute trifle, because I think people think, "oh I've got no time, let's just buy something"; This trifle is easy, accessible, and doesn't involve a lot of dishes but is beautiful to eat.
So good! In terms of the trifle, just going back to this because it's such a contentious dessert in my family. [Laughs] There's always a little bit of competition.
Yes. And every family member has their thing, and then someone else will try to make it, and they won't make it quite right… is there a secret to a good trifle? Normally my Aunty Lola makes an amazing one but last year, someone else made the trifle and the custard was terrible and I was REALLY disappointed.
[Laughs] I think for me, I don't like too much alcohol in it. I think a balance between cake/biscuit, creaminess, and acidity… I think you've got to have some kind of fruit in there.
This 15-minute trifle doesn't have custard in it, because it's a very quick trifle, but it has caramel sauce.
So I think because it's an Australian summer, you can go a bit lighter, a bit more tropical. But if you're going to make a traditional trifle, it's important to have a good custard.
The trick to a perfect custard for me is to reduce the custard powder and increase the butter. It won't be as starchy and gelatinous, but it will be much creamier.
Look out for Kirsten Tibballs' TV Show, "Queen Of Chocolate", coming out in 2019.