If there's one critical factor to the success of a restaurant, cafe or hotel – apart from the obvious pre-requisites of excellence in food, coffee and accommodation – it's design. And all the winners and grinners from the 2018 Victorian Architecture Awards have just been announced. So, let GRAM show you around the places you need to check out. We know it's not *strictly* food related, but pretty pictures and design envy, right?
We've included the architect's project description (brace yourself, dramatic and overwrought writing ahead. But we love architects) and the jury citation where it applies (slightly less dramatic and overwrought writing). Where needed, we'll include a little preface at the start in italics. Because why not.
Now, make yourself a beautiful coffee and eschew breakfast, Brodie. This one's for you.
Commercial Architecture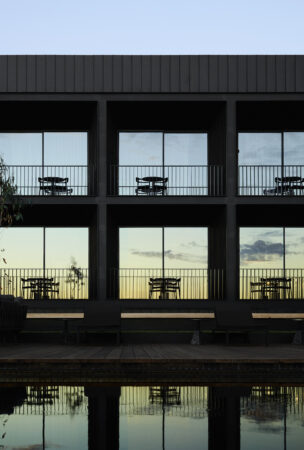 Jackalope, Mornington Peninsula
For those whose don't know, a jackalope is a mythical hybrid of a jackrabbit and antelope which was somehow brought to "life" by Wyoming taxidermists who would bung on some antlers onto a stuffed hare's head and throw it on a wall and then shroud with legend of its ferocity. Think along the lines of the equally ferocious and mythical Australian 'drop bear'. We'll let the submission outline work its wonder now, but don't expect any explanation as to why a Mornington Peninsula hotel is named after a mashed up rabbit-deer or how "its friendly yet ferocious associations, informs an overall attitude of dramatic contrasts as well as a multitude of intriguing references." Ten points if you can, though. Mwah. That said, Jackalope is beautiful, truly inspired and also shortlisted in the Interior Architecture category.
Inspired by the cinematic visions of Stanley Kubrick and fuelled by a desire to merge his love of film with his family hotel legacy, Jackalope's founder, Louis Li's, vision was to create a unique escape – a surreal hotel set amongst a bucolic landscape.
The fabled North American Jackalope was the inspiration behind the hotel's namesake. This "fearsome critter," with its friendly yet ferocious associations, informs an overall attitude of dramatic contrasts as well as a multitude of intriguing references.
Jackalope seeks to achieve a level of sophistication and refinement – unexpected considering it responds so explicitly to regional qualities – celebrating its locale through an expression of an intelligent and highly considered architectural narrative.
Drawing from mythological and alchemic themes, the response is a curation of a decadent almost hedonistic hotel experience, defined by elemental and evocative materials and an architectural vernacular celebrating the regional qualities of Victoria's Mornington Peninsula.
Chapter Award
Award – Commercial
Chapter Jury Citation
Jackalope is a finely-crafted hotel project combining a rich mix of architecture, landscape, art and interiors in a unique environment within the rural Mornington Peninsula landscape.
Sitting atop the ridge, the existing brick winery buildings have been well used to create a delightful entry court. Visitors pass through the innovatively re-purposed historic cottage to the sumptuous new hotel beyond. Clear and elegant planning provides a coherent collection of spaces which are enveloped in a series of striking dark agriculturally inspired structures with refined detailing throughout. The interior is inwardly focused, an exotic and sensory realm punctuated by artwork and vistas at every turn. Passing from the inner realm to the suites, visitors are reconnected with the outer natural landscape through bold and simple balcony spaces framing idyllic views across the vineyards.
Jackalope is an experiential delight. The elegantly resolved design deftly combines diverse architectural elements in a luxuriant and theatrical ensemble.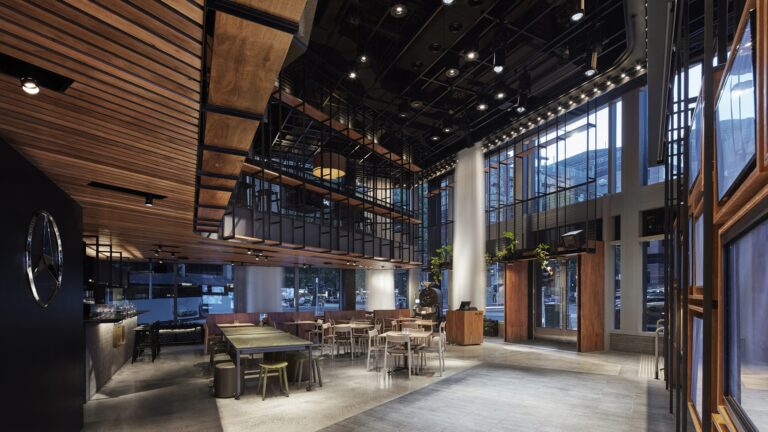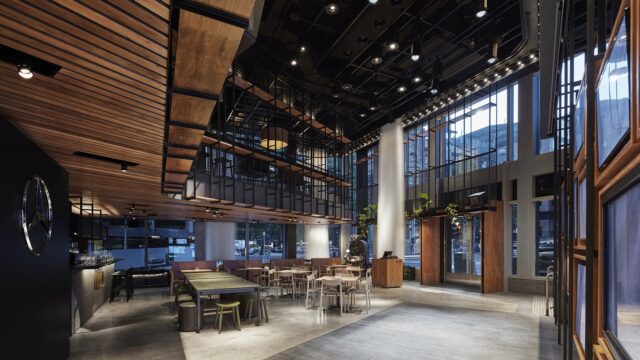 Mercedes Me, corner of Collins and King Streets, Melbourne
Nothing says elite like dining on duck-and-truffle consommé, sipping a latte, and politely poking at a salmon-and-truffle roulade engineered by ST ALi while floating around in an S-Class Merc dream. Nothing, we say. Mercedes-Benz knows how to next-level.
Mercedes Me Melbourne is one of seven concept stores globally. Situated on the ground level of the Rialto, on the corner of Collins and King Streets, the site occupies a highly prominent position in an area of the city currently undergoing extensive regeneration. Part of an extensive Rialto redevelopment, the design captures this shift and provides a focal point for the surrounding precinct.
The design premise was to evoke a connection with the language, care and finesse associated with the design of Mercedes-Benz cars while also capturing a distinctly Melbourne flavour.
Drawing on a palette of leather, limestone, polished concrete, timber and steel framework, the design embraces versatility on multiple levels, creating a series of compelling spatial sequences that vary in volume and character and transition seamlessly from daytime cafe and meeting place to evening event space for opening parties, launches and black tie functions.
Chapter Award
Award – Commercial
Chapter Jury Citation
Mercedes Me is an exceptionally well-executed and carefully-considered fit-out of a hospitality space that effortlessly moves between café, bar and multi-purpose events space. The craftmanship and architectural detailing references the client's early manufacturing of cars which is clearly experienced throughout the interior. Materiality is rich, durable and practical while still supporting the 'theatre' of the space. Clever incorporation of a 'garage' within the café to showcase a vehicle meets the client's brief whilst adding another unexpected layer to the spatial experience.
Mercedes Me is an exemplary example of a hospitality fit-out which successfully supports multiple modes of occupation. Layering of diverse spaces service a wide range of users. Every space within the interior is meticulously designed and executed to functionally support flexibility. Careful integration of audio-visual equipment, lighting and a large-scale curtain demonstrate a successful strategy to seamlessly transform Mercedes Me from daylight to after dark.
Interior Architecture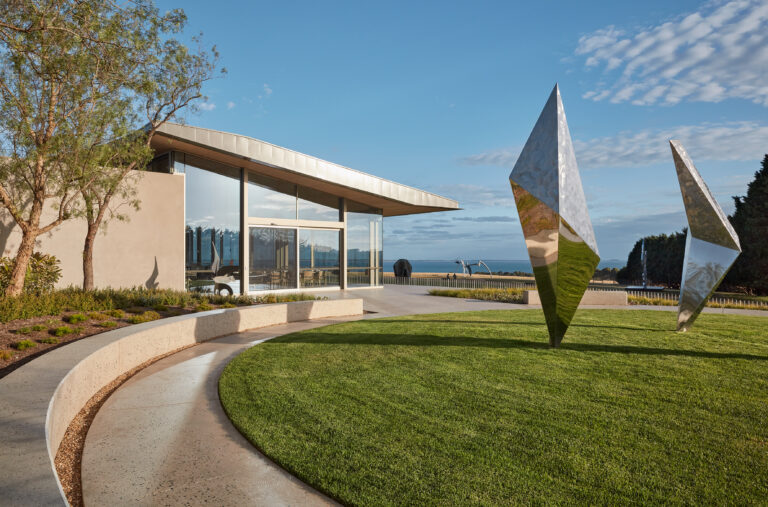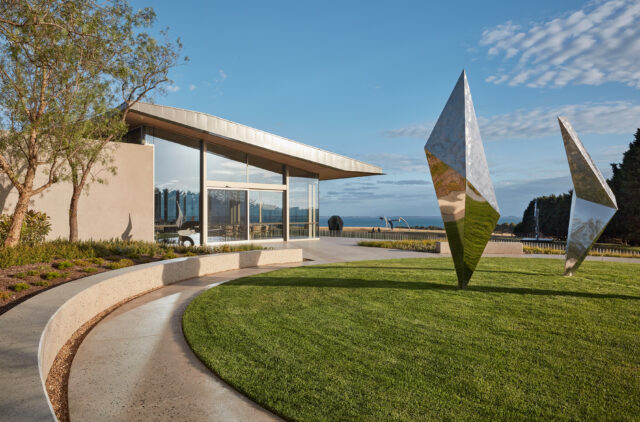 Point Leo Estate, Merricks
Sculptures, wine, food, design, what's not to love at this Mornington Peninsula estate? Well, apart from mangled sentences in property descriptions and the letter 'z' being used in verbs in lieu of 's' and the outdated 'amongst' which, along with 'ergo' and 'hiterhto' can remain in Federation Australia, thanks. But anyway…
Pt Leo Estate, undertaken by Jolson Architecture, is a building that is a testament to their dedication to design and pushing boundaries. Creating a sculptural form that synthesizes art, architecture and landscape design.
A heroic gesture celebrating its sense of place, comfortably sitting amidst dramatic ocean views and rural countryside, typical of the Mornington Peninsula.
It challenges the common typology of a Gallery and how we experience and engage with art in Australia.
A project that demonstrates a client's incredible commitment and passion towards the arts and community. Encompasses a comprehensive private collection of significant Australian sculptures made accessible to the general public on an extraordinary scale. A lifetime of collecting … culminating in a magnanimous act of sharing.
Heritage Architecture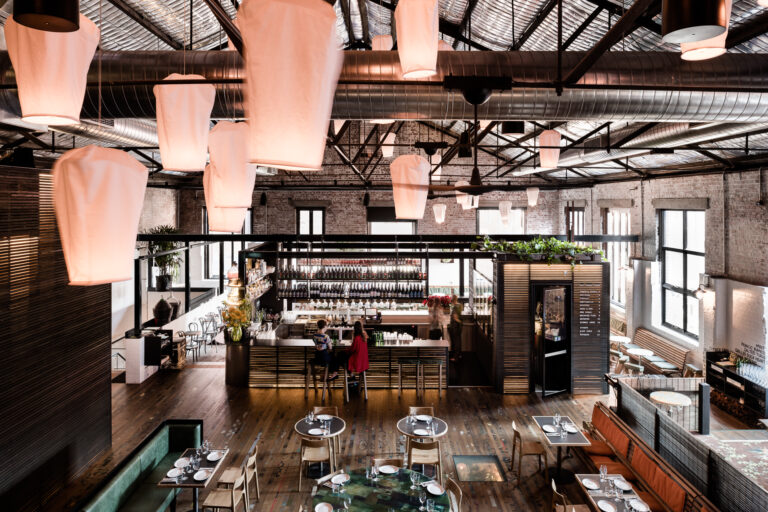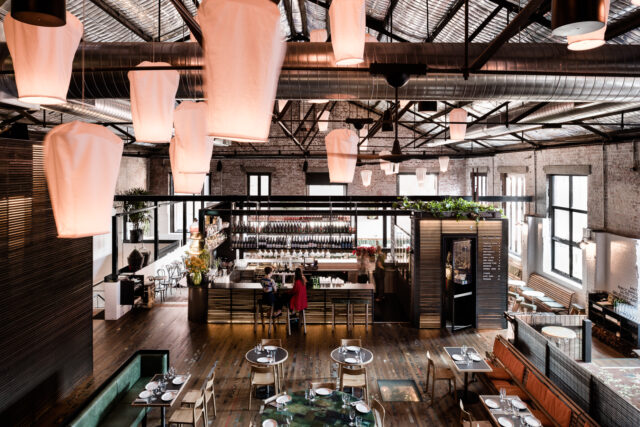 Longsong, Little Bourke Street, Melbourne
A converted stable above Longrain, Longsong's vaulted ceilings create an industrial chapel-like crown to your nosh fest and deserve its shortlisting in the Heritage Architecture category. J'adore.
Longsong reflects a desire on the part of both architect and client to to capture an important chapter of Melbourne's history through a series of gentle interventions that amplify its character and spirit.
The design's starting point was the existing heritage building, constructed in 1900 by Angliss & Co to house the horses and carts that delivered the company's meat to customers across the city.
Highlighting the building's distinctive heritage features – brick floors shaped by horses pawing their hooves, piers that formerly supported the loft at first floor level – each architectural and decorative insertion was devised to activate the existing fabric and accommodate the client's functional requirement.
In this way, Longsong opens a portal onto the site's past life and the story of Melbourne as a city, fast-evolving but still enriched by its past.