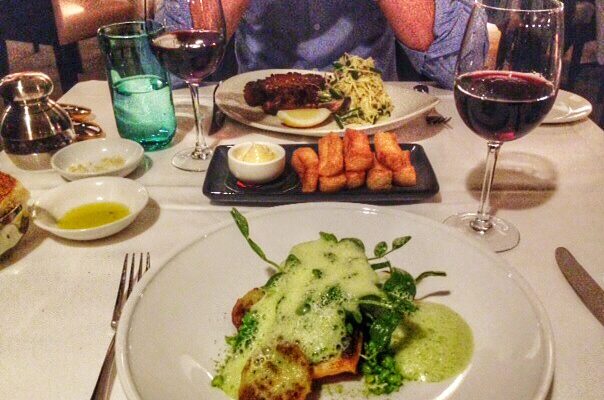 Cecconi's – Flinders Lane
The second we walked down the stairs into Cecconi's, a feeling of romance and intrigue filled the air. As the maitre'd escorted us to our candle-lit table, my eyes danced across the open-concept kitchen which showcased the chefs and kitchen hands at work. It was romantic, it was alluring, and while we could not see exactly what was happening, this intrigued us as it resembled a glimmer of being treated to dinner and a show.
Now, let's get to the delicious part. We were invited to a tasting of Cecconi's new spring menu with wine pairing. We were treated to fresh and local produce, tenderly prepared seafood dishes and finished off with the sweet endings of the largest dessert tasting plate you can think of – the wines matched synchronously throughout the evening. We were spoiled tasting this new, fresh, local,  organic and environmentally friendly inspired menu.
So, if you're looking for something that is as pleasing to the eyes as much as it is the palate – then you will need to make a booking and dine at Cecconi's.
I Primi
Warm spring vegetable salad, fresh herbs, candy beets, black olive crumbs
Grilled asparagus, truffled parmesan polenta, brioche crumbled free range eggs
Crispy prawn with black sesame, avocado, picked cucumber, lime 
Caramelised scallops, broccoli pangrattato, procuitto crisps, lemon aioli
Secondi
Rock flat head, parmesan cream, kipflers, baby zucchini, frizz
Tasmanian Wilderness scotch fillet 300g, truffled mash, king brown mushroom, jus
Contorni
Heirloom baby carrots, sugar snap peas, honey
Dessert
Cirtus bavarois, pistachio cantucci, mandarin sobetto
White chocolate cheesecake, brownie, no celle gelato
Wines:
Contral Otago Pinot Noir 2012 – New Zealand
Chianti Classico 2011 – Italy
Pinot Grigio U.V – Italy
______________________________________________________
Lunch: Mon – Fri from 12pm & Dinner: Mon – Sat from 5.30pm
Location: 61 Flinders Lane Basement
Website: http://cecconis.com/
Telephone: 03 8663 0500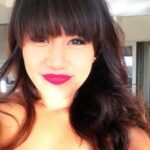 Megan Beatrice Jackson
Lover of life & everything delicious. She's a human, creative opportunist, earth wanderer, donor, dancer, yogi, foodie and wine lover.