INGREDIENTS
Lamb, feta and herbs are a perfect combination. Try to cook the lamb so it's still pink in the middle and allow to rest for a good 15 minutes before carving.
2 garlic cloves
2 tablespoons chopped oregano
2 tablespoons chopped rosemary
2 tablespoons chopped basil
Zest of 2 lemons
125 ml (4 fl oz/1/2 cup) olive oil
Salt and freshly ground black pepper
1.5 kg (3 lb 5 oz) lamb leg
1.5 kg (3 lb 5 oz) broad (fava) beans
80 g (23/4 oz/1/2 cup) pitted kalamata olives
1 handful of flat-leaf (italian) parsley
1 small handful of mint, roughly torn
2 tablespoons lemon juice
1 teaspoon dijon mustard
3 tablespoons extra-virgin olive oil 100 g (31/2 oz) crumbled feta
METHOD
Preheat the oven to 180°C (350°F).
Grind the garlic using a mortar and pestle. Add the herbs and lemon zest and grind to a rough paste. Add the olive oil, season with salt and freshly ground black pepper and mix until combined.
Rub the herb-and-garlic paste all over the lamb. Place in a deep roasting tin and roast for 1–11/2 hours. To check if the lamb is done, insert a small knife into the centre of the roast. Count to five. If the knife feels warm (tepid), the meat is rare. If it feels bearably hot, the meat is medium. You're aiming for medium to medium-rare. If necessary, cook for a further 5 minutes and test again. Cover and rest for 20 minutes in a warm place before carving.
Meanwhile, remove the broad beans from their pods and bring a large saucepan of water to the boil. Cook the beans for 1 minute, then drain and refresh under cold water. Remove the pale green skins by creating a slit in the skin and pushing the beans through it. Discard the skins.
Toss the broad beans, olives, parsley and mint together in a bowl. In a separate bowl, whisk together the lemon juice, mustard and extra-virgin olive oil, and season with salt and freshly ground black pepper. Pour into a large frying pan over medium–low heat, add the feta and the broad- bean mixture, and cook gently until just warmed through. Pour the lamb roasting-pan juices into the dressing and stir to combine. Remove from the heat.
To serve, carve the lamb and top with the hot broad bean and feta dressing.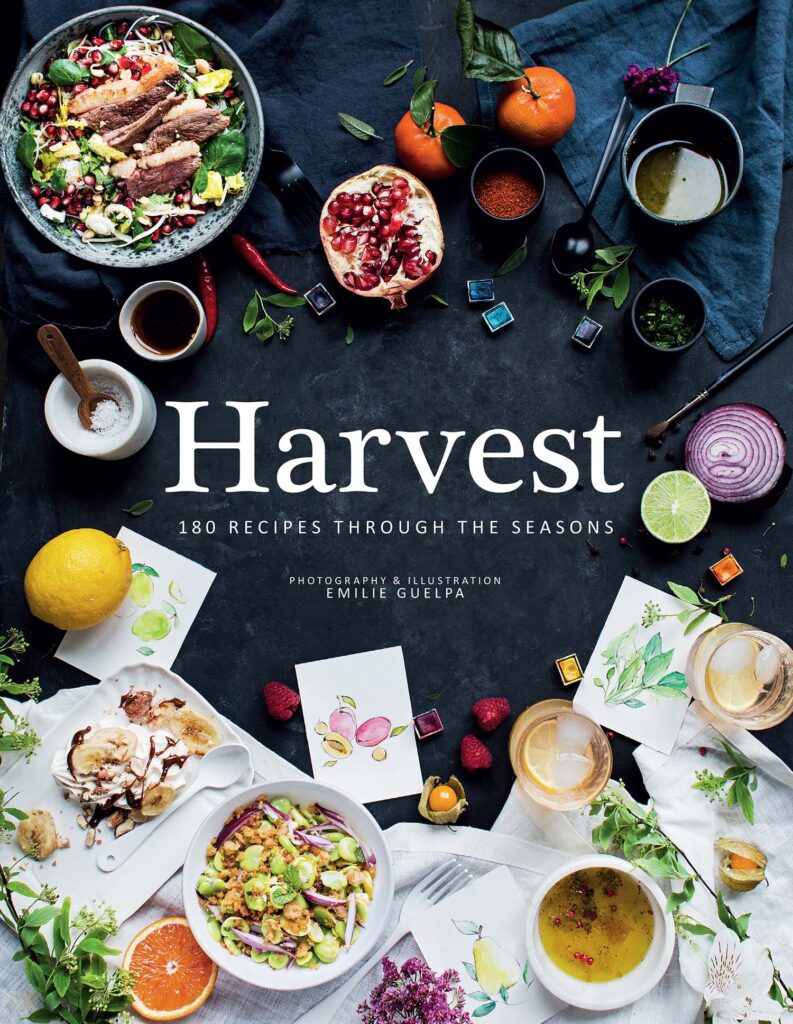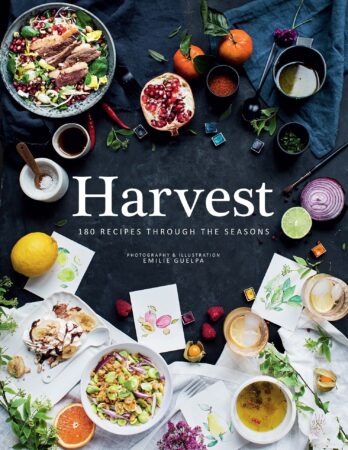 Recipe extract from HARVEST: 180 Recipes Through The Seasons
RRP: $29.99
Available from all good bookshops.
Celebrate nature's bounty with Harvest, a sumptuous compendium of 180 recipes throughout the seasons. Accompanied by stunning photographs and evocative watercolor illustrations by Emilie Guelpa, this is everyday eating at its seasonal best.