In a city like Melbourne, diners can find themselves rather spoilt for choice. With numerous cuisine options, and accessibility to pretty much any ingredient you can name, there's not much you can't get your hands on.
Excluding import laws, and that whole business about cheese (all in the name of biosecurity), hunting down a unique or not-local ingredient does not involve pulling a Sherlock. Yuzu juice, tropical fruits in winter, jamon, the (delicious) list goes on.
But with such a big wide world, and so many cooks in the kitchen, it's also increasingly hard to be surprised. Chefs are constantly innovating (and thank goodness for that), whether it be reinventing a traditional recipe, or embracing new flavour combinations. Just stabbing in the dark here, but it would be safe to assume that chefs and cooks are usually those among us with the most adventurous palates. We spoke to two Melbourne chefs about odd ingredients, unusual recipes, and who the biggest fans of unique foods are.
New to Windsor is restaurant, wine and cocktail bar; Neptune. Nic Coulter and Simon Blacher (both behind Hanoi Hannah, Tokyo Tina and Saigon Sally) have joined forces with owners of San Telmo and Pastuso, David and Michel Parker to open the establishment, and the result of this combo is as amazing as you'd expect it to be.
The food is Mediterranean-influenced; so think modern spins on a range of European dishes; from charcuterie and Saganaki, to Hangar steak complete with frites. The poached quince with Chinotto jelly and burrata granita is worth saving room for.
The dish we really wanted to know more about, however, was the bone marrow tortellini. The menu at Neptune is pretty enticing, so while the bone marrow tortellini didn't jump off the list at us, our curiosity pulled us over the line—and boy are we glad it did!
Delicate parcels of pasta encase salty, melting morsels of marrow, sitting in a buttery sauce with a sharp citrus tang to prevent the dish from being too oily and heavy. Perfect for these chilly winter nights, the tortellini's salty richness hits the spot, especially paired with a vino from Neptune's carefully curated wine cellar.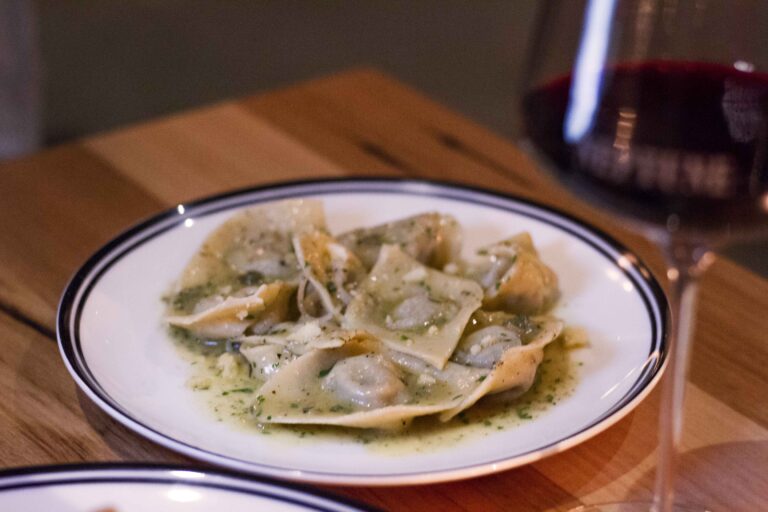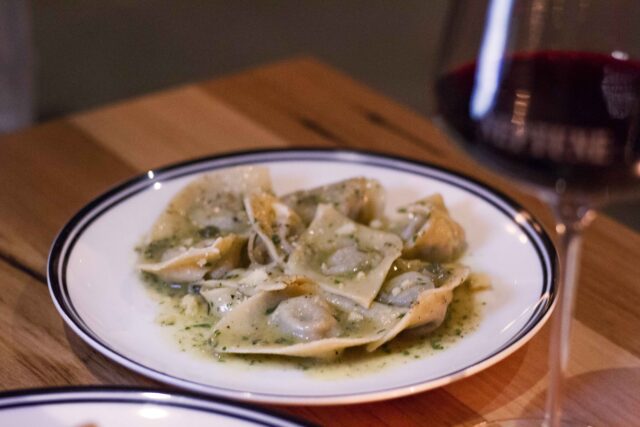 We spoke to Head Chef at Neptune, Daniel Natoli to find out more about the process of making this dish, where the idea came from, and why bone marrow.
Can you tell us a bit about the process of sourcing the bone marrow and preparing it?
I like to go to Donatis on Lygon St to pick up the bones. The opera is loud and the bones are cut length ways, you can tell they are fresh! The bones need 24 hours in cold water to 'purge' them before they can be scooped out and roasted over golden shallots, thyme, garlic and pepper.
Do you remember when you first ate bone marrow? If so, when and what was your reaction?
The first time I ate bone marrow was in Osso Bucco: slow-cooked beef shin with marrow in the centre. I was little and my dad would prepare it in the slow cooker. The richness of the tomato and the slow cooking time is everything! The meat is tender and the marrow is still inside the bone. I used to push it out all over the risotto – molto farking bene!
Bone marrow is quite popular in the US and Europe. Do you think Australia is behind the times with appreciation for bone marrow?
I guess it depends what food environment you grew up in. Using more offal is great, if you know how to cook it! I wouldn't say Australians aren't behind it, just less adventurous to prepare a dish that might take more than 45 minutes.
What inspired you to create this dish?
Any dish that has warmed me inside and uses offal. Dishes like the marrow on toast at St John in London, Lampredotto sandwiches in Firenze and even Xiaolongbao in Hong Kong.
What else goes into the dish to complement the bone marrow?
All our offcuts from the steak. We cook it low and slow with red wine, star anise and cloves; a little butter sauce with shallots, capers, parsley and spiked with lemon zest; along with tiny crunches of puffed lemon rind. We finally found a better use for the rinds than flavouring oil!
What is your favourite unusual ingredient to cook with?
In the south of Italy, there was a pudding we made with pig's blood called sanguinaccio dolce. I wouldn't say it's my favourite, but I'm seeing more and more Australian chefs experimenting with blood.
How do you convince guests to try new things?
It's a joy trying new things! Even if you don't like them. If you don't try, you will never know.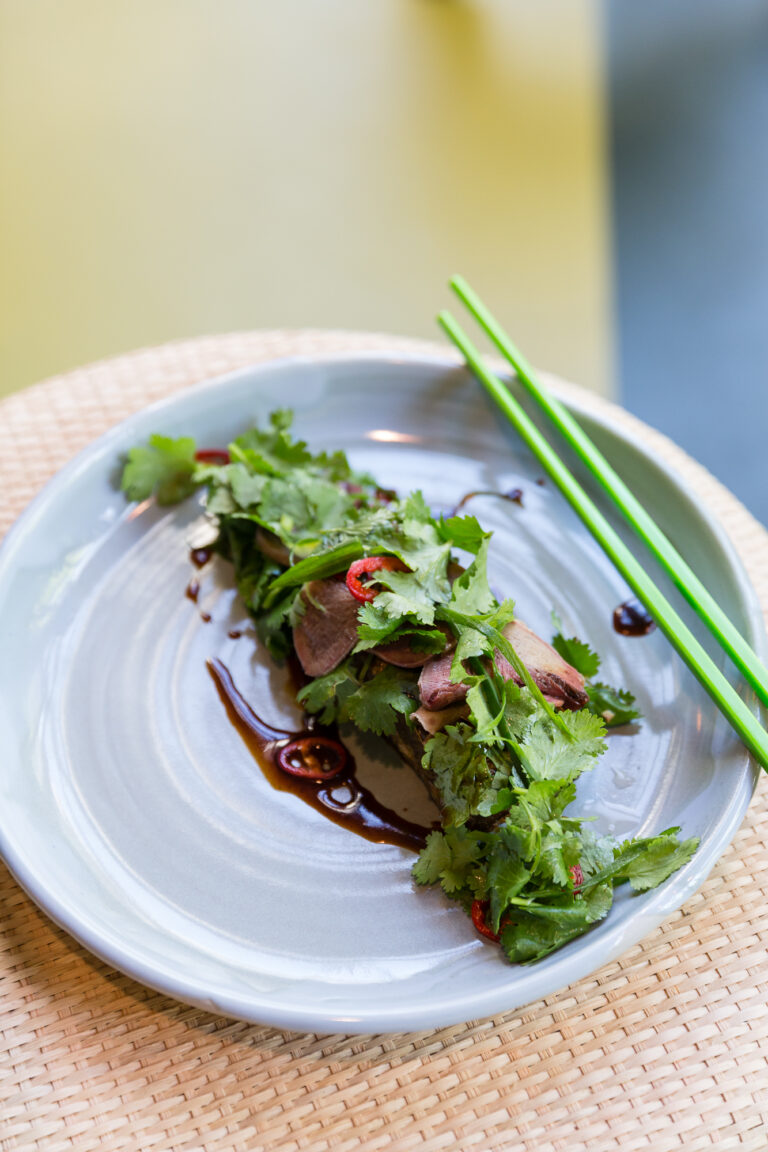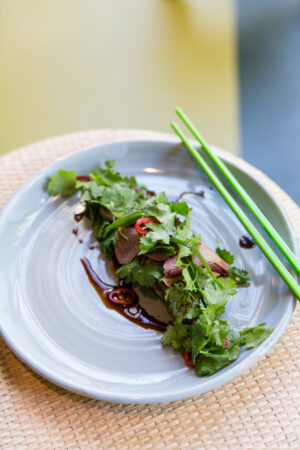 When considering unusual dishes in Melbourne, offal is still up there as being something only the adventurous (or those in the industry) enjoy. We have to strongly dispute this, because really, what difference does it make to how palatable the concept is, whether you're eating a piece of the cow's bottom or its tongue?
In fact, we're rather partial to a bit of cheeky ox tongue, and some ox cheek while we're there, too. So we were pretty much making like a cow jumping over the moon when visiting the second instalment of Uncle on Collins Street, Melbourne. While taking after the first Uncle in St Kilda in some regards, this version has a slightly more European twist. Vietnamese flavours still dominate, but when there's a burrata and tomato salad on the menu (albeit with house-made, aged fish sauce), we feel Uncle is speaking our language.
Head Chef Dai Duong tells us about one of his favourite dishes on the menu: the Tongue and Cheek, wrapped in bean curd skin with fragrant herbs and a spicy satay – a dish that we found incredibly tasty; so much so that we couldn't put our forks down, and will now always order it when visiting this snazzy restaurant.
Who did you have in mind when designing this dish? Who will most appreciate it?
When designing this dish or any dish, I always think about what I would eat if I went out to a restaurant. Because I love offal, I always try and incorporate an [offal] dish into my menu.
Where do you get the ox tongue from, and how do you cook it?
I have a great relationship with my meat supplier; they always source out the freshest and best quality for me. We get it in fresh, and the first process is to pickle the tongue for 24 hours, to give it a different flavour from the ox cheek. It also cuts through the richness of the dish.
When did you first try ox tongue?
I've eaten tongue from an early age. My parents always cooked with offal; that's probably why I love it so much. But I think the most memorable tongue I've ever had was a tongue taco in Mexico. It has such a great texture and is so soft once you braise or grill it for a few hours.
How is ox tongue mostly served?
Ox tongue is mostly used in a noodle soup dish called mi wang or grilled and served with lemon, salt, pepper and fresh chilli.
What is unique about the flavour of ox tongue?
What makes tongue unique is the fact that it has a very soft texture. It's like eating a nice piece of steak. It melts in your mouth and if you grill tongue it tastes even better.
What is your favourite not-widely popular ingredient to cook with?
I would have to say bone marrow is one of my favourite ingredients to cook with. Now that it's wintertime, I'm starting to play around with a new dish for Uncle to incorporate bone marrow.
How do you try to educate diners to try new things?
First thing is to try and make it bloody tasty as hell! Word of mouth… Take my pig's ear banh mi: at first it wasn't a big seller, but once a few people came back and ordered it every time, then told their friends, next minute it's one of our most popular dishes!