Scott Pickett has graduated from an unassuming but creative young chef who opened up a modest restaurant in Northcote, to being a well known face in the hospitality scene and having four popular Melbourne restaurants (and two chefs hats) to his name. The recently opened Pickett's Deli and Rotisserie is the latest of the bunch, offering a casual, all-day communal eatery that in its first month is already bustling.
Pickett is one of those people who found the industry he wanted to be in, and hasn't looked back since. 'Everyone's got their thing,' he says. 'Some people find it early on in life, and some people search for it all their lives and never find it. But I found mine at fourteen. The first day I stepped into the kitchen.' Working under the wing of many impressive chefs, and earned his stripes climbing the ranks, Pickett tells us; 'I've loved every single minute of it since.'
Having advanced from apprentice all the way to owner, operator, and chef of four restaurants, Pickett has seen every angle of the kitchen. So what was the juiciest cut? 'My favourite time as I look back, was probably when I was a chef de partie.' He tells us, which is where he cooked just a section, such as a sauce, or the meat. 'I was a saucier for many years,' he says, 'and just that pure freedom of the entire focus of my life, just on the sauce or on the meat… Everyday, 100 for lunch 100 for dinner and just being in the shit up to your eyeballs, just living and breathing it and it's all about the sauce and the meat. That was probably as a pure cook, my favourite time.'
With the countless responsibilities of owning and operating four restaurants, Pickett admits that even though his role has changed a lot, he still finds it difficult to let go of having that one focus in the kitchen; admitting that he taps into it sometimes.
Once he'd made his way up the ladder working for others, Pickett made the decision to open Estelle after working at The Point for six years, and having earned two chef's hats three years in a row. He'd simply reached a point in his career where it was time to work for himself, rather than for someone else. A period that he thinks most chefs come to at some stage. 'It was time to do my own thing', he says.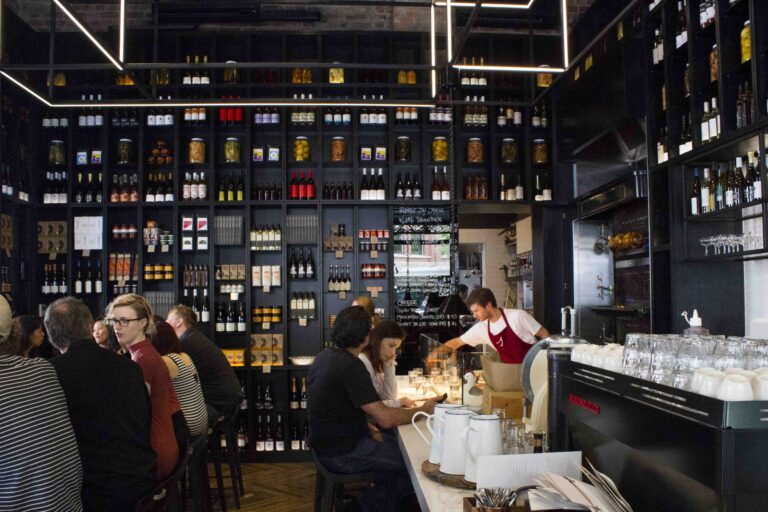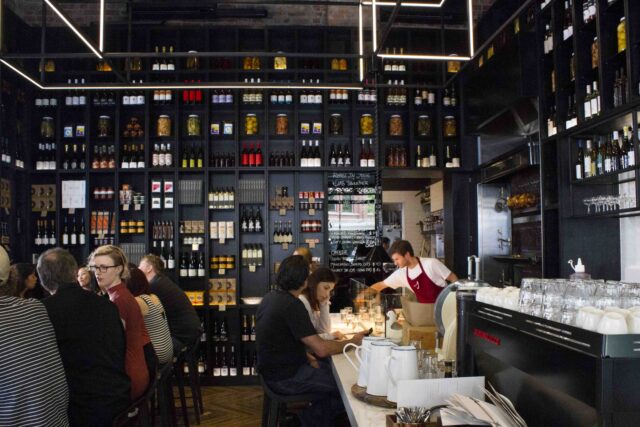 Choosing Northcote as the location to open Estelle in 2011 was derived from a few factors: Firstly, Pickett lived in Fairfeld and loved the suburb of Northcote. He also didn't want the commute from Fairfield to the city. 'I could never get a park on High Street so there must be people here,' he tells us, which as a chef naturally led to the question; 'where do they eat?' Decision made, bringing Estelle to High Street was Pickett's attempt (which was successful, in this professional-eater's humble opinion) to become the best restaurant on the street.
With only 30 indoors seats, the reputation they gained for a great tasting menu, originated from a purely economical tactic. Pickett tells us of Estelle's first month serving a la carte, and a table of eight ladies sharing two charcuterie boards and a glass of wine each, averaging a spend of $23 per head on a Friday night. He remembers thinking (after the casual expletives); 'If this happens every Friday night, we're going to be broke.' The set menus came about as a way of survival, guaranteeing a cost per head for the financial viability of the business. But the challenge was to make sure people were happy with what they got. 'I wanted to offer bang for buck and value for money, while still doing smaller plates and precision dishes' he says. For something that started off based around economy, the degustation option at Estelle became so popular so that when ESP opened in 2015, Pickett took the degustation dining next door, and kept the Bistro as it was originally intended; 'just a really good restaurant'.
Not one to beat around the bush, from his first restaurant Pickett went on to open Saint Crispin in 2014 with former colleague Joe Grbac. Having been in the market for a second establishment, once the duo had decided on something, six days later they found the place, it was purchased four days after that, and doors opened four weeks later. That same year Pickett was nominated Chef of the Year, and just in case you think he was juggling too many hot plates, he released a cookbook-cum-autobiography that year, too.
You may have seen him on television, or at his guest appearances (think Starlight Foundation), because that's just the kind of bloke he is. On top of opening Pickett's Deli and Rotisserie in September this year, he also ran an Estelle pop-up at the Caulfield Cup—stating there's 'a lot of prep' for 500 heads. 'It's not like I'm working, I'm just doing what I love.' He laughs. He states that his ethos has changed quite a bit since he was a young chef, when it revolved mostly around 'cook hard, work hard, play hard.' When asked what he might, in the future, reflect upon this moment in time he states candidly: 'Sometimes I think I don't stop and recognise where I'm at in my life in the industry and in my career at certain times, and that I should maybe enjoy it a little bit more. And enjoy the people around me a little bit more. Take a bit more time for that.'
Hopefully he'll have some time, but right now his hands are probably a little more full than normal, with the recent deli and rotisserie opening right alongside the Queen Victoria Market—which was a culmination of bringing a new concept to his repertoire. He describes the differences of each of his restaurants, and how the casual eatery will bring something new to the table. 'ESP is a seven-course tasting menu with two hats, next to the Bistro, [which is] local, drop in, a la carte, and then Saint Crispin sort of slots in between. I wanted something that was accessible to everybody all the time. A place that was fun, that was tasty, that was market driven… And I wanted something based around the rotisserie.'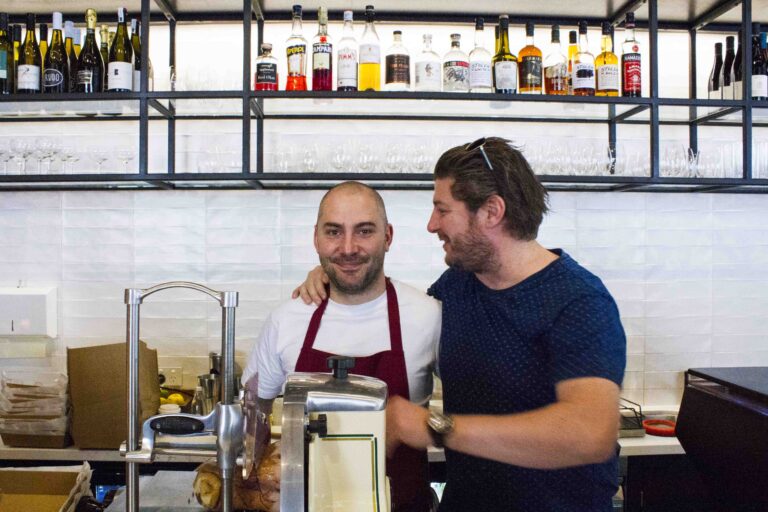 Knowing more than few characters in the industry, he mused over the fact that kebabs, souvlakis and hamburgers were already being done by 'the boys'. Having a lot of experience roasting meat and running a rotisserie, Pickett tells us that a lot of influence for the new joint came from working under Philippe Mouchel. That and; 'I've always loved roasted meats'. Of course.
Philippe Mouchel was a mentor to Pickett in the early days of his career, back in '94 when the young Aussie was only nineteen. Having recently just open Philippe in Melbourne, Pickett tells us he's still in contact with his mentor, and now very good friend: 'I asked him for a Rum Baba recipe last week, because I wanted to put Rum Baba on the menu at the Deli and he emailed it to me so it's on the menu as Philippe's Rum Baba.' Pickett laughs, 'I sent him a picture and said "Chef thank you for the recipe it worked very well," and he [Mouchel] goes, "They all work very well Scotty, of course."' Although Pickett's faux French accent translates the story much better in real life.
With an interior design by Hirsch Bedner, Pickett's Deli and Rotisserie features a large communal table, floor to ceiling shelves filled with specially curated wine and gourmet ingredients such as Spanish anchovies, French wine and specialty oils and dressings. The clientele varies from those coming in for a roast chicken takeaway, just popping by for the (already popular) pretzel and soft serve, to people that sit down and order six things. He's proud that it's very casual, and can cater for pretty much any type of customer, and obviously the fact that: 'Hopefully we've got Melbourne's best beef roll.' We haven't tried the beef roll, however the prawn bolognese and the steak tartare with quail egg gel is worth more than a few return visits.
Dukes coffee makes the menu at this corner hot spot, even though all of Pickett's other restaurants use Vittoria and have a great relationship with them. The need to compete with Market Lane and St Ali in the new inner city location, required a Melbourne specialty coffee brand.
'We drank a lot of coffee, we spoke to a lot of people.' Pickett tells us. They had used Dukes in the early days of Estelle, and so were familiar with the team. 'They're great boys, their ethos fits ours. They're just around the corner and they've probably scaled and refined their operation a bit over the last few years, so I thought it was a really good fit.'
Most of the offering is made in house, aside from bread and pastries which hail from Cobb Lane. There's no cool room, and Pickett tells us they don't need one. 'Everything comes in in the morning. We either get it from the market or from our suppliers, and we cook it, and it goes.' When he first showed the team the space, they said to him; 'Chef, there's no cool room', to which Pickett proceeded to open the back door, gesture at the Queen Victoria Markets and tell them that was their cool room (in slightly more colourful language).
Most of the ingredients are sourced locally, with the exception of imported Jamon Iberico and other specialty items. 'We just look at best products and what we can do, and if there is an opportunity to showcase Victorian produce that's as good if not better, then we do that.' Pickett says that being located on the very doorstep of the market is a great reminder of seasonality. Having grown up on a farm, he already has a heightened awareness of what's around him in terms of seasonal produce, but making his way through the market is more than just knowing tomatoes are a summer thing. 'Sometimes if I do get caught up in the kitchen, then I can always come to the market to see what's around, what inspires, when citrus is in. That link with the seasonality is going to be heavily reflected with what we do.'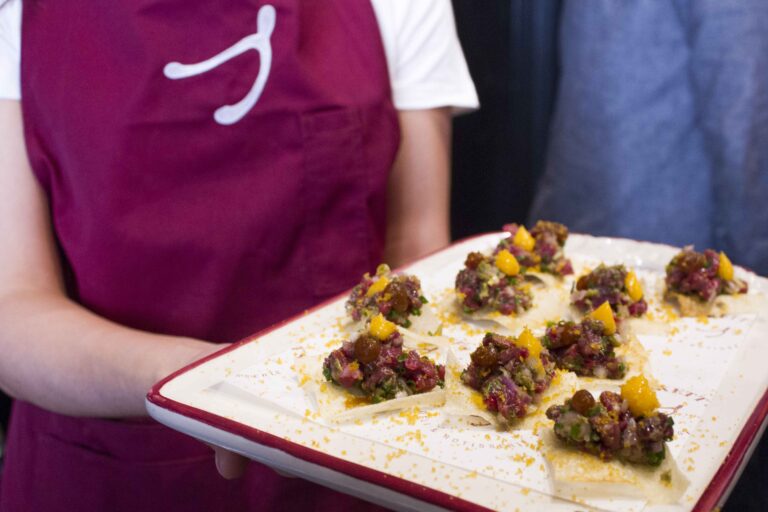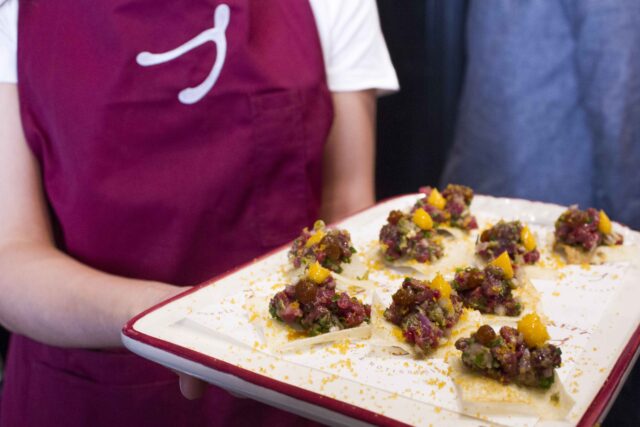 While Australia's understanding of seasonality and buying market fresh is improving, there's good and bad about the Australian food industry in Pickett's opinion. 'I think we could improve the understanding of what things cost. I think food in Australia is really cheap.' He says, comparing the cost of food compared to other living, housing and wage increases with the likes of Europe or America. That said, he believes Australia is doing well on the world scale, and starting to be recognised as the place to be in the food industry. 'I think that's reflected in the fact that lots of great operators, great chefs and restaurateurs choose to come to Melbourne and Sydney. We've got Heston at Dinner, René Redzepi doing Noma… they choose Melbourne and Sydney. It says something for what we're doing.'
Pickett remarks that what's great about the food industry in Melbourne is how well-performing it is across the board. 'It's not just top end dining, or bottom end. We've got great cafes, great coffee, great mid level, great roast places, great drop-ins, great Asian. I think our standard over all is very good.' Coming from a restauranteur with the accolades he has, we'd say that's a badge to help Melbourne proudly claim 'Most Liveable City', at least for the foodies.
But not everyone can pull off four restaurants as successful as Estelle, ESP, Saint Crispin and Pickett's Deli and Rotisserie (in fact we think very few could), so we asked Pickett for a few words of advice, on how to hack it in the competitive Melbourne hospitality landscape. 'I think you've got to have a clear vision and a clear concept fundamentally and be true to that.' He says. 'Lots of operators try to be everything to everyone. You need to do what you do, decide on that and stick to it and do it well, and do it the best that you can. Don't deviate.'
He says you need to start at the beginning, with the basics—across the kitchen to front of house. From warm smiles and polite service, to proper seasoning, quality, marriage of flavours, temperature and environment. 'If you do all the basics really well, then you give yourself the best opportunity to build and leverage off that.' If you've been lucky enough to dine at one of Pickett's establishments, you will have noticed that what may seem simple (like say, a serving of roast lamb with vegetables), is actually artfully created with care, precision and somehow magically better than what your preconceptions told you it would be. It's clear this is a man who takes food very seriously, and is more than a little passionate about sharing his expertise with others (a fact we and our tastebuds are very thankful for). 'We're driven by technique and flavour.' Sums up Pickett. 'We're not really driven by bells and whistles.' A fact that is apparent not just about the dining destinations, but about Scott Pickett himself.