Considered an embarrassingly clichéd phrase among those in the industry, 'fusion food' has pervaded our food culture for some time now. Cooking that has its roots in specific traditions is being coaxed in new directions – you might see Nutella-filled gyoza on a pub's dessert menu, for example, or a seafood bouillabaisse flavoured with traditionally Indian spices at a modern European restaurant. It makes sense, a good chef is creative, and the more food traditions you have been educated in, the more imaginative you can be with your dishes.
Taking this creativity to another level is the man behind America's Mission Chinese Food and Mission Cantina restaurants, Chef Danny Bowien.
Bowien's establishments are difficult to comprehend, even for the seasoned food-eater. Googling "Sichuan restaurants in NYC" will have Mission Chinese Food appearing in your search results – but if you are lucky enough to get beyond our shores to the restaurant in New York, you'll find your Mapo tofu and cumin lamb ribs served alongside decidedly non-Sichuan dishes like fried chicken and Neapolitan-style pizza. This might not make sense at first, but the food is so damn tasty you won't care by the time you leave.
"I think when people walk into Mission, it's kind of disarming," Bowien says. "But it's just… our thing. It's like going to see music [that you haven't before], some musicians have different set-ups on stage, some people have different lighting. You might not be used to that musician or how they perform and it disarms you, because you can't approach it with a specific mindset."
"That's like at Mission Chinese… you come in and just don't know what to expect. You see the wood oven, this crazy pizza coming out that could be served in Naples. So I guess that's our thing. You kind of just have to say like, 'f**k it'. The food has to be honest."
Bowien has been in Melbourne to promote the Mission Chinese Food (MCF) Cookbook during the Melbourne Food and Wine Festival ("We're here to sell a bunch more cookbooks and like, make some money," Bowien says in his no-bulls**t style), alongside his co-writer and friend, Chris Ying, editor and co-founder of groundbreaking food magazine, Lucky Peach.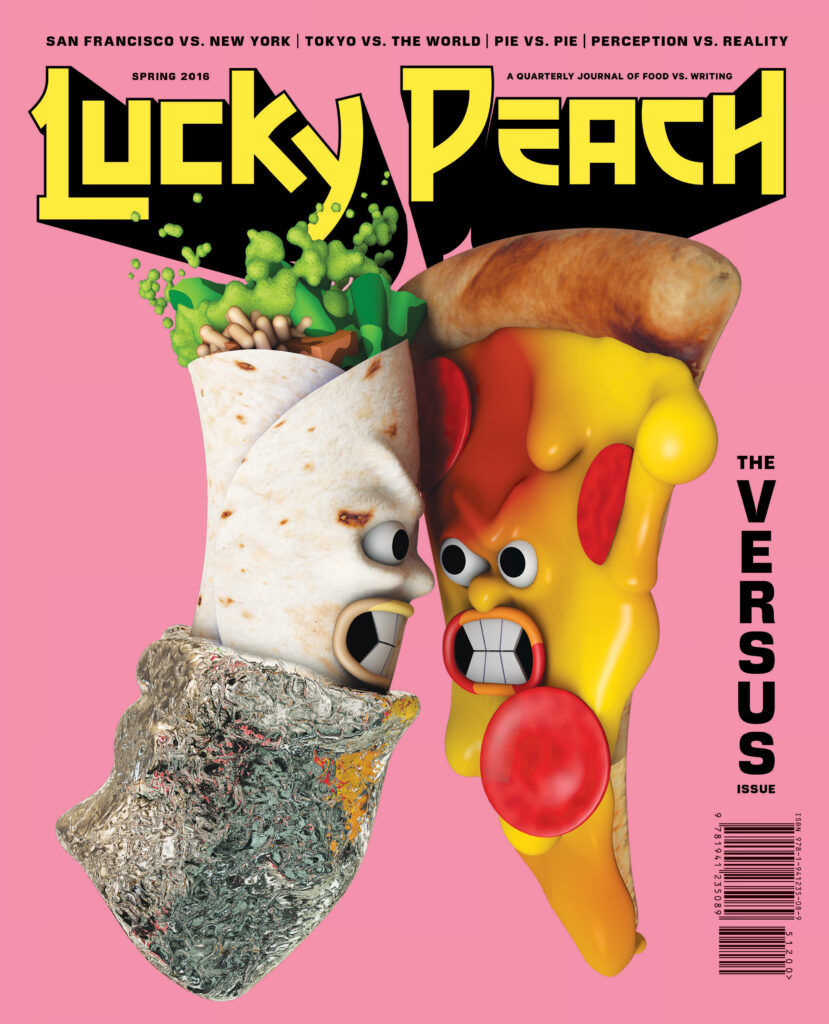 Just like in the conversations between them published in the cookbook, Ying is always the one to bring Bowien back down to earth, this time, it's about the Mission Chinese ethos that Bowien makes sound so simple.
"The thing is, it sounds kind of easy when Danny puts it like that; but the truth is it does come down to the fact that Danny has a very special ability to make food taste good," Ying says. "It's like the hard thing about writing and music and art, being a chef, at the end of the day, comes down to a person's talent and their ability to taste food. So if you just listen to Danny and 'do whatever makes you happy,' you could end up with a terrible result! That's for me personally what's very special about working with Danny."
Bowien and Ying met when the Mission Chinese Food juggernaut was a humble pop-up restaurant, set up by Bowien and co-founder Anthony Myint. Operating out of traditional Chinese takeaway establishment Lung Shan in the Mission District of San Francisco, Mission Chinese Food soon gained notoriety and required a few helping hands, of which Ying was one. The restaurant has since become a permanent establishment, almost solely operated by Myint, while Bowien heads up the restaurants in New York.
With a similar approach to both cooking food and writing about it, it's no wonder Ying and Bowien are firm friends.
"I cooked while I was in college, just for fun, to like, impress girls, I guess," Ying laughs. "That didn't work. So I started cooking at Mission with Danny while I was still working at [McSweeney's], this independent publishing company in the States."
"We worked together on the restaurant before the book [was written], so when I met Chris, I thought he was a cook," Bowien says. "He was a cook. But I didn't know he was a writer, and that he was working with McSweeney's at the time."
"I never really wanted to mix [writing and cooking]," Ying says. "But Danny and I would shoot the s**t about cookbooks while we were working at the restaurant, and then we were like, 'Let's just make a cookbook.'"
Thus the concept for the Mission Chinese Food Cookbook was born, at the same time as Bowien's talent was gaining recognition.
"Everything [with Mission Chinese] sort of just happened so quickly," Bowien says. "Like, we started getting all these crazy accolades. I think it's in the book, but Michael Bower [an extremely well-known food critic in San Francisco] came into Mission Street Food one day. And I was all casual about it like, "Oh, hey, Michael", because I honestly didn't think he was going to be writing or critiquing anything at Mission. And then he gave it a great review. After that I got Rising Star Chef [awarded by the James Beard Foundation], and then we decided to move to New York and open up other restaurants."
But it wasn't all up and up for Bowien and the Mission Chinese Food restaurants, which also meant a rollercoaster ride for the semi-autobiographical, novel-cum-recipe book. It was a long time before Ying and Bowien felt the book was complete.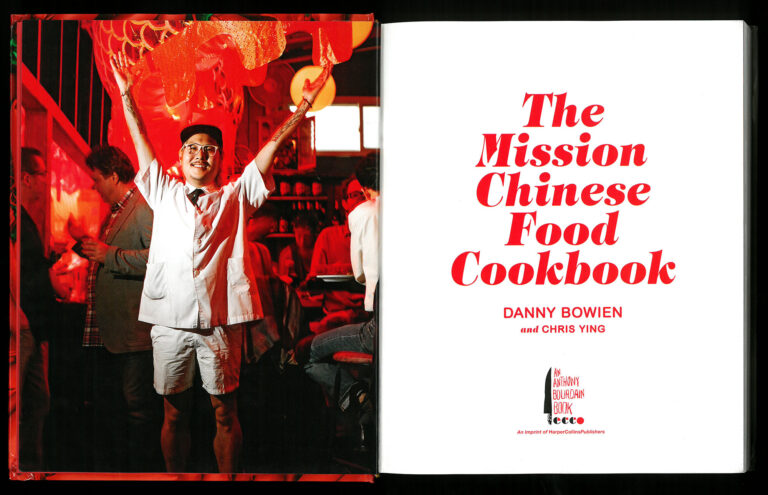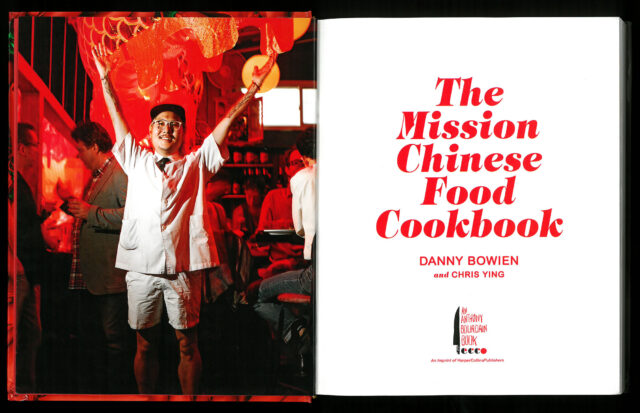 "Every time we thought [the book] was done, something else would happen," Bowien says. "Positive and negative. Like, we got Restaurant of the Year in the New York Times, and then we got shut down by the Health Department. It's like, all these… you know, windfalls, and then horrible failures."
"But it's amazing, because the process of the book was Danny and me, sitting in rooms in various parts of the world, spending hours talking and recording hundreds and hundreds of hours of conversation [to create the book]," Ying says.
"And as we were doing that, all these other things were happening. Like, in one of our recorded conversations for the book, Danny was like, 'I'm really proud of the restaurant, and I've never had to fire anyone at the restaurant, they've all been here since day one'; then the next day we get a call and Danny's like, we gotta go back to the city because one of our cooks just punched someone else and we gotta fire him."
What's so refreshing about the narrative that runs throughout the book is how honest it is – which is indicative of Bowien's and Ying's style, reflected both in the Mission Chinese Food projects, and in Lucky Peach's publications.
"I think why it's so honest is that it's a conversation between friends," Ying says. "I think Danny trusted me to be honest and at the same time, not make the restaurant look terrible; and my whole thing was like, if we just tell the truth and we don't have any sinister intentions in anything we do, if we just put it out there, I think we'll produce something good. I think that's all we did to make the book as honest as it is."
"If anything, I was very overbearing [towards Chris]," Bowien says. "I would be like, 'Chris, we gotta add more,' but you know, with books, you gotta cut it off at a certain point."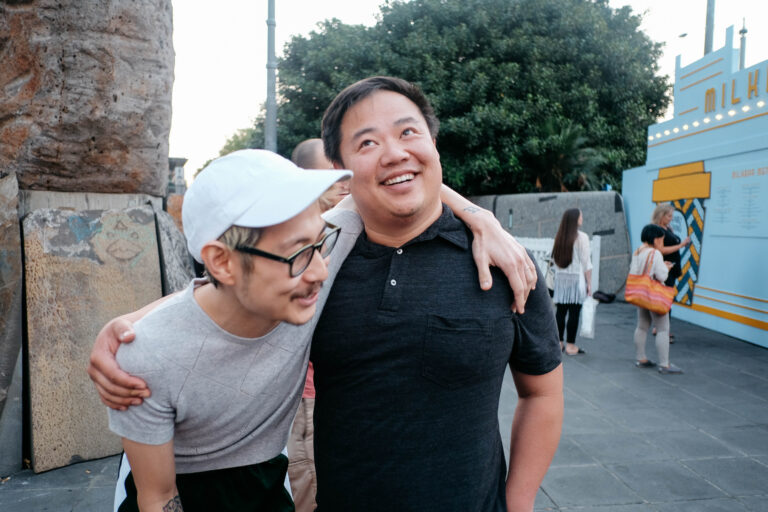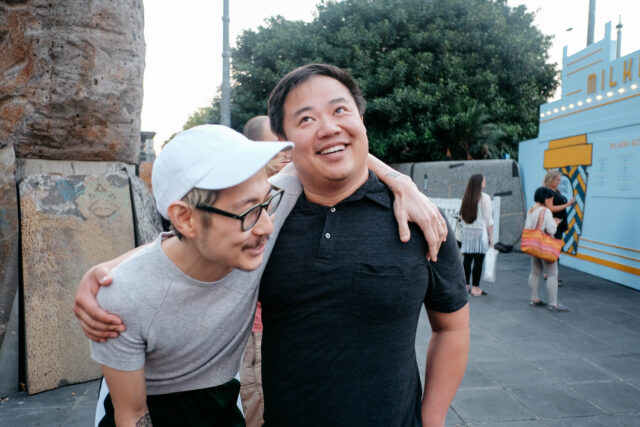 It is clear that the strong friendship has not just contributed to the honesty of the book, but also the upbeat nature and the warmth that pervades every section, even when the very difficult parts of Bowien's history are addressed, such as the death of his mother.
This trust has also provided the basis of a great business relationship between the pair.
"Danny and I have been friends for a long time. Before Mission Chinese was successful, before Lucky Peach was created, before we had a cookbook, we just hung out and ate food together," Ying says. "So it's doesn't feel like we're colleagues or anything."
"It's weird because we do this book tour and it's like, for business, but I think when you become successful, the people that were there with you before that, I mean, they have your back," Bowien says. "And that's us. I mean, we're gonna be old Asian men eating noodle soup at a restaurant at like 7am together."
It is clear through all of this that both Ying and Bowien are brave enough to just do whatever they want to do – a trait coveted by creatives the world over.
Without appearing to pander to stakeholders or any other authority, Lucky Peach publishes whatever it wants – from transcripts of conversations between drunk chefs and food writers, to illustrations that are vaguely related to food and are bordering on the absurd.
Likewise, Bowien's restaurants, Mission Chinese Food and Mission Cantina, don't allow any traditional definitions get in the way of just making some bloody tasty food – whether that be Mapo tofu layered in a burrito, or serving a top quality Neapolitan-style pizza at a self-proclaimed Sichuan restaurant. "That's how Mission Chinese started – I was tired of working for other people and having to run certain dishes on certain days because that's what people were expecting to eat," Bowien says.
"So you have to create your own trajectory at that point. When you reach your glass ceiling, you can choose to go down the route of being like, a hotel chef, for example. But for me, I kinda wanna be able to m be myself. And in the chef world, it's actually still not super acceptable yet to be actually yourself; to be different."
"There's a lot of macho chefs out there… and I was NEVER like that. So I think that's why I stepped out of kitchens where you walk in and expect chefs to be in all-whites, you know… I wanted to do something for myself."
Ying concurs. "I think with both the Mission Restaurants and Lucky Peach, it's like, you kind of just have to have a little bit of this naivety and honestly do make a restaurant or make a recipe book for yourself and don't think about it [too much]," Ying says.
"Like Danny was saying, we never assumed anyone was going to review Mission Chinese Food because it wasn't even a real restaurant to us. It was just, like, a fun thing. So was Lucky Peach. You kind of have to have faith that when you do what you wanna do for yourself, that there's people like you who are going to see what you do and like it.
"You know, Danny does pizza at the Mission Chinese Restaurant in New York, because he likes to eat pizza, because he finds it delicious. There shouldn't be this dividing line between [what you cook at your restaurant] and what you like to eat. And it's the best fucking pizza in New York, for sure."
The Mission Chinese Food Cookbook is available online and in stores now.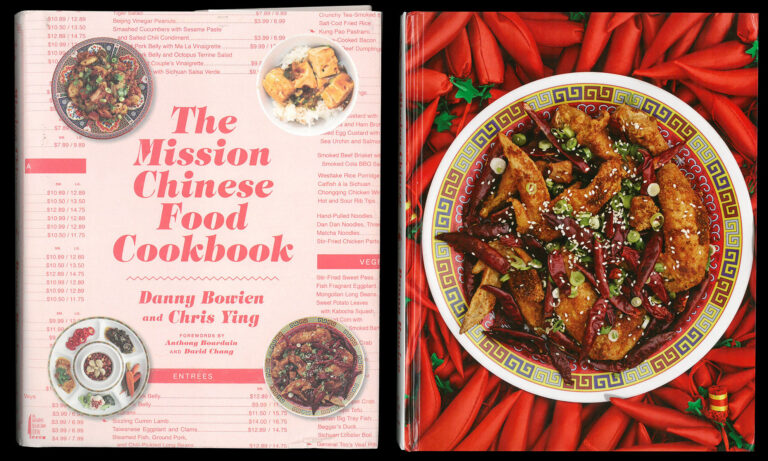 missionchinesefood.com
twitter.com/missionfood
instagram.com/missionchinesefood
twitter.com/dannbowien
twitter.com/chrisyingz
instagram.com/dannybowien
instagram.com/chrisyingz