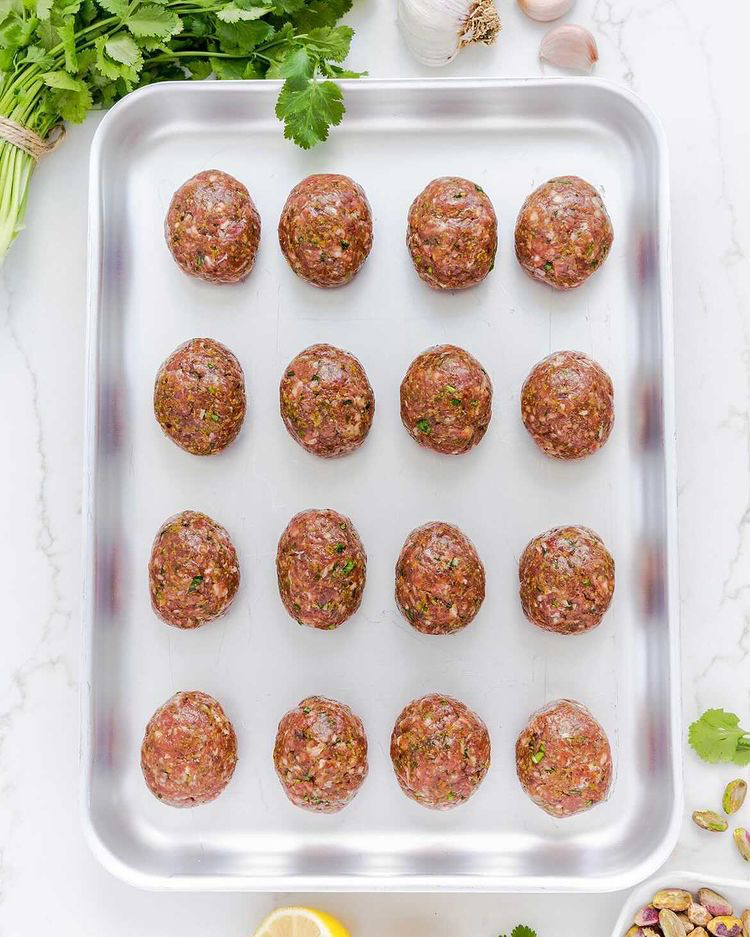 Karen McFarlane knows how to cook. She knows how too cook really well. Her lamb koftas are something else and something you should have in your tum. Check out her recipe below and, while you're there, hop over to her site (link below) to check out the cornucopia of other recipes she has there, especially her yoghurt flatbreads with garlic & rosemary butter which are the perfect bread buddy to this thing of beauty.
What you'll need:
60g salted butter
1 tbs Aleppo pepper
pita bread, to serve
Tahini Yoghurt
250g Greek yoghurt
2 tbs tahini
2 tsp honey
1 tbs lemon juice
sea salt
Lamb Koftas
1kg lamb mince
2 tsp ground cumin
2 tsp ground coriander
1 clove garlic, minced
50g shelled pistachios, finely chopped
4 sprigs fresh coriander, finely chopped, plus extra to serve
1 ½ tsp salt
cracked black pepper
olive oil, for drizzling
What to do:
Preheat oven to 200°C Fan Assist.
For the lamb koftas, combine all the ingredients together in a bowl and form into 16 koftas, about 50g each. Transfer to a large baking tray and drizzle with olive oil. Bake on the second shelf for 8-10 minutes until just cooked through and still juicy.
Meanwhile, for Aleppo butter, place the butter in a small saucepan over medium heat until foamy. Stir through Aleppo pepper and remove from heat.
To make the tahini yoghurt, whisk together the yoghurt, tahini, honey and lemon juice in a large bowl set over a saucepan of simmering water. Whisk together until the mixture is smooth and warmed through. Season with salt and remove from heat.
To serve, spread most of the tahini yoghurt around the base of your serving plate. Arrange koftas over the top and dollop with extra tahini yoghurt. Spoon over the Aleppo butter and top with extra fresh coriander leaves. Serve with warm pita bread.
SERVES 4
PREP 20 MIN
COOK 20 MIN
www.foodlove.com.au