In the mornings across Italy you'll find espresso bars filled with locals grabbing a coffee and maybe a pastry before continuing on their way to work. It is a ritual, something they do at the same place and generally the same time, every day, without fail. You'll often see people striking up a conversation with whoever is next to them, or having a chat to the barista, always standing, never sitting. While this process is usually quick and could probably be done on the run, takeaway coffee is not the norm, it is about socialising, enjoying that first cup at the cafe and taking time to savour a moment.
This is where Dan Chrystal comes into the story, originally from WA with a background in finance, he moved here to pursue a career in insurance before becoming disillusioned and handing in his resignation. He wanted to enter the hospitality scene and give people a high level of service, so when the opportunity arose for him to run his own little espresso bar, he jumped at the chance. Just over a year ago he opened Stand Up Cafe, which operates from a laneway window to give Melburnians in the area a place to stop briefly for their daily caffeine hit, enjoy some social interaction and feel welcomed, without needing to sit down. People in the city are always in a rush and often prefer takeaway coffee, however Stand Up regulars often hang around at the bar to chat to Dan or mingle with each other in the lane. There's even a basketball ring on the side of the building to shoot some hoops while you wait for your coffee.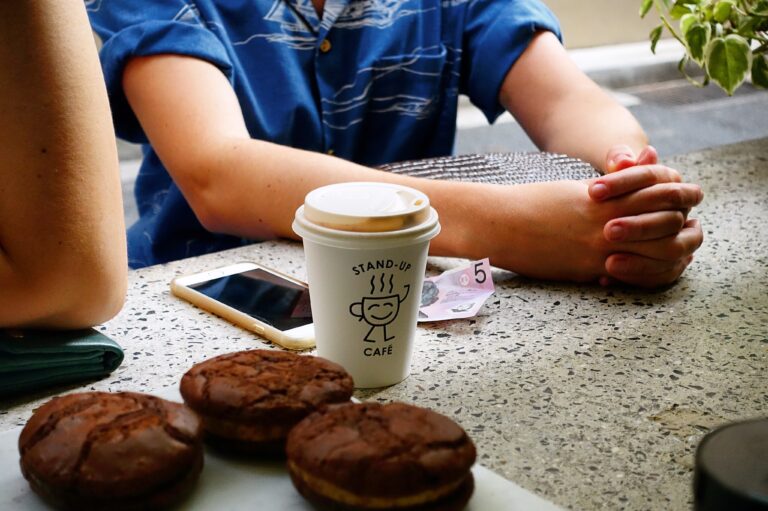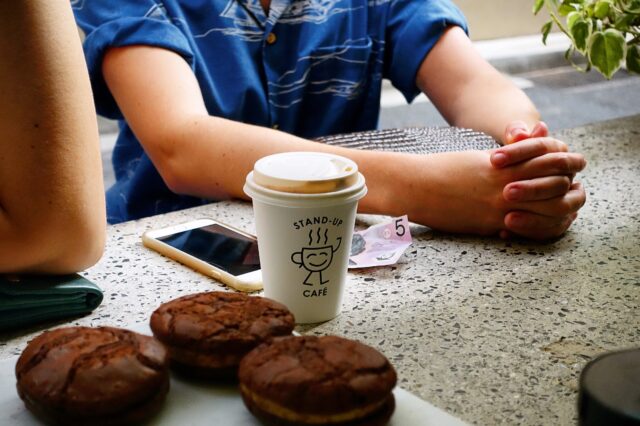 Talking about the coffee, Dan wanted to partner with a roaster who shared his desire to provide exceptional service and also a high quality product. The choice was made to use Seven Seeds and their Seasonal Espresso Blend, which is adapted regularly depending on the crop. The current one is 50% Ethiopian and 25% Colombian, providing drinkers with a bright and lively cup, balanced by the remaining 25% of beans from Brazil which give it body. Seven Seeds are known for a lighter roast, designed to bring out the fruitier characteristics, however the blend has been engineered to give you flavours of butterscotch, raisin and cocoa which means the coffee also works well for those who take milk. As you know, I usually tend to seek out a darker roast, however I still enjoy the Seasonal Espresso from Seven Seeds because I find the acidity to be well balanced regardless of the composition.
Dan has made his mark on this little corner off Flinders Street, endearing himself to the locals who want good coffee without the fuss. It's about service with a smile, passion for the product he works with and ultimately creating a relationship that brings his customers back on a daily basis. He may be very chilled and laid back, but for Dan coffee is a drink best served standing up.
Here are a few cafes where you can enjoy the SEVEN SEEDS seasonal blend –
Stand Up Cafe – rear of 524 Flinders St CBD
Traveller – 2/14 Crossley St, CBD
Patricia – cnr Little Bourke St & Little William St, CBD
Square & Compass – 222 Clarendon St, East Melbourne
Hortus – 131-141 Harbour Esplanade, Docklands
Mile End Bagels – 14 Johnston St, Fitzroy
Burnside – 87 Smith St, Fitzroy
Kines – 11 Hope St, Brunswick