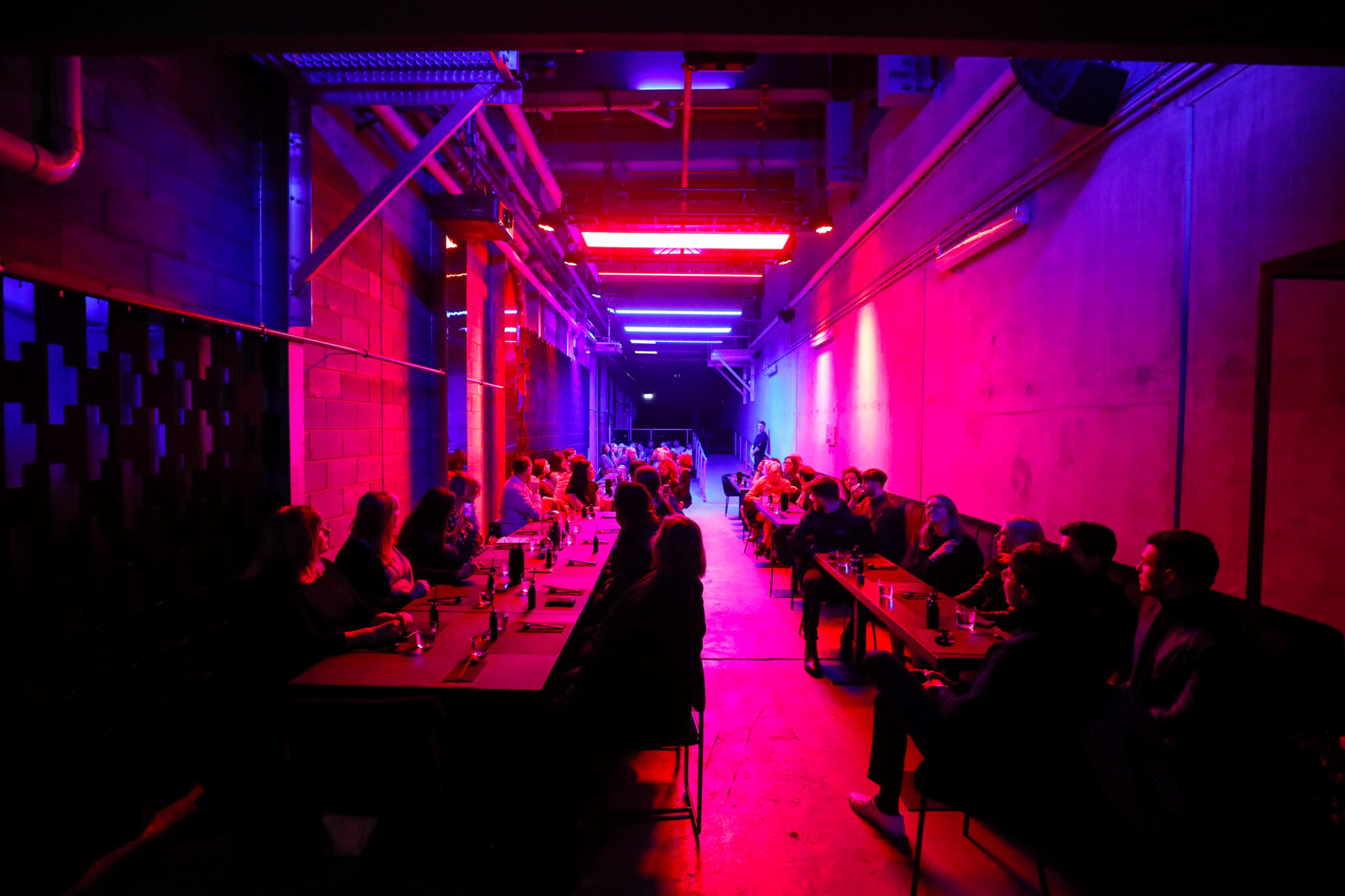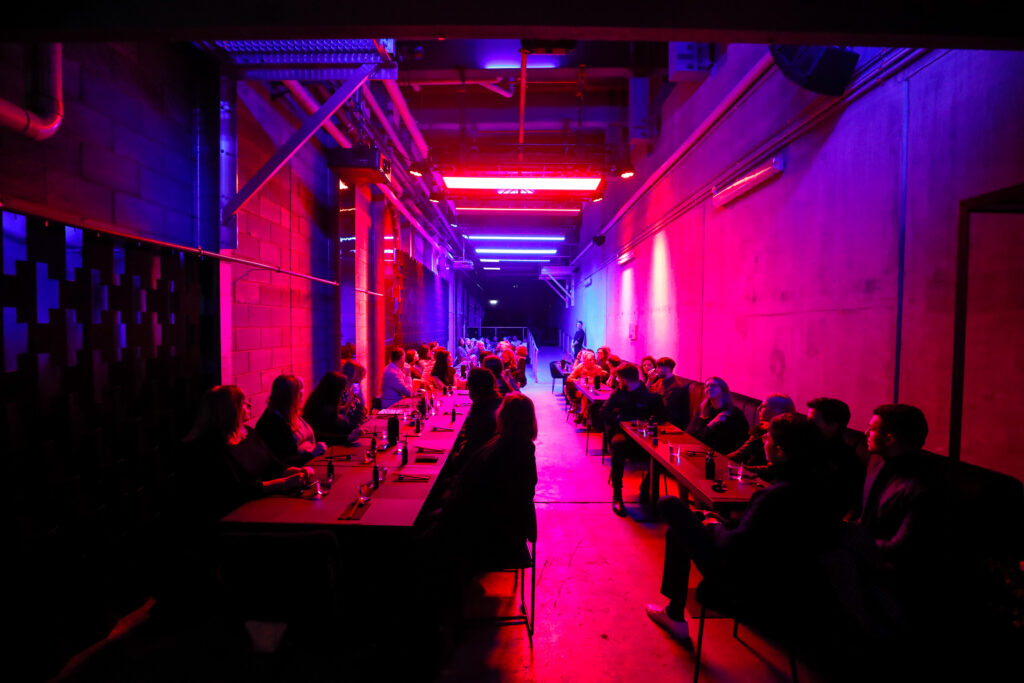 It was with some trepidation we walked to the end of platform 13 at Flinders Street Station. As we passed tired commuters starting their long journey home, we were starting a journey of our own: into the future of food. And, so behind a dull beige door, a vision of the future unfolded. Entering a darkened room with sporadic angular lighting and electronic sounds, we were greeted with a lemon bitters in a small opaque bottle and guided to our seats by wait staff dressed in modern kimonos.

The Japanese feast began with a warm hand towel to wash away the city grime and a black paper bag full of appetizers. And here is where the future really begins: where a scarcity of protein forces us to consider alternatives. Crispy fried crickets with almonds, wood sorrel and takanashi (Japanese five-spice). Delicious. Possibly more so in the dimly lit room where our Western snobbery towards eating insects was less easily indulged.

Doomsday scenarios about food shortage continued with the entree. Billed as 'tinned salmon', small pieces of diced salmon neatly embedded in a ration-sized metal tin on a salmon mousse with roe and crispy salmon skin, emphasising the importance of using the whole being rather than discarding scarps of animal waste. The side plates of kingfish and salmon sashimi dotted with chilli and seaweed chips added more layers to this exquisite dish.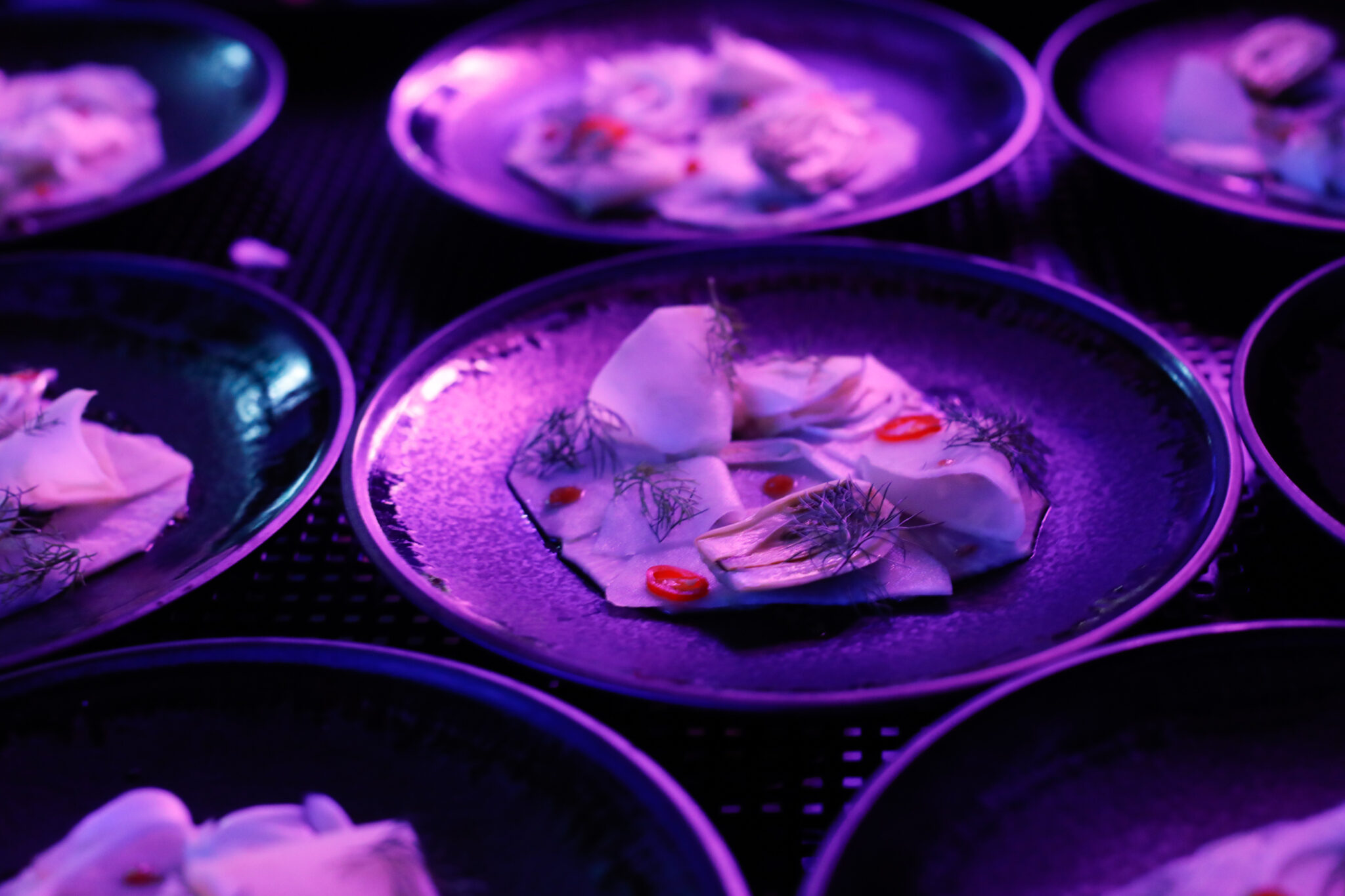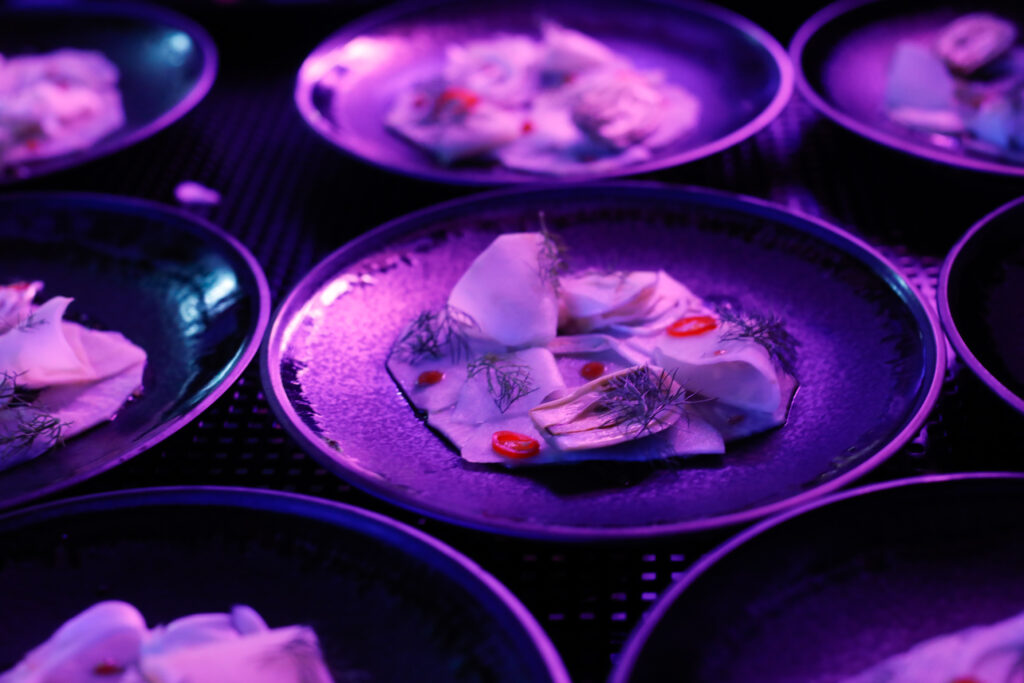 The edible main plate of rice paper bejewelled with black sesame seeds became host to miso-baked cauliflower, walnut and tofu cream, and crisp Jerusalem artichokes. This course put vegetables front and centre, with a side plate of pork terrine and pickled persimmon.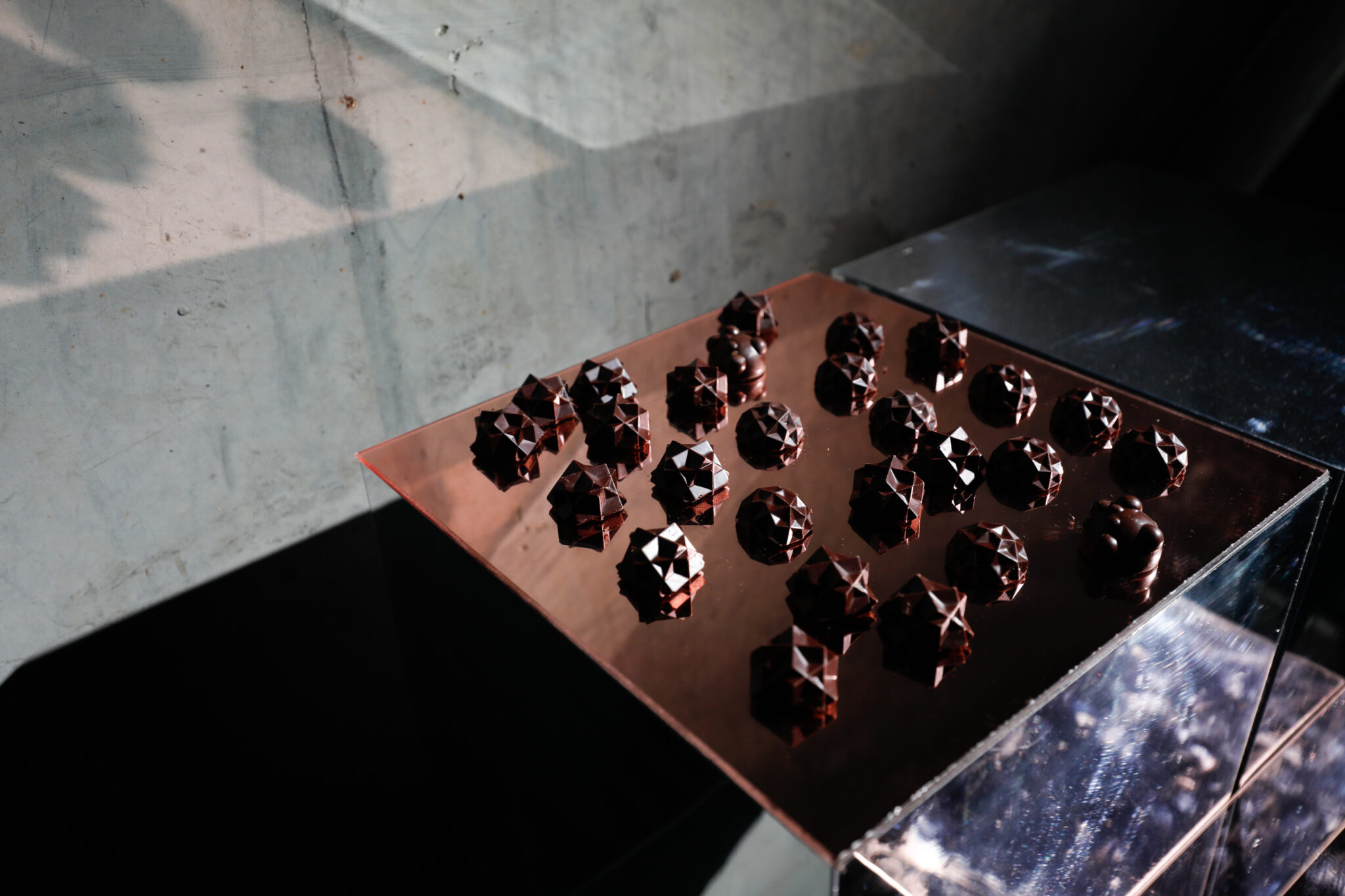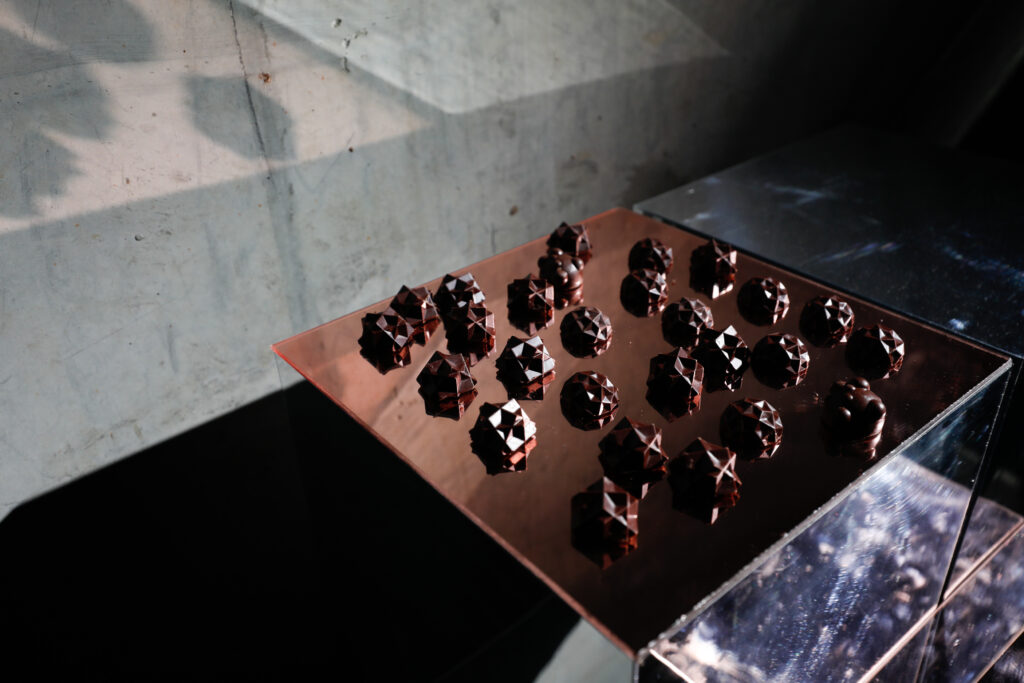 Dessert was another exploration of tastes and textures. 3D-printed chocolates presented on mirrored plates and moshi balls filled with salted caramel and tiramisu. The moshi balls were from another planet.

All this was accompanied by a light show by Melbourne-based artist Kit Webster and music by renowned London electronic artist, Rival Consoles. The whole night was capped off with a robot show that could have been straight out of Shinjuku. With wines by Innocent Bystander, a luminous gin cocktail by Four Pillars, and Asahi beers all ordered by Skip app throughout the meal, you arrived in the year 2050 and didn't leave for the duration and this made for a truly immersive experience. Sensory Underground created a futuristic world in which I could happily live.