SERVES 8
Ingredients
50 g (1¾ oz) sugar
2 pears, peeled, cored and cut into eighths lengthways
150 g (5½ oz) dark chocolate
90 g (3 oz) unsalted butter, cubed
90 g (3 oz) caster (superfine) sugar
90 g (3 oz) almond meal
3 eggs, separated
1 teaspoon cocoa powder for dusting
icing (confectioners') sugar for dusting (optional)
Method
Combine the sugar with 500 ml (17 fl oz/2 cups) water in a saucepan and set over a medium heat. Add the pear and poach for 10–15 minutes, or until tender but not too soft (a knife should easily penetrate the flesh without any resistance). Drain and let the pear pieces cool.
Melt the chocolate over a bain-marie or double boiler. When melted, remove from the heat, add the butter and stir until the butter has melted. Add the sugar and almond meal, stirring to combine. When the mixture is cool, add the egg yolks.
Preheat the oven to 180°C (360°F). Grease a 22–24 cm (8¾–9¼ in) round springform cake tin and dust with the cocoa powder.
In a separate bowl, whisk the egg whites to firm peaks, then fold them into the chocolate batter. Pour the chocolate mixture into the tin. Arrange the pear pieces on the top of the batter, pushing them slightly in. Bake for 40 minutes, or until a skewer inserted into the middle of the cake comes out clean.
When cool, remove the cake from the cake tin and, just before serving, dust liberally with icing sugar, if desired. Serve in modest slices – this is rather rich.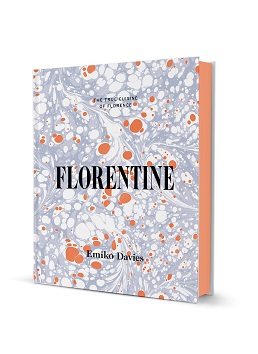 FLORENTINE
by Emiko Davies
RRP: $49.99
Recipe taken from Florentine by Emiko Davies published by Hardie Grant Books and available now where all good books are sold.