They're dairy-free, refined sugar free and, best of all, fuss-free with no baking. Hell yeah, they're guilt-free, baby!
by Harri Simonis
Bliss balls are those delicious little bites of goodness that are the perfect grab and go snack. Simple and easy to make, it's easy to see why they seem to be taking over the whole world.
Either of the three bliss balls below are bursting with all good fats, superfoods and ingredients to make your energy levels dance.
As an added bonus these three bliss ball recipes are free from dairy and refined sugars, great for even the most sensitive of tummies. Pop them in your lunch box to share at work or keep in the fridge at home for a great snack anytime you need a boost.
These recipes all include the superfood, matcha green tea powder. Matcha contains 137x the levels of antioxidants compared to standard green tea and makes the perfect addition to these healthy bliss ball recipes.
What makes matcha green tea so special? It's made from the whole green tea leaf, which is stone ground into a fine powder. Unlike standard green tea where you drink the brewed water, this whole-leaf method preserves all the crucial antioxidants. Perhaps one of the reasons many use matcha to boost metabolism, lose weight, and pep up energy levels.
Each recipe has been created by our friends at Zen Green Matcha Tea who offer premium matcha green tea powder, sourced from sustainable farms in Japan. So if you want a natural spring in your step, without the nasty highs and lows from overdoing the sugar, try one of these recipes.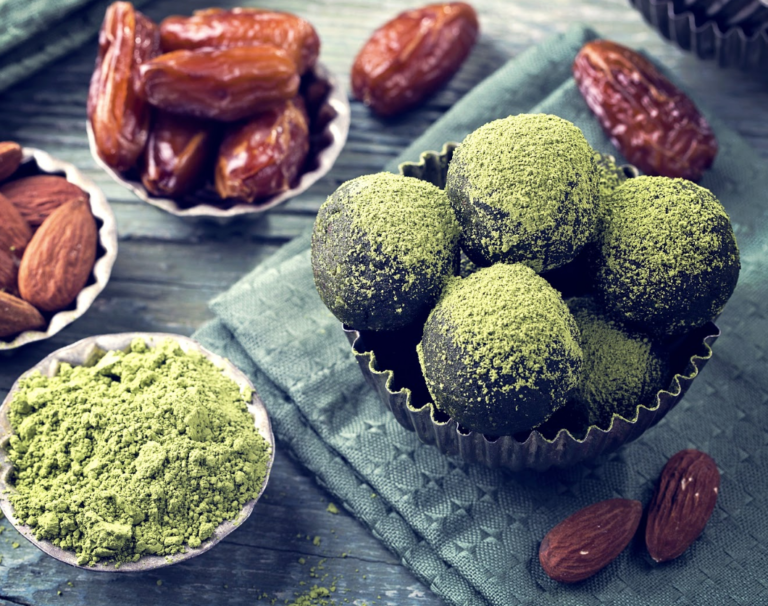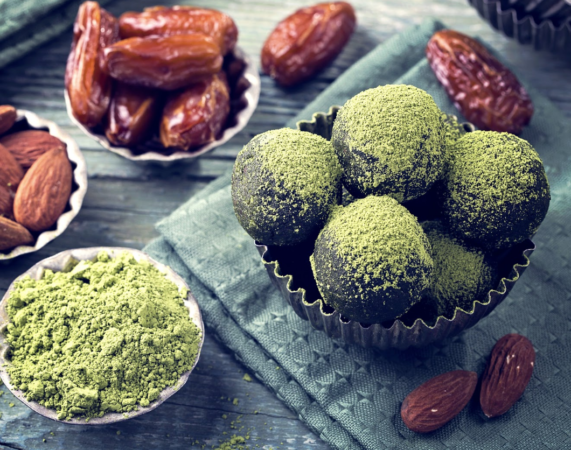 Matcha, Date and Almond Bliss Balls
With dates, almonds and that magic matcha, these bliss balls are perfect as a mid-morning snack to avoid that pre-lunch slump. To finish, they are also rolled in added matcha for that extra dusting of natural green goodness.
Makes 10 bliss balls.
Ingredients
½ cup sticky and juicy dates
1 tbsp unsweetened almond milk
½ cup raw almonds
1 tbsp

matcha

powder (plus a little more for dusting at the end)
¼ cup cocoa powder
Instructions
Grab your food processor and whizz the dates and almonds until they mix into a sticky ball
Add cocoa, almond milk and matcha
Blend the ingredients until they are mixed thoroughly
Roll between your hands into evenly sized amounts. The mixture should form 10 balls.
Take each ball roll them into chopped pistachios and dust with extra matcha
Place in an airtight container in the fridge to firm them up, this should take around 20-30 minutes.
Serve and enjoy!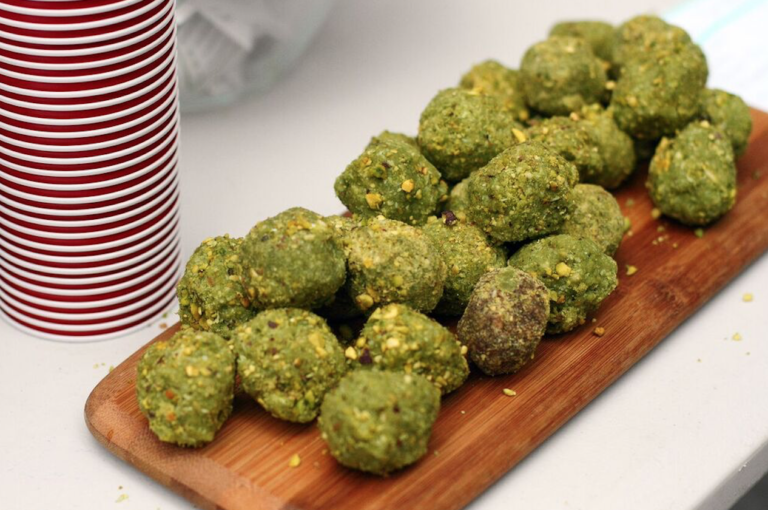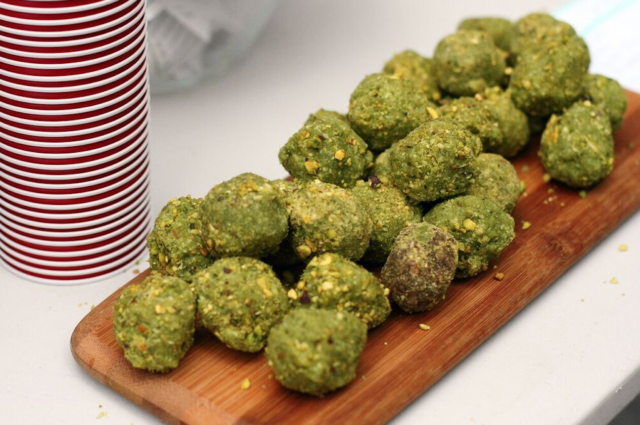 Wonderfully Green Pistachio & Matcha Bliss Balls
This recipe is simple and sin free and great to share with friends. The pistachio and matcha powder turns the balls into a vibrant green colour, which is a great way to add more greens to your diet.
Makes 20 bliss balls
Ingredients
1 tsp

matcha

powder
1/2 cup raw whole cashew nuts
1/2 cup unsweetened desiccated coconut
2 x 20ml tbsp almond meal
2 x 20ml tbsp coconut flour
2 x 20ml tbsp water
2 x 20ml tbsp rice malt syrup
1 x 20ml tbsp melted extra-virgin coconut oil
1/4 cup shelled and chopped pistachio nuts
Directions
Using a food processor, blend the cashew nuts, coconut, almond meal, coconut flour and matcha until the mixture resembles fine crumbs.
Pour in the water, rice malt syrup and melted coconut oil and blend until the mixture is sticky.
If the mixture is too sticky to make into balls, try adding in a little more coconut flour. If it's too dry, add a drizzle of water.
Using your hands roll the mixture into evenly sized balls
Then roll each ball into the chopped pistachio nuts, pressing each slightly so the the nuts stick to the bliss balls
Pop in the fridge to set, and store in an airtight container. Perfect to grab whenever you need a snack.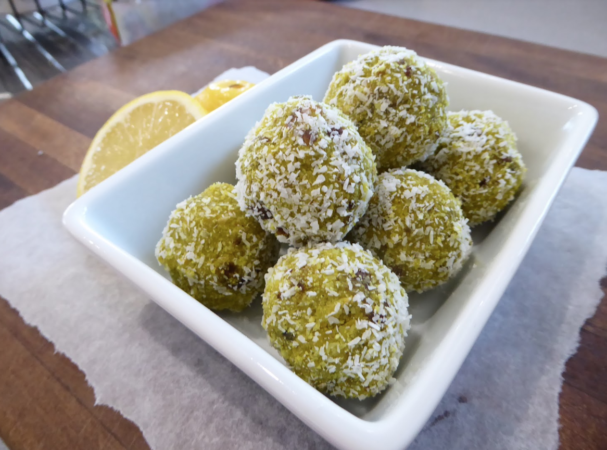 Blissful Coconut, Turmeric & Matcha Bliss Balls
We've already talked about the benefits of matcha green tea, but these bliss balls are also mixed with another superfood… Turmeric!
Turmeric is not just a spice for sauces and curries, it's also excellent to add to a whole host of other recipes. Containing the active ingredient curcumin, turmeric is an effective anti-inflammatory which can help with a myriad of health concerns. Much like matcha, turmeric also helps to boost energy levels but as an added bonus, studies have also shown it helps to raise your mood. This is because curcumin has been shown to increase serotonin levelsS.
So bliss balls can really make you feel more blissful!
This recipe uses a special blend of turmeric and matcha, along with a small amount of black pepper. These spices have been handcrafted and balanced to help the body absorb the maximum amount of antioxidants. And this recipe also contains lemon and ginger, which works in perfect harmony with the fresh matcha flavour and earthy turmeric taste, a real feast for your tastebuds!
Makes 20 bliss balls
Ingredients:
3 tsp

Turmeric Matcha Powder

1 cup almond meal
½ cup desiccated coconut
½ cup coconut flour
1 cup finely diced dried dates
1 ½ unwaxed lemons – rind and juice is needed!
1 ½ tsp grated fresh ginger
3 tbsp rice malt syrup
1 tbsp honey
Directions
Carefully stir all the dry ingredients together in a large bowl.
Add the wet ingredients to the dry, and stir until well blended.
If the mixture seems too dry, add a little more lemon juice.
Using a tablespoon separate the mixture and roll your bliss balls.
Coat generously in desiccated coconut.
Store in fridge until needed.
Enjoy with a smoothie or a hot coffee!