Chinese New Year looms this Friday and so will begin the Year of the Dog, specifically the Year of the Earth Dog and it's the first time it's been celebrated since 1958, so there you go. Expect people born in the Earth Dog year to have these personality traits: communicative, serious, and responsible in the workplace. You know, like Mark from Accounts.
But you're nothing like Mark, are you beauty? No you're not. And you're going to celebrate Chinese New Year right and the wonderful people from Spice Temple have both a smashing kingfish recipe that honours the traditions of the season AND a cocktail that will have your guests panting for more, and it's all part of their Chinese New Year banquet menu available for $99pp designed by Spice Temple Executive Chef, Andy Evans.
The menu includes a delicious raw kingfish Yu Sheng dish with the raw fish representing prosperity. Yu Sheng is a traditional salad, which is tossed at the table. During Chinese New Year family members see who can toss the salad the highest. The higher it's tossed, the more prosperity for the 'tosser' in the year ahead. And who doesn't love a wealthy tosser?
The accompanying Dog cocktail also nods to the understated characteristics of the Earth Dog featuring Pisco, providing a strong backbone for the drink, yet works without drawing too much attention to its own unique characteristics.
Gong Xi Fa Cai! (basically, Happy New Year. Again).
Recipe: Raw Kingfish "Yu Sheng" with white radish and spring onion oil
Serves 4 as part of a shared banquet
Ingredients:
200g raw kingfish, thinly sliced

⅛

of a whole iceberg lettuce, shredded
1 spring onion, sliced
Blackened chili dressing for raw fish
Ingredients:
½ Spanish/red onion
6 tbsp vegetable oil
1 small dried red chili
½ tsp black peppercorns
3 tbsp white sugar
6 tbsp light soy
6 tbsp rice wine vinegar
¼ tsp yellow mustard powder
1 tsp water
Method:
Grate onion on the coarse side of a grater and set aside.
In a small wok heat 1 tsp of vegetable oil on medium heat and roast dried chili and black peppercorns, until fragrant. Remove from wok and pound to a paste in a mortar and pestle.
Add grated onion to the chili/pepper mix in the mortar.
Heat remaining vegetable oil until smoking and pour into the mortar (stand back so it doesn't splash you).
Add sugar, soy, vinegar, mustard powder, water and mix well.
Allow to cool.
Spicy orange oil
Ingredients:
1 litre vegetable oil
10 oranges peeled (reserve flesh for something else)
1 knob ginger, roughly sliced
1 cup chili flakes
Method:

Add vegetable oil, orange peel, ginger and chilli flakes to a saucepan and warm gently to 60

°C

. Remove from the heat and allow to cool.
When you are ready to use the oil, strain it through a fine sieve.
Leftover oil can be kept in the fridge in an airtight container indefinitely.
To assemble:
Place shredded lettuce on a plate, and arrange kingfish slices. Cover the kingfish with 60ml of blackened chilli dressing and 30ml of spicy orange oil.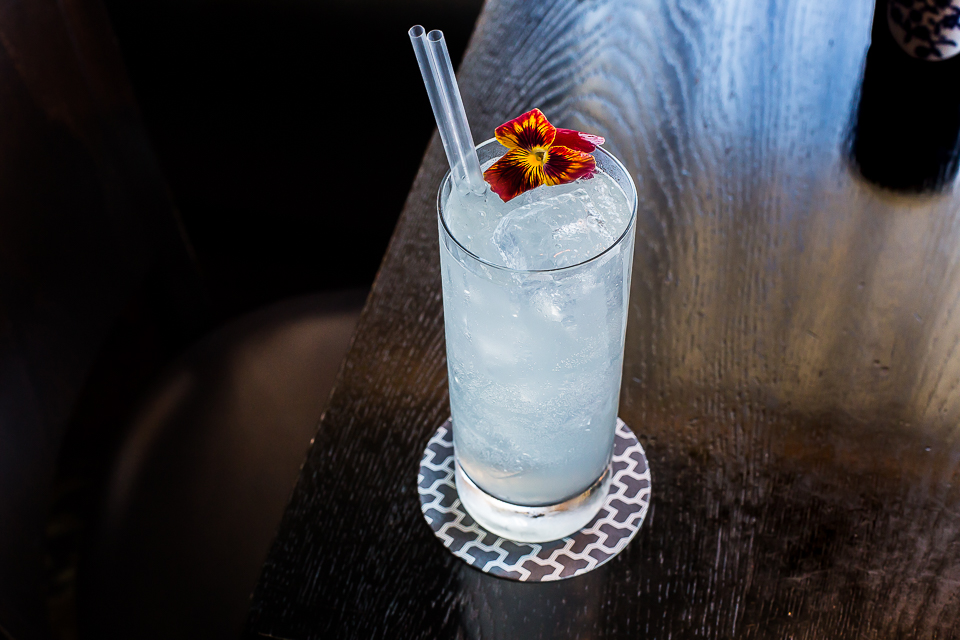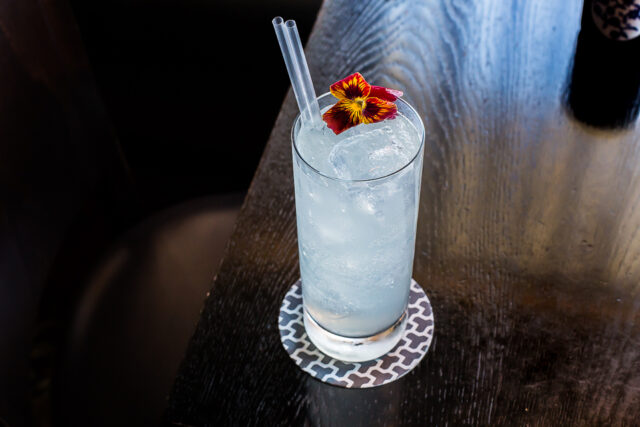 Recipe: Dog cocktail
A delightful summery twist on a Tom Collins with a Pisco base, so fresh and vibrant.
50ml Pisco
30ml lemon juice
15ml St Germaine elderflower
10ml sugar syrup
2 dashes of peach bitters
Shake and strain. Top with soda water. Serve tall, over ice, in a highball glass, with lemon garnish.